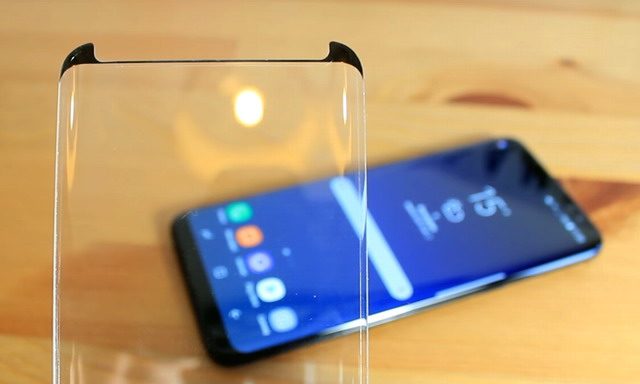 The Samsung Galaxy S8 and S8 Plus have gorgeous curved displays that you'll want to protect. It's worth looking into Galaxy S8 cases, screen protectors, and other accessories now. If this particular aspect of owning a new phone is usually tedious for you, don't worry, because we've already done some digging of our own and compiled a list of the best Galaxy S8 screen protectors from a variety of mostly well-known brands.
iTURBOS Galaxy S8 screen protector (plastic)
The first Galaxy S8 screen protector on the list is the iTURBOS 3D curved PET screen protector. It's 0.15 mm thin and offers five layers of protection. The screen protector covers the entire screen of the device including the curved edges, and has cutouts on the top for the camera, speaker, and all the sensors.
The product has a scratch-resistant coating that gives you an additional level of safety and is highly transparent with a light transmittance of 99 percent. This means that the screen protector shouldn't have a negative effect on the display brightness of your Galaxy S8. It also has an anti-fingerprint layer, so you won't have to wipe it down every five minutes.
---
Skinomi TechSkin Galaxy S8 screen protectors (plastic)
This is a full coverage Galaxy S8 screen protector that's actually manufactured in the US. It's thin as well as flexible, so it has no problems covering the curved sides of your Galaxy S8. Made from military-grade thermoplastic urethane, it's designed to absorb impact and resistant against scratches and punctures. The screen protector also has a UV Clear Coat layer, which should prevent it from yellowing.
The manufacturer promises an easy, error-proof as well as bubble-free installation. It claims that the product offers a glass-like surface and is "self-healing", so it can repair minor scratches on its own. However, the screen protector is not compatible with the majority of cases.
---
ArmorSuit Galaxy S8 screen protector (plastic)
ArmorSuit's Galaxy S8 screen protectors also offer full coverage and is made from a scratch-proof, optically clear, military-grade, and yellow-resistant material. It features the self-healing technology, which helps eliminate minor scratches on the film. Although it's plastic, the screen protector is advertised as having a glass-like surface and isn't a fingerprint magnet like a lot of its competitors.
It has five protective layers described as silicone adhesive, impact cushion, scratch resistant, fingerprint reduction, and self-healing effect. The product is case-friendly and actually made from the same material used to protect military aircrafts, helicopters, and space shuttles. The package contains one screen protector, a spray solution, a microfiber cloth, and installation instructions.
---
Supershieldz Galaxy S8 screen protector (plastic)
This screen protector is made from a high-quality Japanese PET film and has three layers: a scratch resistant surface polymer, a hardened protective mask to prevent deep cuts damaging your device, and a patented silicone gel that creates a vacuum to securely cling to the screen.
The product doesn't have an adhesive and won't leave any residue when or if you decide to remove it. It offers full-screen protection and what the manufacturer calls "Real Touch Sensitivity", which promises a natural feel despite the fact this the screen protector is plastic.
---
Spigen NeoFlex Galaxy S8 screen protector (plastic)
The Spigen NeoFlex is an edge-to-edge screen protector made from a flexible urethane and is scratch resistant. It has a case-friendly design and is compatible with Spigen cases, although the manufacturer does state that the screen protector must be applied while the case in on the device.
The installation is easy as it should be and it's quite normal for bubbles or a rainbow effect to appear during the process. Both will disappear once everything dries, which can take up to 12 hours. The product comes with a two-year warranty and also has self-healing characteristics, meaning it can repair small scratches by itself.
---
MaXma Galaxy S8 screen protector (glass)
The maXma Galaxy S8 screen protector is made from tempered glass with a hardness rating of 9H. It's scratch resistant and covers 99 percent of your device's display. Thanks to what the manufacturer refers to as "Privacy Technology", you'll be able to clearly see the info on the screen, while those next to you who are looking at the device from the side will only see a darkened display.
The product is compatible with any phone case and has an oleophobic coating that should keep it fingerprint-free for the most part. The screen protector has a lifetime replacement warranty and comes with wet/dry wipes and dust removal stickers included in the box.
---
Whitestone Dome Glass Galaxy S8 screen protector (glass)
This glass screen protector uses a "Dome adhesive patented technology" and actually requires a portable UV machine to install it, which is included in the retail box. It can fix the cracks on your display with a special liquid, has a surface hardness of 9H, and is scratch resistant.
The edge-to-edge screen protector is not compatible with some hard and full body cases and decreases the amount of blue light by as much as 25 percent. The manufacturer promises no gaps, lifting, touch errors, and color edges. In addition to the screen protector, the retail package also includes installation trays, a UV LED lamp, two adhesive bottles, align and level bars, two cleaning cloths, a dust removal sticker, three alcohol swabs, and a manual.
---
Tech Armor Galaxy S8 screen protector (glass)
The screen protector from Tech Armor offers edge-to-edge coverage and is case-friendly. It's made from the Japanese Asahi glass, has a silicone adhesive, and features a fingerprint resistant oleophobic coating.
The product is 0.3 mm thin, has a hardness rating of 9H, and comes with a limited lifetime warranty. The package includes one 3D curved ballistic glass screen protector, an alcohol cleaning wipe, a microfiber cloth, a dust removal tape, and installation instructions.
---
Are screen protectors and cases a must-buy for any new phone you own or do you prefer the naked look and feel? Have you had hands-on experience with a screen protector that others should know about? Let us know in the comments!