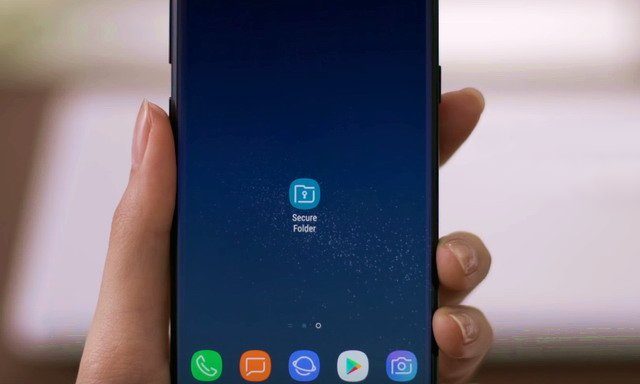 In this guide we'll show you how to set up Samsung's Secure Folder on the Galaxy S8. Secure Folder is a component of Samsung Knox that gives you a "compartment" to hold apps and files that is separate from the rest of the phone. You don't need to create a new user or go through any hoops to get it up and running, and once you're all set up you can not only keep private files private but you can also use apps with a separate user login, or add apps that you only use through your secured profile.
Secure Folder is one of those awesome things Samsung offers on every Galaxy S8 or (Galaxy S7 with Android 7.0) so you don't have to go looking for an app that tries to do the same thing.
Here's how you can setup your own Secure Folder on the Galaxy S8.
Enabling your Secure Folder
Open Settings by swiping Down from the top of the screen.
Tap Lock Screen And Security.
Press Secure Folder and then tap Start.
Log into your Samsung Account. You'll be prompted to sign into or confirm your Samsung account (if you signed in via a different Galaxy app). Press Confirm.
Select Secure Folder Lock Type by tapping on the blank circle beside your preferred folder lock: pattern, PIN or password.
Depending on the authentication method you chose, you'll have to repeat the same PIN/password/pattern twice, before you can Tap Confirm.
Setting up your Secure Folder
Now that your Secure Folder is up and running, you can populate it with the apps and files that need to be encrypted and separated from the rest of your phone.
Open Secure Folder Settings by tapping More Options(via the three-dot icon) to the right of the heading.
Enable Show Secure Folder by sliding the toggle button to the right. This way, an app shortcut for this Secure Folder will appear on your app screen.
Otherwise, the only way for you to access your Secure Folder is via Settings Shortcuts, which you can open by swiping from the top of the screen, and Tapping Secure Folder icon. You can go back to your Secure Folder to continue customizing its content.
Tap Add Apps to download new apps from the Google Play Store or move existing apps into your Secure Folder. This way, you can access particular apps within this locked environment, where its contents won't be accessible from the rest of your phone.
Tap Add Files to move or copy from your phone into this Secure Folder. These files can include photos, videos, audio and documents.
Press Edit Apps to rearrange your Secure Folder home screen or uninstall apps that you no longer want protected in this folder.
Tap Lock each time you exit your Secure Folder.
Customize Secure Folder Icon
If you prefer to see your Secure Folder on your apps screen but want to disguise it as just another ordinary mobile app, you can customize its icon in the Secure Folder home screen.
Open Secure Folder.
Tap More Options(using the three-dot icon) next to the Secure Folder heading and select Customize Icon.
Rename the folder and choose a new icon for your Secure Folder.
Now your Secure Folder will look just like another other app on your apps screen.