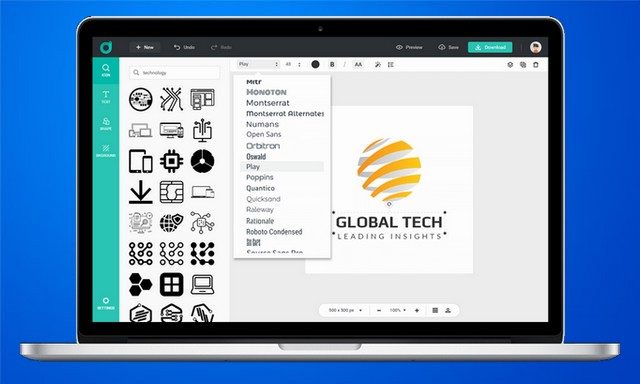 If you have a company or brand and accounts with very little money, you probably need to create your own custom logo for free. Maybe you do not have any design knowledge and much less you know how to use tools like Photoshop or Illustrator, and to pay a designer is not an option, you may end up making a logo in Paint or simply using a flat typeface to represent your business or product.
Thanks to technology it is possible to find very powerful applications to use online without downloading anything. Navigating a little on the web, an interesting application comes in through which you will be able to create your own logos without the help of anyone, in a matter of minutes and without having to wait for a designer to do it. Completely free, no need to register. And the best, you can download your logo in different formats.
DesignEvo is a new web application to create your own custom logo. You do not need any type of registration and you can download the logo in excellent resolution completely free. It has millions of icons, more than 100 elegant and readable fonts. Making a logo for your brand had never been so easy. In just a matter of minutes, you can get incredible results. It has some amazing customization options. You can change the color, size, font, background, layout and everything you want just by letting your creativity fly.
How to create a free custom logo
The first thing to do is to enter DesignEvo. There you choose the option "Make a Logo for Free". The tool will open and will allow you to search a logo icon with millions of options. Just write a keyword related to your brand or business. For example "Computer". Then all available pre-designed icons will appear. By choosing one, this is added to your working area. You can scale it, rotate it, change its color, rotate it horizontally and vertically.
Once you have finished with the icon, you can proceed to add a font. There are hundreds of incredible sources. You can write the name of your company there. You can change the position, rotation, text size, alignment, color, upper or lower case, or choose between bold or italic if the font allows. If you would like to change the font type, simply choose the text and select the desired font from the long list of alternatives.
You can add other elements to level up your logo as needed.Shapes like lines, circles, arrows, etc. are available to choose. All the shapes can be scaled, resized, rotated, colored and layered.
Many options to customize your logo
The tool has four interesting options in the top bar. The first is the Background option with which you can choose the color to fill the background of your logo. You can choose a solid or gradientbackground color if that's what youwant. The second option is the Layout that allows you to generate different layouts automatically. The third option allows you to preview your logo on a series of scenarios, which helps you to get an idea of what it would look like if youprint it on a business card, shirt, etc.
Finally, there is the fourth option, which allows you to download the logo. First,youneed to share the application in some social networks like Facebook, this in order to support the creators to increase the traffic to its website. And once you do it you will download a compressed file containing the logo in Jpg, in PNG with background and in PNG with transparency. The resolution of your logo will depend on the size you have chosen in your working area.
This fantastic web application will be of help to all of you and soon you will be able to create your own personalized logo for free. Do not forget to share this post with those who might be interested.