In the era of social media, email is still used for professional communication and this service is used by millions of people around the world. There are also tons of email services which you can use without paying a single penny. You will also find tons of email apps on the Google Play Store and it is very difficult to find the best app from the pool of thousands of email apps. In this guide, we will share the best Email apps for Android.
Blue Mail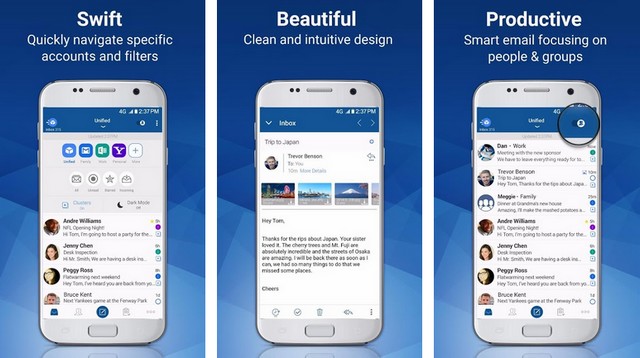 Blue Mail is one of the oldest and popular email app available out there and it is fully compatible with all email clients including Gmail, Outlook, Yahoo, Office 365 and many more. The app has very sleek UI which make it ideal for those who want simple yet effective email app. It also comes with android wearable support, configurable menus and also a dark theme for people who are a fan of dark UI. Blue Mail is a very powerful app and it is completely free to use.
---
Gmail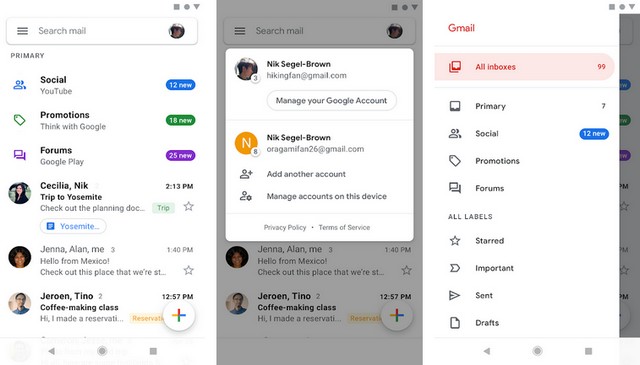 Gmail is the most popular email service in the world and its app also come pre-installed on the majority of Android smartphones. The best thing about this app is that it has very clean UI and it supports the other major email services. The account management on this app is very good and it also supports the unified inbox which means you can see the emails from all accounts on one page. Gmail app is a simple yet powerful email app and it works fine for the majority of the folks.
---
TypeApp Email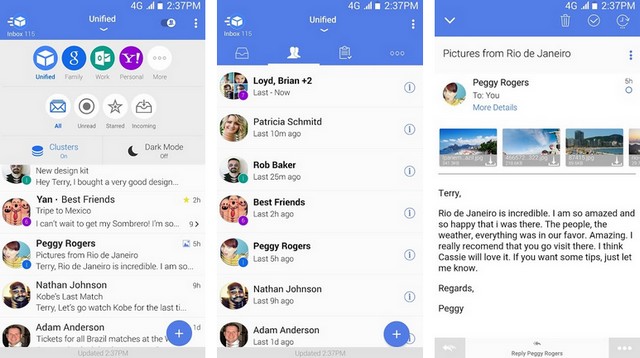 TypeApp is another very popular email service which comes with all features which you can expect from a good email app. It supports all major email services including Gmail, Outlook, Yahoo and many more. Moreover, it also comes with many features such as Android Wear support, dark mode, themes, unified inbox, pushes notifications, rich-text emails, wireless printing support and many more. The app also comes with many simple UI which is easy to use. There is a free version of the app available and paid version goes up to $6.99.
---
K-9 Mail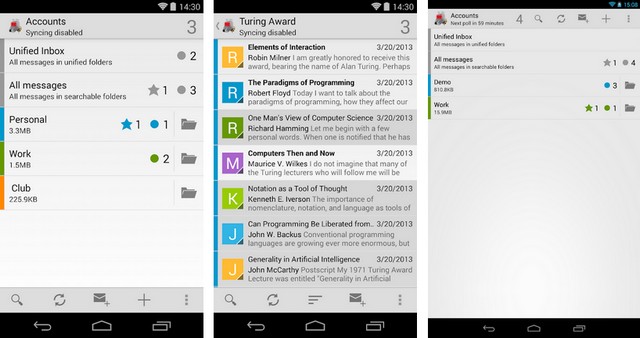 K-9 Mail is relatively older email apps which have been around for years. The app comes with very simple UI which make it best for those who want a simple app. Moreover, K-9 Mail is an open-source app which means if you have expertise in Android development, you can contribute to the project via Github. K-9 Mail app is one of the simplest, lightweight and performance-based email apps. It is also completely free to use.
---
Nine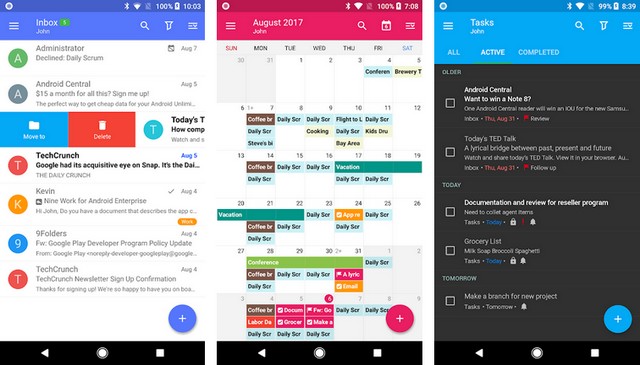 Nine is the modern email apps and it is basically known for its security. In this app, you will just get access to your email service, no server or cloud features. It comes with many useful features such as Rich-Text Editor, Client Cert, IRM, Global Address List (GAL). Full HTML, Secure Sockets Layer (SSL), conversation mode, widgets and many more. It also supports the Modern Authentication for Office 365 and also syncs Tasks & Calendars. Nine is a premium app and it offers the trial period of 2 weeks. After the trial period, you will have to buy the license for $14.99.
---
Newton Mail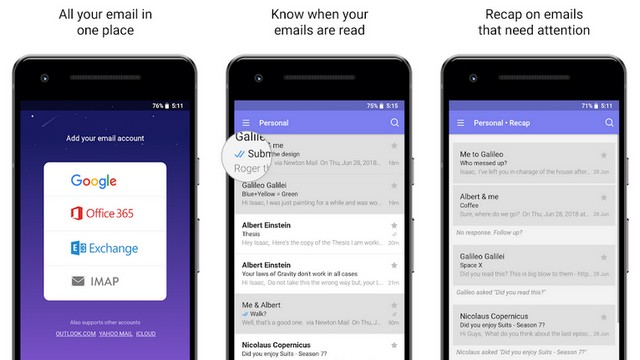 Newton mail is another very good email app which was known as "CloudMagic" and it was later rebranded to Newton Mail. The best thing about this ap is that it has a very clean UI which only have the most important functions. Moreover, it comes with useful features such as Email Snoozing, two-factor authentication, one-click unsubscribe features. It is also fully compatible with the majority of the email services including Gmail. Outlook, Office 365 and many more. The app offers the free trial and after the trial period, it will cost you $49.99 per year.
---
ProtonMail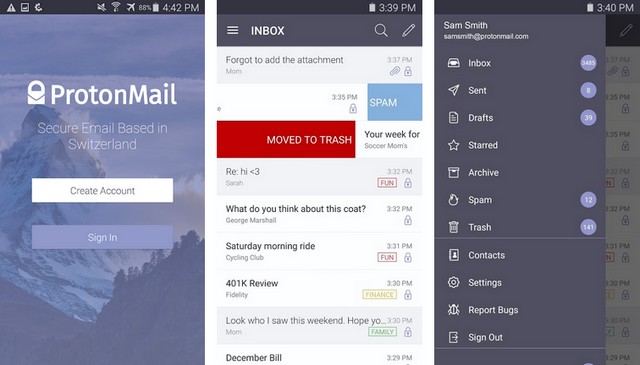 ProtonMail is another security-centric email app and it comes with end-to-end encryption which means that only sender and receiver can read the emails, no one else. The app also comes with self-destructing emails, OpenPGP supports and many other security features. Moreover, the emails on ProtonMail are stored on servers which are encrypted and even company can't read the emails. ProtonMail is also free to use.
---
Spark Email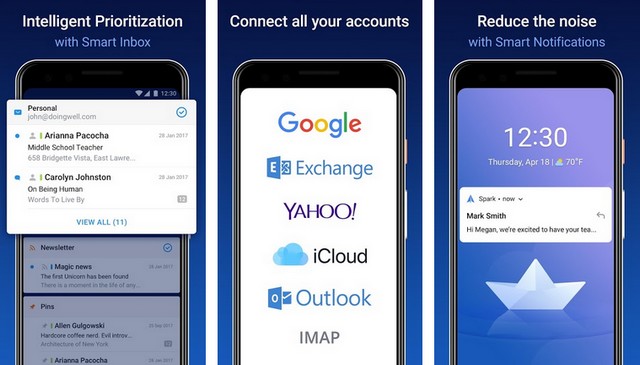 Spark Email is a new email app which was launched in early 2019 and the app is known for its sleek UI and performance. The app is still in its development phase so you can expect many other additional features over the next few years. However, you still find the many useful features in the app including snooze email, send an email later, reminders and follow-ups, advanced customization, pin email, smart search and many more. It is also completely free to use.
---
Unroll.Me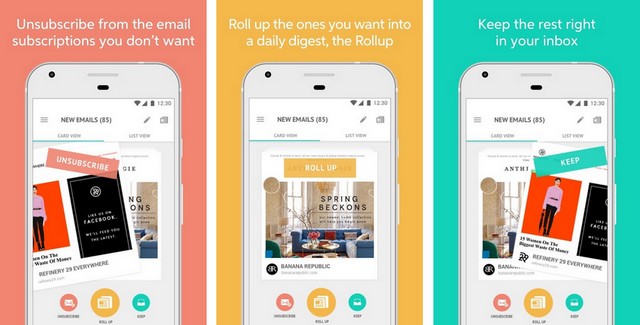 Unroll.Me is a unique email app which not only shows the emails you have but it also shows your subscriptions in the form of a simple list. You also get the choice to unsubscribe the subscription of your choice. The app has simple UI and great performance, it also works fine but there are some bugs here and there in the app which will be fixed sooner rather than later. If you are looking for a clean email app then Unroll.Me is a great option. It is also free to use.
---
Aqua Mail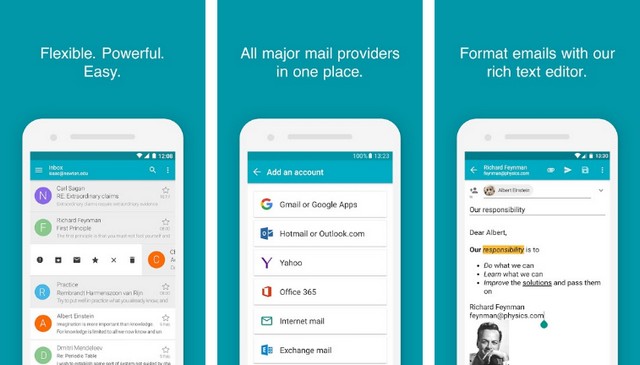 Aqua Mail is one of the best email apps for Android. This email app works well with popular email services Gmail, Yahoo, Hotmail, and Yandex.
When it comes to security, the app uses robust SSL encryption protocols to ensure that your email stays safe. On top of that, it uses the DKIM and SPF validation to protect you from email spoofing. Also, the app allows you to give a unique look to the app using the themes. Overall, Aquamail is a very capable email app, and you should give it a try.
---
Your Default Email App
Most of the smartphones these days come with their stock Email Apps which are pretty good and they come with all basic functionalities. These default email apps also support the majority of the email services like Google, Yahoo, Outlook and many more. The best thing about the default email apps is that they don't have any Ads and they are already installed on your smartphone and you can get rid of them so it is a good idea to give your default app a chance. If you don't like it, you can always move to other email apps.
---
Conclusion
These are the 10 best email apps for Android. Some of them are completely free to use but some come with annoying ads and you will have to buy the premium subscription to get rid of them. However, the majority of these emails are free and you can pick the one which suits your needs. If you have any questions, let us know in the comment section below. You can also check out the best video chat apps for Android on our website.