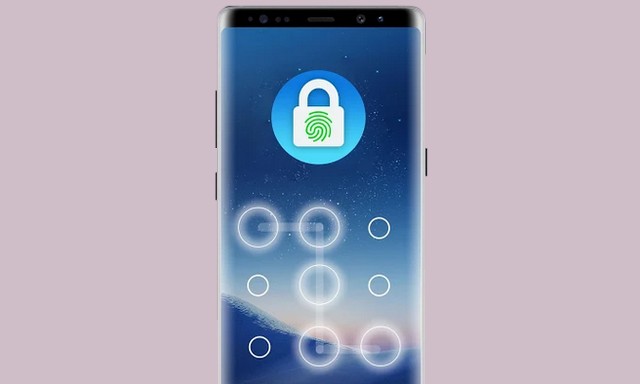 The Smartphones these days are a very important part of our lives and they are like our digital assistant which have some of our most important data and pictures. It is also very important to secure your smartphone and AppLocks are very important here as they allow you to put the additional security layer in the smartphone. Even if some manage to skip your smartphone security, he will have to bypass the applock security too. There are hundreds of Applocks out there but it is difficult to determine which ones are worth getting? We will help you out in making this decision. In this guide, we will share the best AppLocks apps for Android in 2022.
AppLock by DoMobile Labs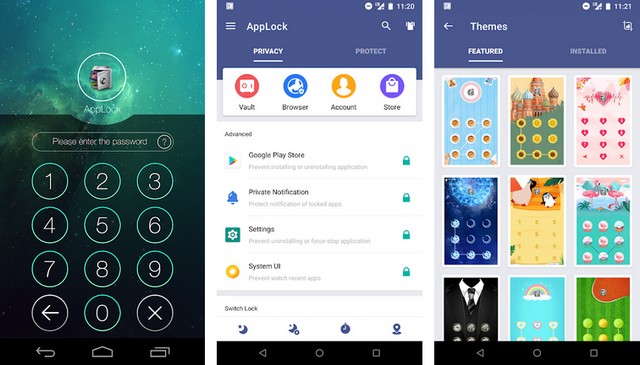 AppLock by DoMobile Labs is arguably the best AppLock out there. It comes with many useful features such as fingerprint support, uninstall protection, uninstalling apps protection and support for Bluetooth as well. It is completely free to download but the free version comes with Ads which you can remove by getting the premium version. If you want the best AppLock then AppLock by DoMobile Labs is our recommendation.
---
AppLock by IvyMobile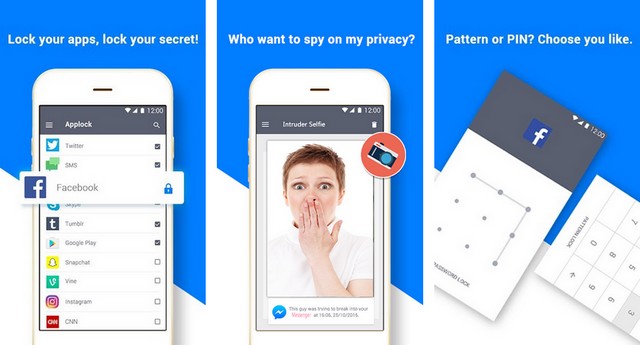 AppLock by IvyMobile is another really good AppLock for Android. It allows you to protect your photos, videos and other third-party apps installed on your smartphone. There are also some really good security features such as invisible pattern lock and random keyboard feature to protect your password from prying eyes. There are also themes available which you can install to give it a unique look. It is completely free to use, no strings attached.
---
App Lock: Locker w/ fingerprint, Parental Control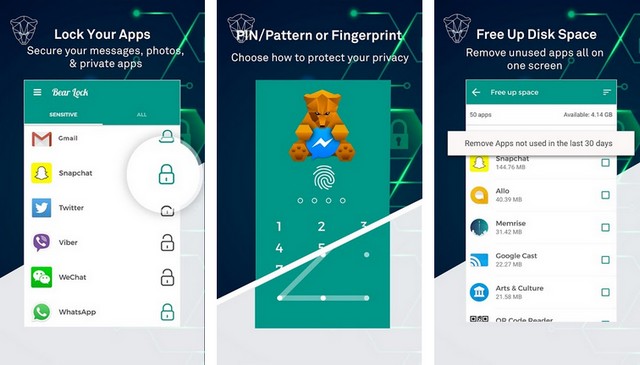 App lock is another very capable Applock app for Android. It comes with the fingerprint support which allows you to unlock the app by using the fingerprint scanner on your smartphone. Moreover, it also supports the password, pattern or PIN code unlock methods. the app also features the flexible locking system, intruder selfies, invisible pattern & randomized keyboards, fake error screen and many more. You can use the app for free but it comes with ads and in-app purchases.
---
AppLocker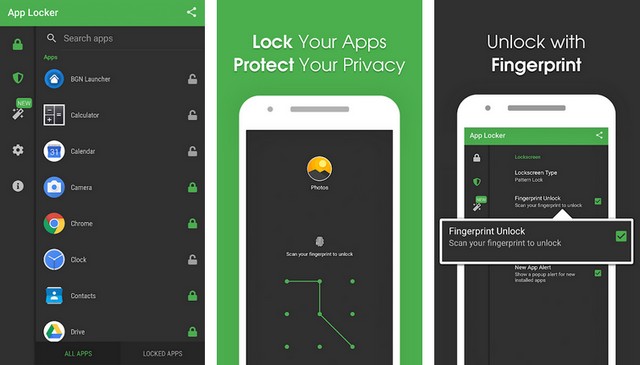 AppLocker by BGNmobi is another very good AppLock app which offers the same features as other AppLock apps out there. It comes with support for fingerprints, pattern and password unlock. There are also some customization options and protection for uninstalling apps. AppLocker is a basic AppLock at its best. The free version comes with some restrictions and the paid version is available for $2.99.
---
App Lock: Fingerprint Password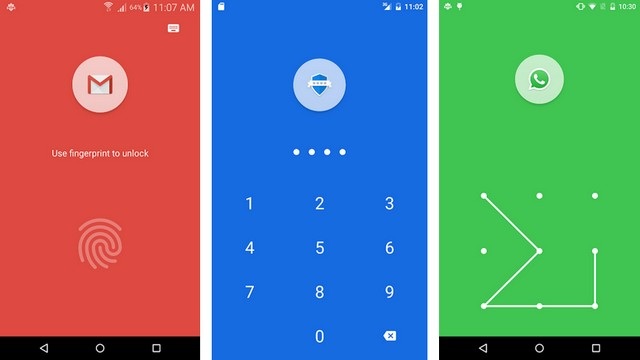 App Lock: Fingerprint Password is a minimalistic AppLock which comes with support for more than 10 languages, tons of settings, and variety of unlocking methods. It allows you to set the PIN, Pattern and fingerprint method to unlock the apps. If you are looking for more simple AppLock then this one is for you. You can download it for free but you will have o pay $0.99 to access the premium features.
---
Norton App Lock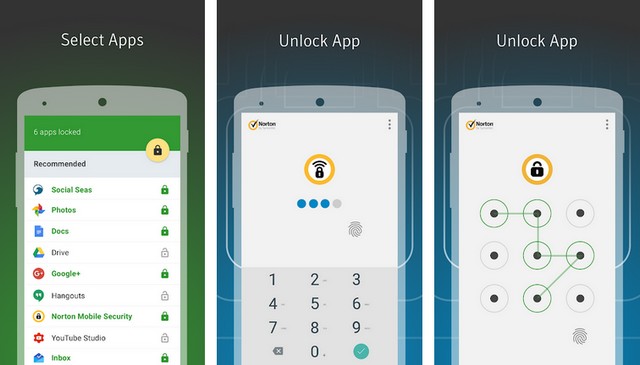 Norton is a very popular Antivirus company and it provides a really good AppLock app for free. It comes with support for PIN, password, and pattern to unlock the apps. Moreover, the app also automatically provides the recommendation of the apps which should be locked. It also automatically takes the photo of the app if someone tries to unlock the phone by entering the wrong password.
---
Smart AppLock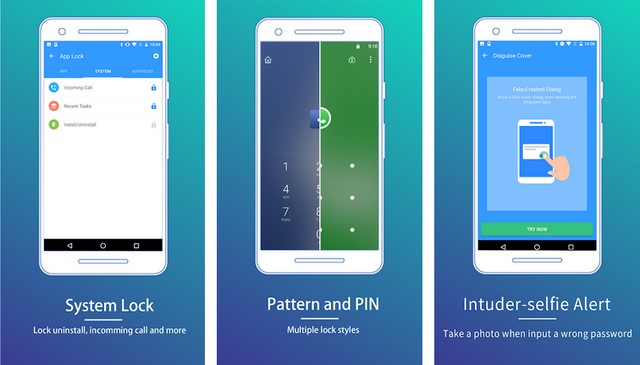 Smart AppLock is a unique AppLock which not only offers the standard AppLock features but some additional features which also qualify it as a lockscreen. It allows you to lockup your apps, photos, settings, toggles and even phone logs. You also fond the auto-start upon boot, break-in alerts, delayed app locking and fingerprint support which is awesome. The app is completely free to use with no-string attached. The only problem is that the clever intruder can easily uninstall the app if he finds out the app is out there in the system. Overall, it is a perfect option for those who want an AppLock with tongs of features.
---
Smart Launcher 5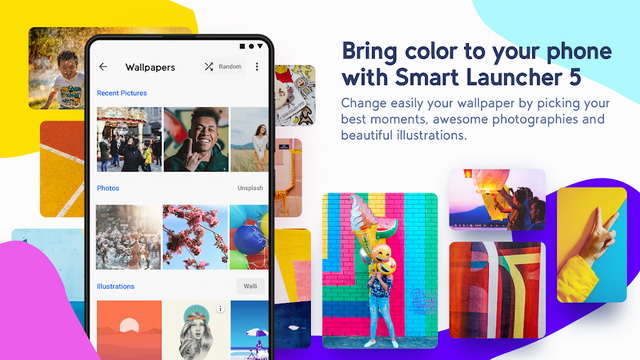 Smart Launcher 6 is a new Android launcher which comes with built-in AppLock which is very rare these days. The launcher comes with awesome features such as ambient theming, adaptive icon, app sorting, gesture support, and other useful features. Moreover, the built-in AppLock is also very effective and it is a perfect option for those who want a good launcher and AppLock in one package. You can download it for free but there are in-app purchases.
---
SpSoft AppLock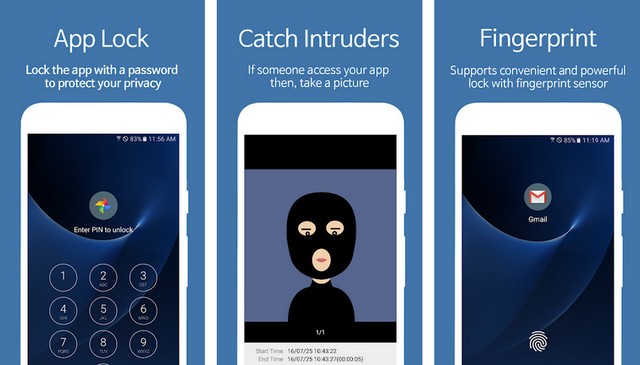 SpSoft AppLock is another one of the best applocks apps for Android. It offers multiple options to unlock your apps including the password, pattern and fingerprint unlocking. There is also a security feature which takes the picture of the intruder if he tries to break into your smartphone. The Pattern unlocks feature support up to 18 x 18 grid which makes it more secure. It also shows the fake error message which deceives the intruders. There is also support for more than 30 languages in the app. You can download it for free and paid version is available for $4.99.
---
AppLock Aurora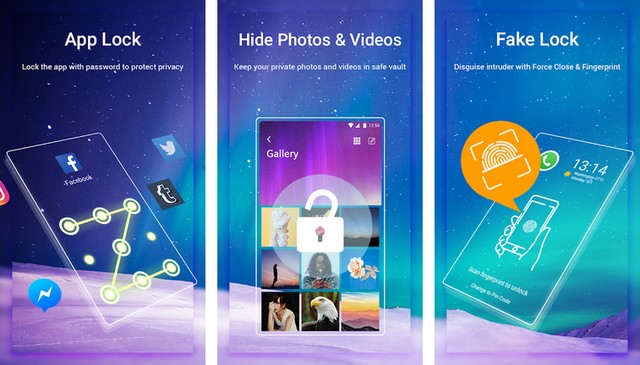 AppLock Aurora is a really good AppLock App which comes with very good look. It offers many unique features such as locking your apps with PIN Lock or Pattern Lock, Locking your system settings such as Bluetooth, WiFi, and others, Fake Lock to prevent an intruder from accessing your private apps, intruder selfies and many more. Moreover, you can also replace Aurora icon with the weather, calculator and another icon to prevent others from discovering the app. It also offers an invisible pattern feature which is a very useful feature and it protects your pattern from prying eyes. Overall, it is a really good App Lock and we recommend it.
---
Conclusion
These are the 10 best AppLocks apps for Android. Some of them come with tons of features while some of them are more lightweight. You can pick the ones which best suits your needs. Let us know your favorite AppLock app in the comment section below. You can also check out the best free antivirus apps for Android on our website.