Running a business is no easy task as it involves a lot of decisions that make the whole process very complex. Back in the days, it was even tougher, but nowadays, we have the apps which help a lot in many processes. Today, we will discuss the business apps which will help you in your business affairs. In this guide, we will share the best business apps for Android.
Asana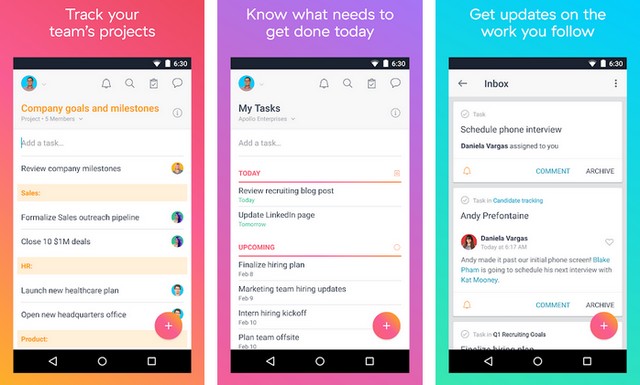 Asana is one of the best business apps for Android. It's basically a to-do manager app which you can use to add the different tasks that you have to complete over the day. Being a business owner, you will surely have to take care of a lot of things, and it's also true that we can't remember everything. That's where Asana comes, and it reminds you about the stuff you need to do.
You can also use the app to assign the task to your employees as well, and the free version comes with support for up to 15 people. However, if you have a bigger team, then you will need to pay for the premium version.
---
CamScanner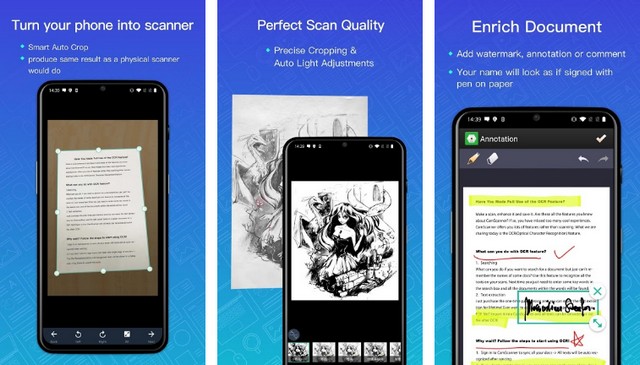 Back in the days, document scanners were very important, and many businesses used to have them in their office. But, in 2023, we have the apps which can scan the documents with the camera of our smartphones.
CamScanner is a very handy document scanner app that you can use to scan your documents, ID Cards, and other types of documents. It comes with a variety of filters that enhance the visibility of the documents. If your business involves a lot of document processing, then CamScanner is a must-have app for your business.
---
G Suite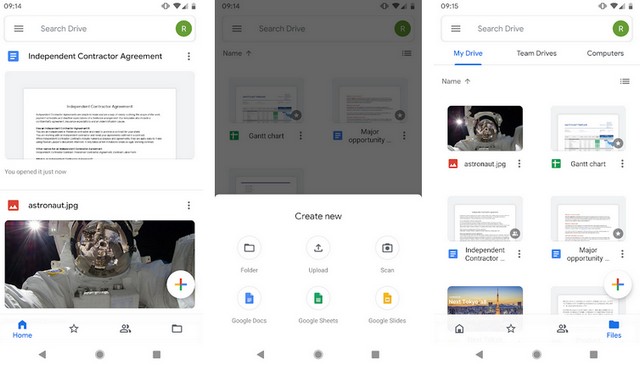 If you have a large team and it shares a lot of documents, then you can use the G Suite. It's the service by Google, which comes with a collection of Google Apps that support better collaboration and communication.
Using G Suite, your team can easily share the documents, images, notes, and other data over the Google Apps. Moreover, the service also comes with mediums for communication, which your team can use for messages & calls.
---
Google My Business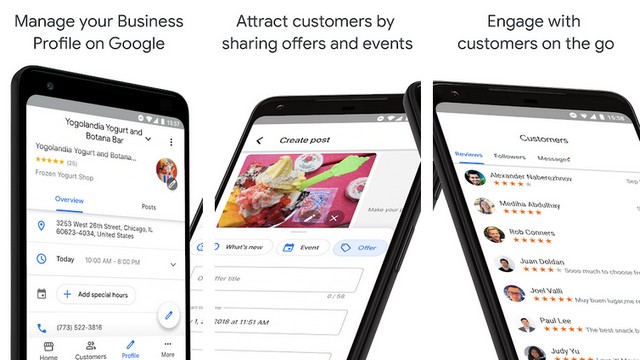 If your business is about the service, then you can use Google My Business. It's basically the service that allows you to display your business on Google search and Google Maps.
As Google is the largest search engine in the world, having your presence on the platform will drive a lot of customers your way. Using this service, you can share the address of your service, hours of operations, and other relevant data.
---
Microsoft 365 Business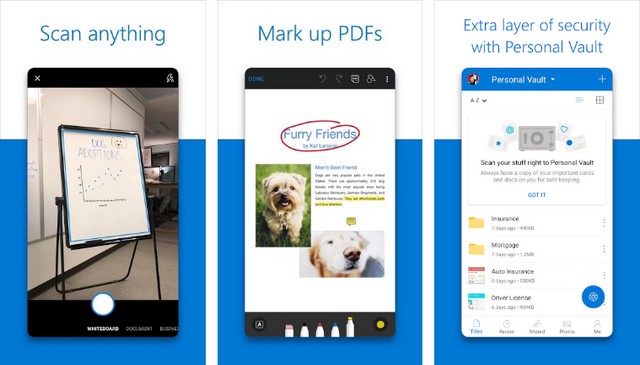 Just like G Suite, Microsoft 365 Business is a service which you can use to improve the efficacy of your team. Using this service, your team will get access to services such as Microsoft word, excel, PowerPoint, and OneDrive, which makes it easier to share the data.
On top of that, you will also get the dedicated communication platform that your team can use for sharing messages, videos & voice notes. It also comes with the Office Lens, which is a similar service to the CamScanner and can be used to scan the documents.
---
PayPal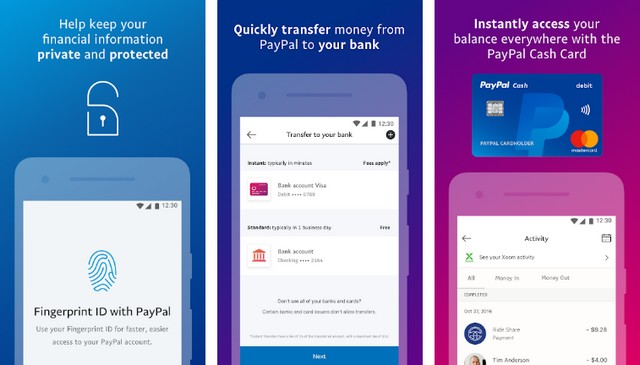 PayPal is one of the best business apps for Android. As we all know that PayPal is a very popular online payment solution, and you can use it to get your payments worldwide.
The company also offers PayPal Business, which is mainly designed for businesses. You can use it to expand your services in the supported regions and get the payments easily.
---
Slack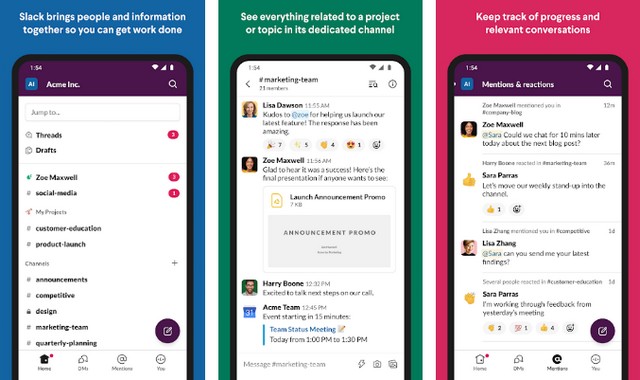 Slack is one of the most popular communication apps for businesses. It's a great app for you if you have a large team, and they can use it to communicate effectively.
The app comes with tons of features such as conference calls, document sharing, and groups, which make the collaboration easier. It also works flawlessly with third-party services such as Google Drive, Asana, and others, which is a major plus.
---
Square Point of Sale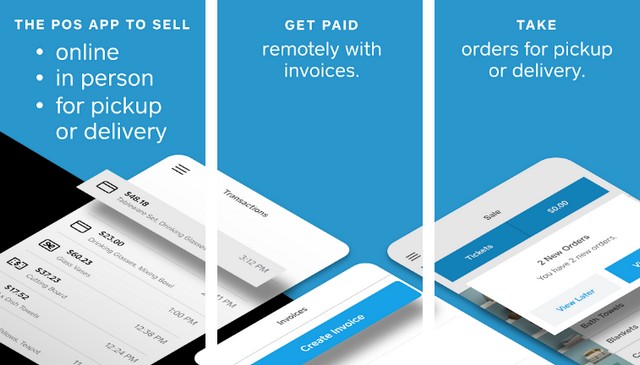 If you are a small business owner and you are looking for an efficient Point of Sale solution, then Square is for you. You can use this app to setup the point of sale, and the company also provides the magnetic strip reader for free.
The app comes with a variety of great features such as receipts, inventory management, managing refunds, discounts, and other relevant stuff. The problem with this app is that it will charge you 2.75% of every purchase, which can be a deal-breaker for many people.
---
ZOOM Cloud Meetings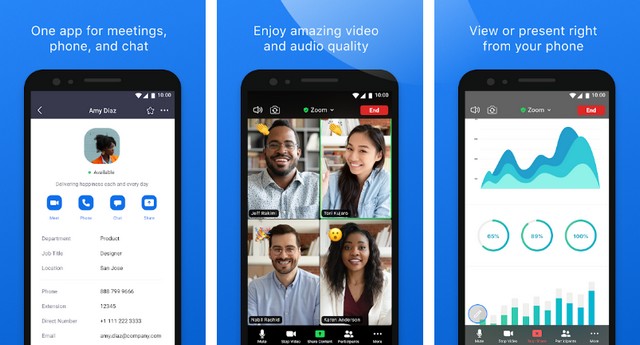 ZOOM Cloud Meetings is one of the best business apps for Android. We would recommend using this app is you have a very large team, and you need an app that can accommodate it.
Apart from video conferencing, ZOOM also allows your team to collaborate as well, and you can share the files, photos, and other data on the messages. For now, ZOOM is completely free to use, so if you can't afford the G-Suite or Microsoft 365 Business, then you can use this service.
---
Security Apps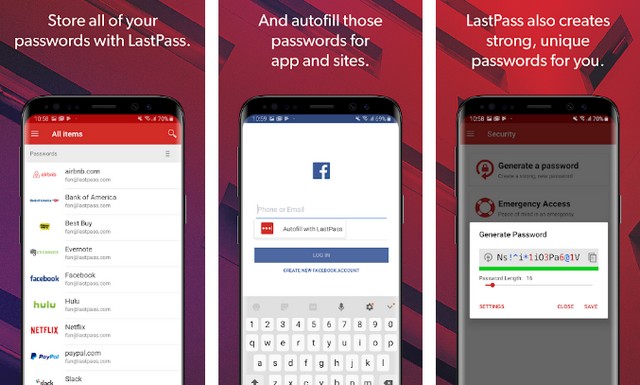 If you are a business owner, then it's very important that you keep your data safe. As hacking is a very common issue these days, you can always use the combination of good security apps to keep your data safe.
You can use the apps such as Dashlane or LastPass to store your passwords in the encrypted form so that no one else could access.
---
Conclusion
That's all, folks. These are the 10 best business apps for Android. Some of these apps are free, but if you want to access premium features, then you will need the premium subscription. Also, if you are a small business owner, then you can use social media apps for marketing, and you can check our guide "Best Social Media Apps for Android".