Android smartphones these days come with very good cameras and you can take professional grade photos from these cameras. However, default camera apps on most of the smartphones are not good enough which can block you from taking good photos. Here come the third party camera apps which come with tons of great features which you can use to capture some great photos. In this guide, we will share the best camera apps for Android in 2022.
There are tons of camera apps out there and some of them are good, some are not. We have picked the best camera apps for Android which we think have the great potential and features to capture great shots.
HD Camera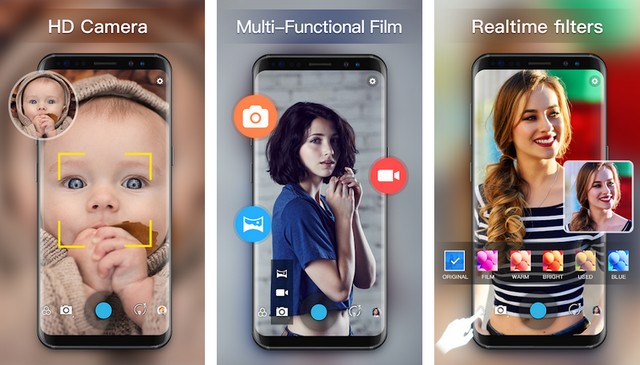 HD Camera is one of the better camera apps which can help you take some amazing photos. The app comes with many advanced featuressuch as Optical & Digital Zoom, focus halo display, AF mode as well as White Balance controls. HD Camera also comes with various view modes that you can pick depending on the condition. If you are looking for a comprehensive Camera app then HD Camera is a very solid option for you.
---
Bacon Camera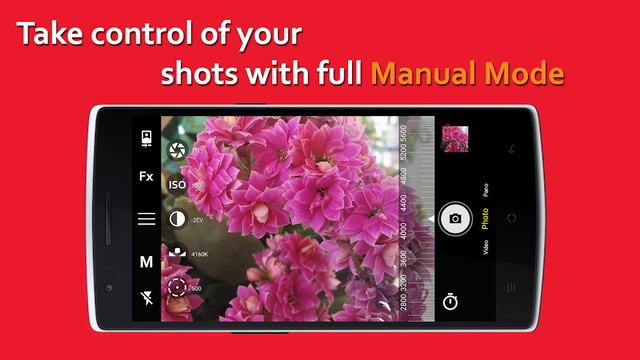 As we say that simple is the best, Bacon camera app is a very simple camera app which offers the basic feature. It offers the manual controls of focus, white balance, exposure, ISO and many more which you can use to capture great photos. It also supports the RAW and DNG formats along with JPEG format. The app is also has very simple UI which make it easy to use. Bacon Camera app is the basic at best, if you don't want a fancy camera app then this one is for you.
---
Camera MX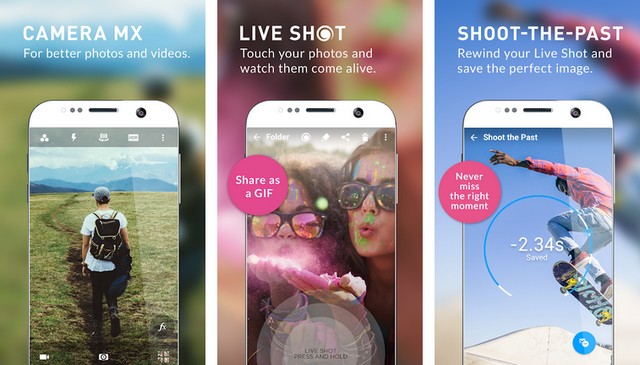 Camera MX is one of the most popular camera apps on the PlayStore. The app has been around for a year and it still regularly get the updates from the developers. It offers the tons of option to controls the different settings and it also boosts the different shooting modes. You can also record GIFs using the GIF mode. There is also a built-in editor which you can use to edit your photos. Camera MX is the basic camera app and it is perfect for beginners.
---
Cymera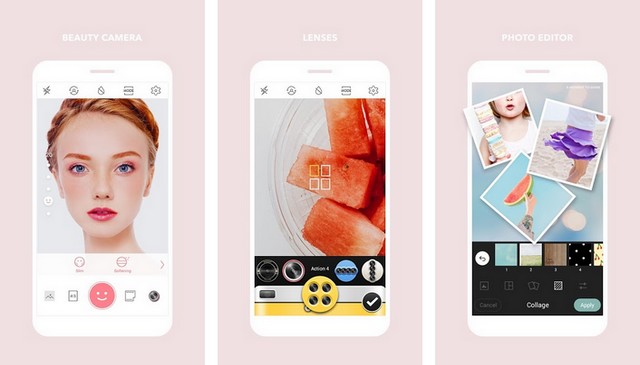 Cymera is a very popular camera app and it comes with tons of features which you normally find in other camera apps. It comes with a beauty camera mode which you can use for taking selfies. You also get the built-in editor to edit the photos and add different effects. It is free to use but it also includes in-app purchases. If you are a selfie fan then you will love Cymera.
---
Filmic Pro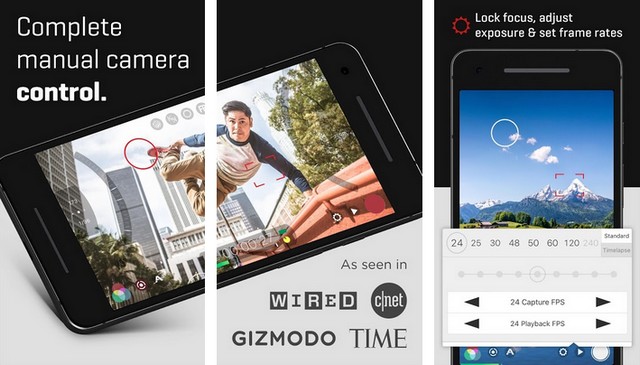 Filmic Pro is a relatively new camera app on Play Store and It is dedicated toward the pro photographer. It is also the most expensive camera app on our list. Filmic Pro comes with great manual controls for exposure control, focus, white balance, gamma curve control and many more. You also find the analytics, live RGB control, etc. The app is also improving a lot with the software update. It is not free to use but if you are not satisfied you can get your refund.
---
Google Camera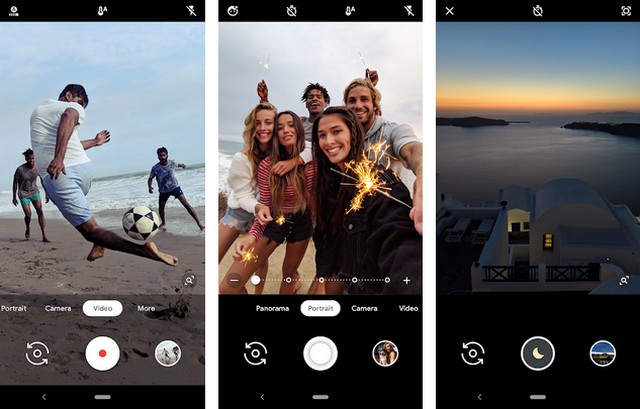 Google is the company behind the Android and Google Camera App is the official camera app by Google. It has the basic functionality but they are very effective and it comes with features like lens blur mode, slow motion, photosphere and many more. The problem with it is that it is supported only for Android 7.1.1 or above. It is free to use and if you want a good basic camera app then Google Camera is a great option.
---
Manual Camera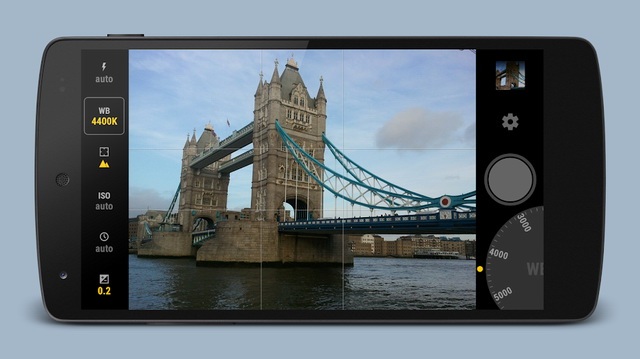 Manual Camera is another camera app which uses the Android Camera2 API. It comes with tons of manual settings and you can access features like shutter speed, focus distance, ISO, white balance, exposure compensation and many more. You can also save photos in RAW format. It is simple and easy to use, we recommend it to those who like playing with the manual settings.
---
Moment Pro Camera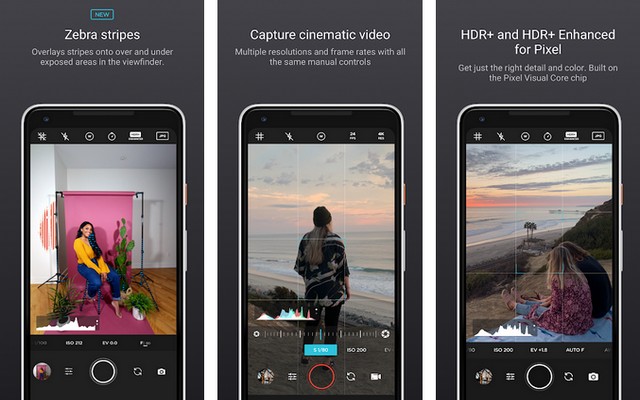 Moment Pro Camera is another premium camera app which got its popularity on App Store and now it is available for Play Store. It comes with tons of manual camera settings such as exposure, ISO, shutter speed, focus and many more. It also comes with HDR+ and HDR+ Enhanced support but it is only limited to Pixel Devices. Moment Pro Camera is available for $1.99 but you can get a refund if you don't like it.
---
Open Camera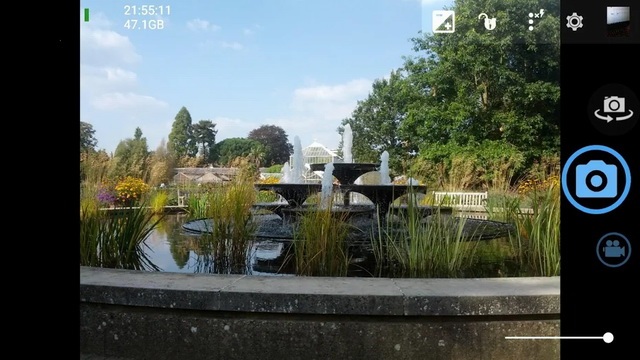 Open Camera is one of the best camera apps for Android. The app is completely free to use and it comes with tons of great features. It comes with support for various scenes, color effects, white balance, ISO, exposure compensation and many more. The app also features the remote control features such as timer ad auto-repeat mode which comes in handy. In the app, you also get support for HDR and Camera2 API. You can use the app for free but it comes with Ads.
---
Simple Camera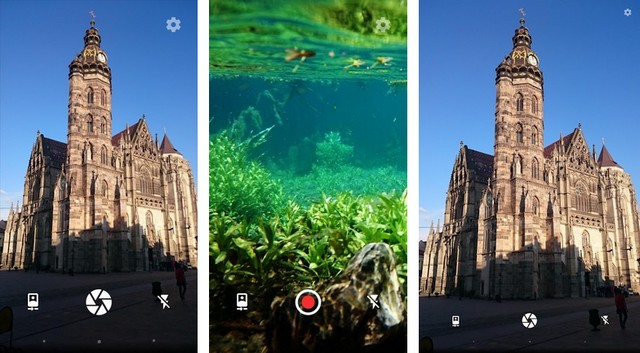 Simple Camera is a simple camera app which is geared towards the beginners. You won't find the fancy camera features here but it can capture some pretty good photos. The best thing about the simple camera is that it is completely simple, which means if you are not a fan of complex camera apps, you will love it. It is a direct competitor to Google Camera, so if you don't like Google Camera then you should try this one.
---
Conclusion
These are the 10 best camera apps for Android and you can pick any of them according to your requirements. We hope that you will find our guide useful. If you have any questions, please let us know in the comment section below. You can also check out the best video chat apps for Android on our website.