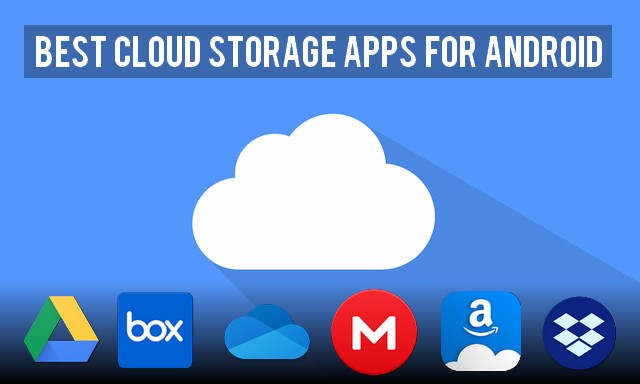 We are living in the era of technological advancements where we have many great technical solutions and the solution of having limited physical storage is the Cloud Storage Apps. Most of the cloud storage apps are free and if you are using cloud storage you can share the files with other people around the world by just giving them access to online files. In this guide, we will share the best cloud storage apps for Android.
Amazon Drive
Box
Dropbox
Google Drive
Mega
Nextcloud
Microsoft OneDrive
Resilio Sync
Tresorit
pCloud
Amazon Drive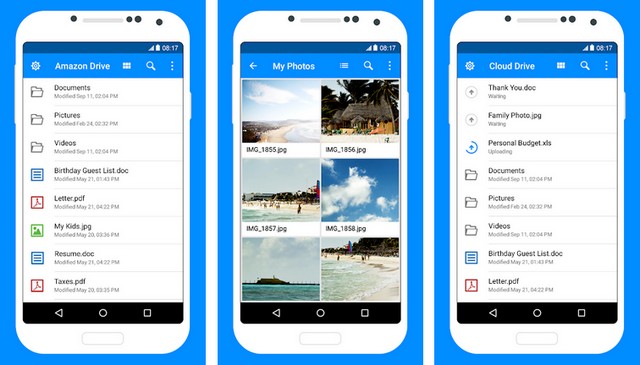 Amazon Drive is one of the best cloud storage apps out there and it is perfect for those who use the Amazon prime. In this app, you get the 5GB Free storage for storing your content along with unlimited backup for photos and videos. 5GB storage is not enough for the power user, but it would work for most of the people. Also, note that if you don't have Amazon Prime subscription then an unlimited backup of photos and videos will cost you $12 per. You also get the option to get unlimited storage for just $60 per year.
---
Box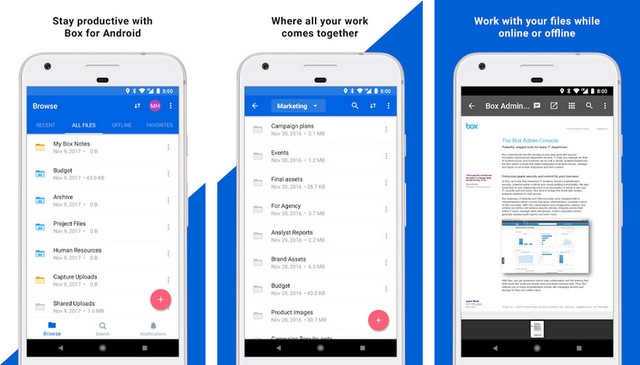 The Box is another very popular cloud storage apps which cater the regular users as well as enterprise clients. The app comes with support for many file management apps. The free users get the 10 GB free storage and you can take it to 100GB Storage by paying $10 per month. There are also packages for businesses where they get additional business-centric features. However, Box have a limit of 100 GB which means if you want more than 100 GB storage then you will have to look elsewhere.
---
Dropbox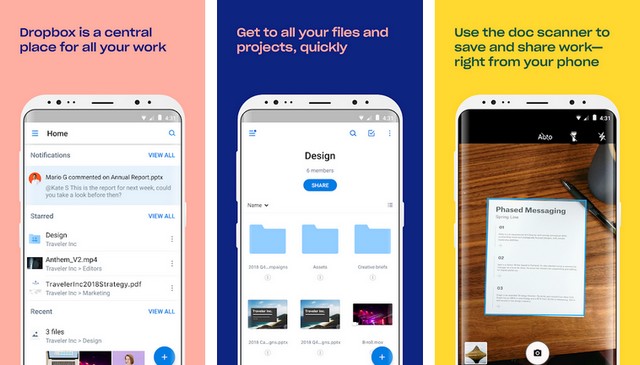 Dropbox is one of the most popular Cloud storage apps out there and it is most come pre-installed on some Android smartphones. In this app, you find the tons of useful features such as auto-photo upload, easy sharing options, the latest Android design elements, Microsoft office support and many more. The free account holders get the 2GB free storage which you can increase to 1 TB for just $9.99 per month. The Dropbox also offer additional features for their corporate clients.
---
Google Drive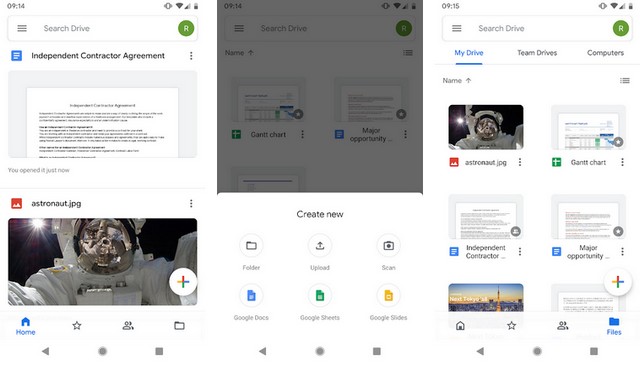 Google Drive is by far the most popular cloud storage apps out there and the reason is that it is very reliable and it comes pre-installed on every Android smartphone. The free users get the 15 GB free storage with unlimited photo and video backup option using the Google Photos. You can upgrade your storage to 100 GB for $1.99 per month and 1 TB storage is available for $9.99 per month. Google Drive is very easy to use and its seamless integration with google chrome make it ideal for use.
---
MEGA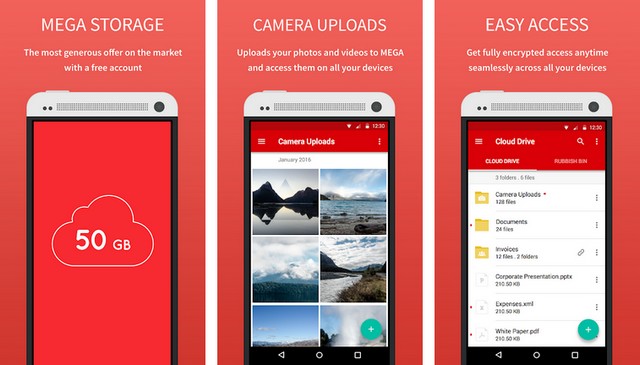 Mega is also a very popular cloud storage app which offers the 50 GB Storage to its users. It is the largest bonus among all other cloud storage apps. You can also further extend the storage up to 8 TB. The overall service is good but it is not as good as Google Drive. However, if you want to put up large files on cloud storage then Mega is definitely a good choice. It also encrypts all data on the cloud which mean your data will be secured on the cloud.
---
Nextcloud
Nextcloud is not technically the cloud storage app but it works similarly. In this app, you create the nextcloud server on your computer and then this app sync all the data stored on your local cloud with your smartphone. It is a perfect solution for those who don't want to store their sensitive data on third-party servers. The app is completely free to use and you can sync as much data as you want without any restrictions.
---
Microsoft OneDrive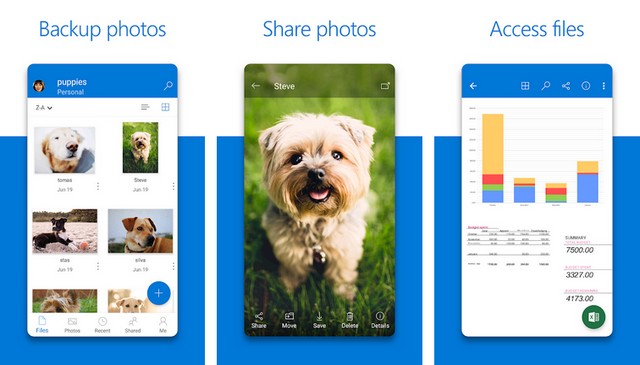 Microsoft OneDrive is another very popular cloud storage app which integrates seamlessly with the windows products. The Free account holders get the free 5 GB storage, which they can further upgrade to 50 GB for only $1.99 per month. If you have office 365 Subscription holder then you can get this service bundled with the regular package where you get 1 TB storage for $6.99 and 5 TB storage for $9.99.
---
Resilio Sync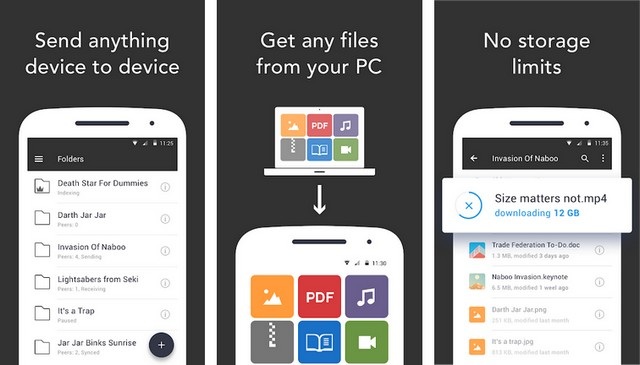 Resilio Sync is another unique cloud storage app which works similarly to the Nextcloud in term of functionality. It allows you to set up the server on your desktop, laptop, tablet to sync it with your smartphone. Resilio Sync works similarly like Google Drive or Dropbox but the only difference is that you have your own server. It is an excellent choice for those who don't trust the third party servers. The app is completely free to use.
---
Tresorit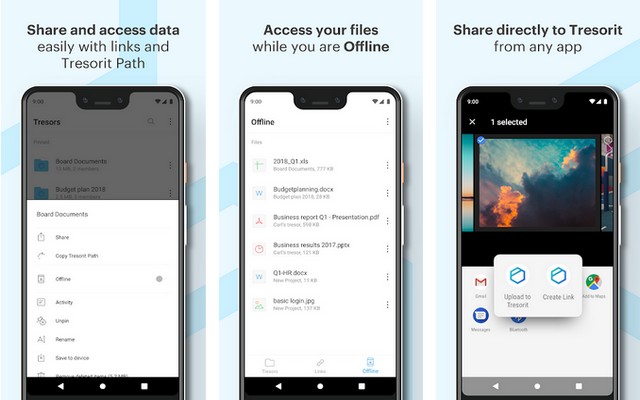 Tresorit is a relatively new cloud storage app which is also very expensive. The main selling point of this service is that they take the security very seriously and offer end-to-end encryption for the data stored on their servers. The free account holders get the 1 GB free storage and to upgrade your storage you will have to spend $12.50 per month for 200 GB and $30 per month for 2 TB storage. The app also offers additional features for corporate clients.
---
pCloud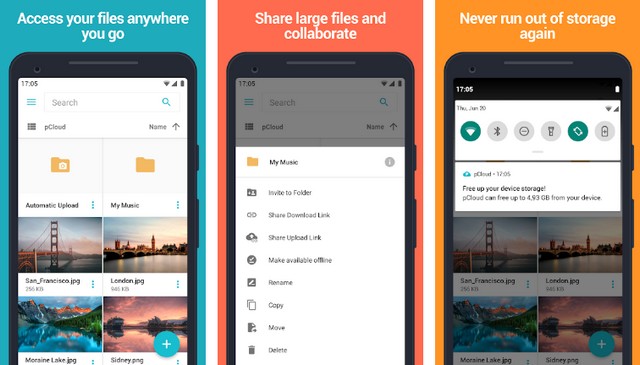 pCloud is one of the best cloud storage apps for Android. The best thing about pCloud is that it offers the 10 GB of free storage to every user, and you can additionally expand it to 2 TB, which is surely a lot of space and can accommodate tons of data.
The app comes with the sync feature, which allows your cloud storage to sync across all devices, so if you store the file from your smartphone, you can access it on your laptop and other devices too. Also, it uses the military-grade client-side encryption to ensure that your data is safe. You can get the app for free, but you will need to pay if you need more than 10 GB Storage.
---
Conclusion
These are the 10 best cloud storage apps available for Android. Some of these apps are by the industry giants such as Google, Amazon, Microsoft, and Western Digital. You can pick the one according to your requirement. Let us know your favorite cloud storage apps in the comment section below. You can also check out the best privacy apps for Android on our website.