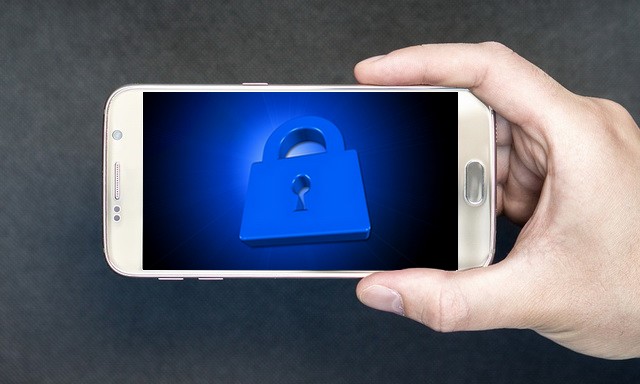 Privacy is one of the biggest issues of this year and people are aware of the lack of privacy. Recently the big companies like Facebook and Cambridge Analytica have been accused of compromising the privacy of their users. In the modern era, it is very difficult to keep check of everything, we have dozens of apps on our smartphones and we don't know what data they are sending or the permissions they have. That's why having a good privacy app will ensure that your privacy is protected. We have picked the best privacy apps for Android which will ensure that your privacy is not being compromised.
Best Privacy Apps for Android in 2022
AppLock by SpSoft
Bouncer
Firefox Focus
GlassWire
K-9 Mail
Musicolet
ProtonVPN
Simple Mobile Tools
Telegram
The Tor Project
AppLock by SpSoft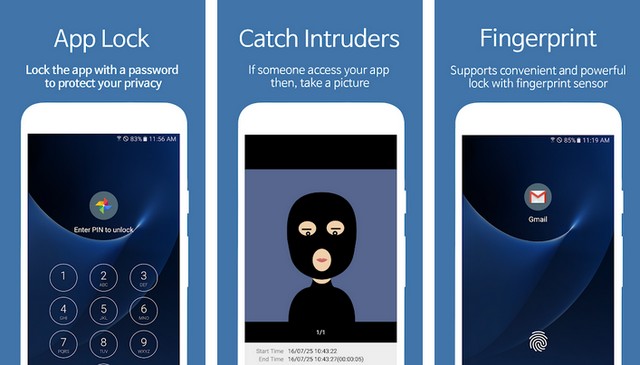 Privacy is not just limited to social media platforms, it is also related to your smartphone as it stores a lot of personal data. Having a good AppLock will ensure that your personal data is safe from the prying eyes. The app comes with many advanced features which ensure that only you get access to your personal data. It comes with password protection and fingerprint support. Moreover, it also comes with intruder detection feature as it automatically takes a selfie of the person who tries to enter the wrong password. AppLock by SpSoft is free to use but it comes with in-app purchases and Ads.
---
Bouncer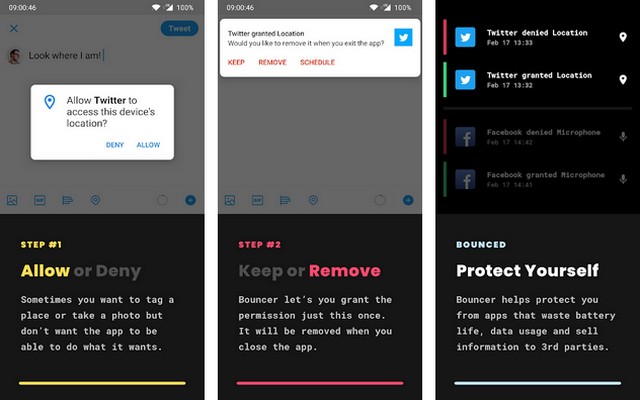 Bouncer is a better privacy app which targets the permissions by the app. Often some apps ask for the permissions which they usually don't require to function properly and you can use the Bounce to automatically remove permissions from the app. For example, if you are using the location feature with your Google app, you can set the bouncer to revoke the permission after 15 minutes and it will do it. Permission management plays an important role in keeping your privacy and Bouncer can help you in it. You can get the app for $0.99.
---
Firefox Focus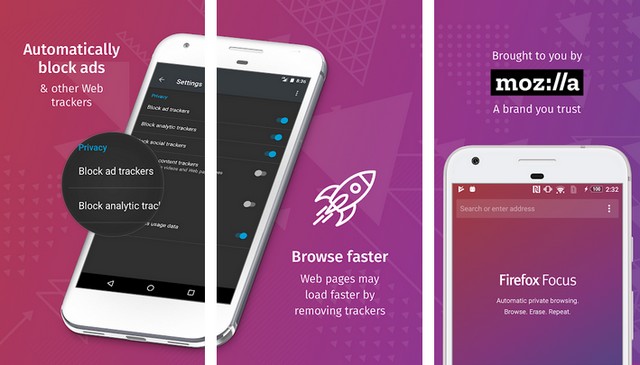 Firefox is one of the most popular browsers out there and the company has come up with the Firefox Focus which is a privacy-centric web browser which is better than many privacy browsers out there. The app ensures that you don't get a track by the web trackers or Ads. Blocking the web trackers and Ads also result in improving the browsing speed which is a plus. The Neat UI and tons of useful features make it an ideal privacy-centric browser. It is also completely free to use.
---
GlassWire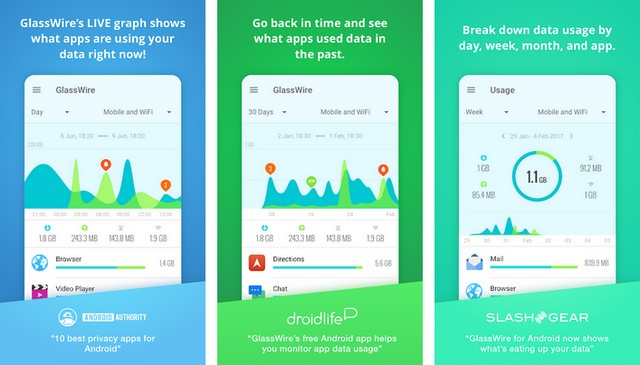 GlassWire is another good privacy app which monitors the data usage of the app. It is the best app for those who want to know how much data is being used by the app installed on their smartphones. It provides and track the data in real-time and allow you to monitor the servers used by the apps. GlassWire is free to use but the free version comes with restrictions and you can get the pro version for $4.99 per year.
---
K-9 Mail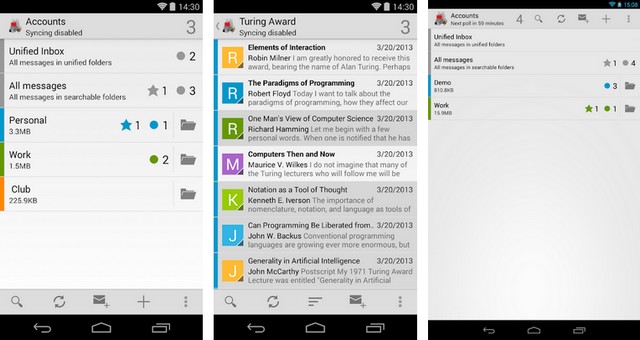 K-9 Mail is a privacy-centric email app which is completely free to use and also an open-source. The app comes with every good feature which you would find in any good email app. Moreover, it comes with the encryption as well which is perfect for those who are worried about their privacy. Also, it works well with OpenKeychain: Easy PGP app. If you are looking for a privacy-centric email app with good features then K-9 Mail is a nice option for you.
---
Musicolet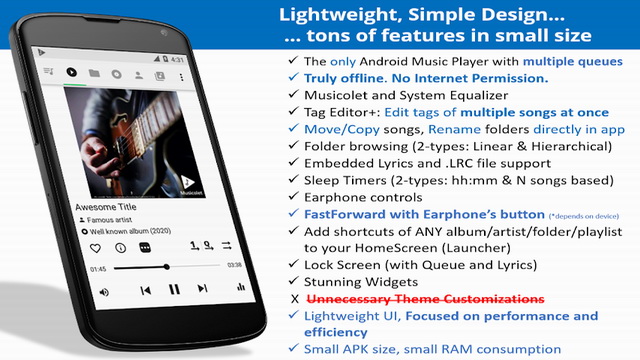 Musicolet is a unique music player app which allows you to store and play music without any restriction. The app is designed to be lightweight and performance-centric. It also comes with useful features such as sleep timer, earphone controls, lock screen, widgets and a lot more. Musicolet is completely free to use, no strings attached.
---
ProtonVPN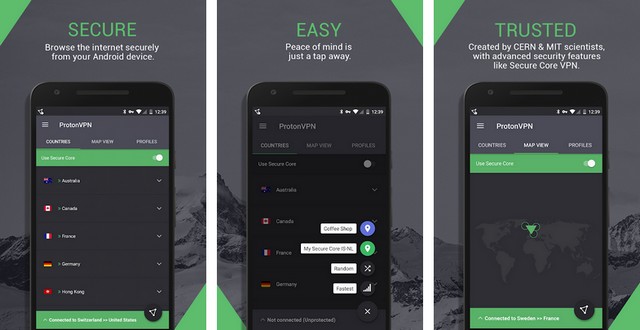 Having a good VPN is very important for your privacy as it stops the ISPs from tracking your online activities and it provides cover to you. ProtonVPN is one of the best VPN services out there as it comes with many advanced features. The company hasa very clear no-logging policy and it also uses the encryption technologies to ensure that your connection is secure. ProtonVPN is also completely free to use.
---
Simple Mobile Tools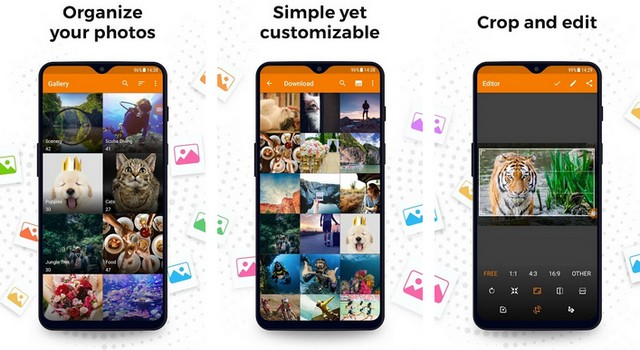 Simple Mobile Tools is the developer studio which offers tons of simple mobile tools such as contacts, gallery, calendar, file manager, camera and more. The best thing about these apps is that these app doesn't require any extra permissions to work. For example, the gallery app will not require you to give permission to your location, similarly, the note-taking app will not require to access your device ID. The prices of these apps vary from app to app.
---
Telegram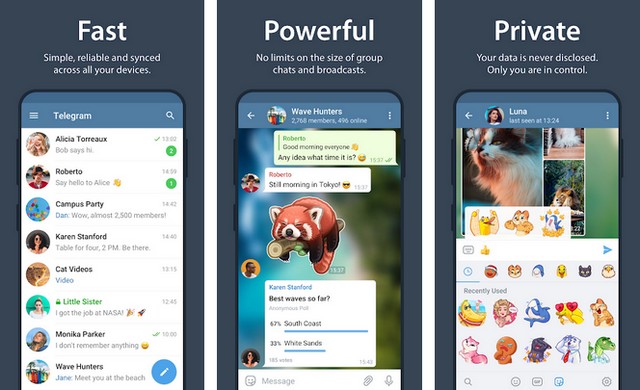 Telegram is one of the most popular privacy apps which ensures that your communication is secured and it has more than 200 million active users around the world. The app uses the state of the technologies like 256-bit symmetric AES Encryption, 2048-bit RSA encryption, and Diffie-Hellman secure key exchange. The company uses the combination of these powerful technologies to ensure that no one gets access to your data. It is also completely free to use, no Ads or anything.
---
The Tor Project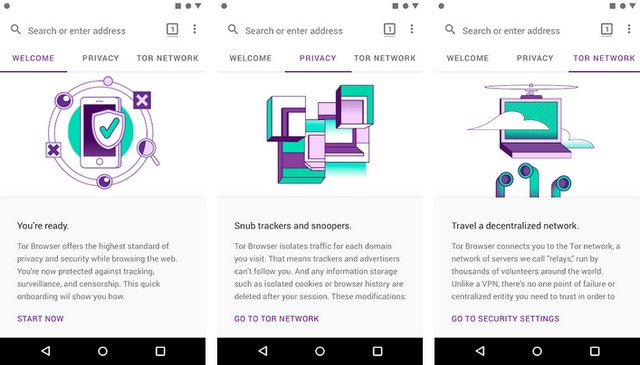 The Tor Project is the best app for hardcore privacy fans. The app allows you to access the whole internet without any restrictions. The app uses the state of the art encryption to encrypt the traffic between the server and your mobile. Overall, it is a great app but please note that it will give you access to dark web too and it is mainly used by the whistleblowers or journalists to access the more restricted areas.
---
Conclusion
These are the 10 best privacy apps for Android. Privacy is the real issue these days but having a good app will solve this issue to a great extent. These apps provide the best privacy and these apps are trusted by millions of users around the world. if you have any questions, please let us know in the comment section below. You can also check out the best Android VPN apps on our website.