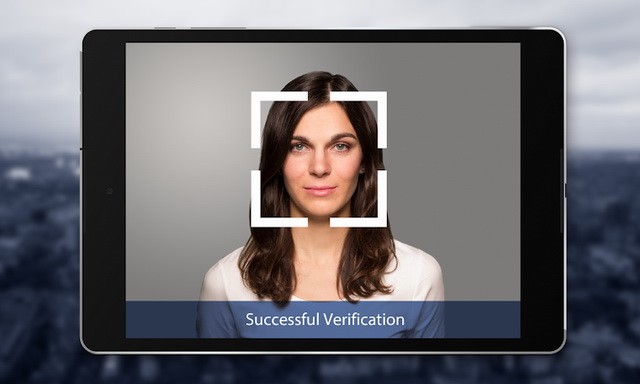 Face Recognition Technology in smartphones has improved a lot over the years, and now it's better than ever. Many Android Apps use Face Recognition in their functionality to make them more accessible for users. If you are also interested in these apps and want the best ones, this guide is for you. In this guide, we will share the best face recognition apps for Android.
True Key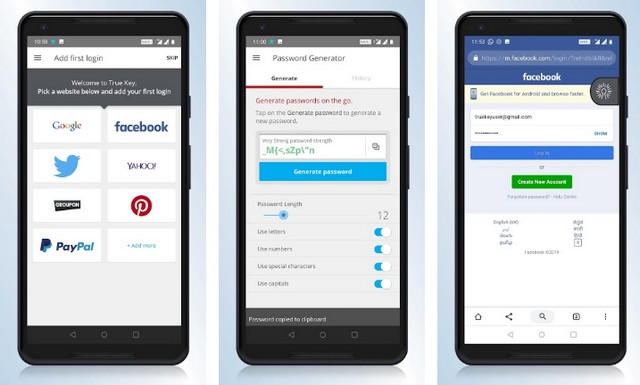 True Key is a very popular Password Manager App that allows you to store all of your passwords in a secure environment and access the websites using your Master Passwords.
The app supports various ways to authenticate you, and one of them is Facial Recognition. It uses the front camera of your smartphone to verify you and give access to the vault. If you want a capable password manager with Face Recognition, you can't go wrong with True Key.
---
IObit Applock Lite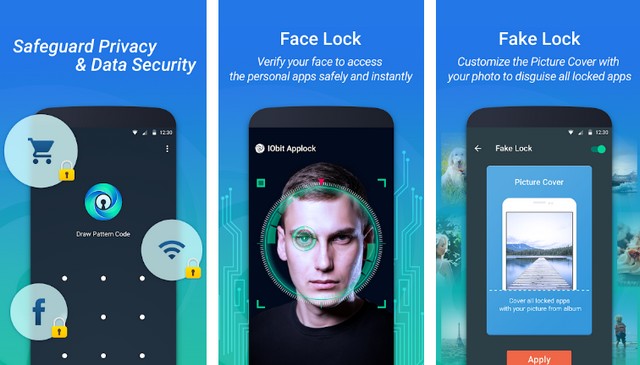 IObit Applock Lite is one of the best face recognition apps for Android. It's an App lock that you can use to protect your private apps, Photos, and Videos from the prying eyes.
The app also supports Facial Recognition, and when you scan your face, it instantly gives access to the folder. If someone else tries to unlock the vault, the app will take the photo of the intruder and notify you by email. You can use IObit Applock Lite for free, but it comes with Ads and in-app purchases.
---
Face2Gene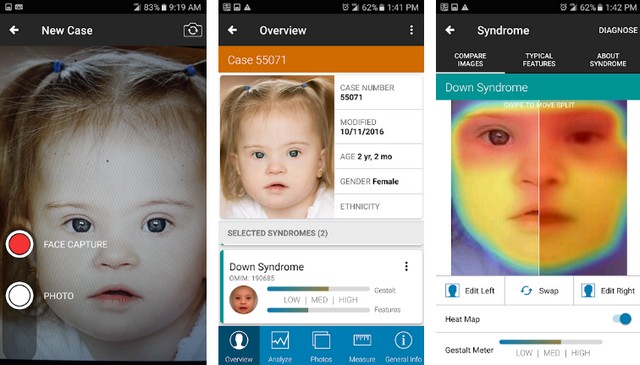 Face2Gene is arguably one of the finest face recognition apps for Android. This app is mainly designed for health professionals as it helps them diagnose various conditions using facial scans.
It also comes with the collaboration tools like forums where you can share the cases with other doctors around the world and get feedback. It's still a relatively newer app, but it's continuously improving, and it can become a great companion for doctors in the near future.
---
Face Lock Screen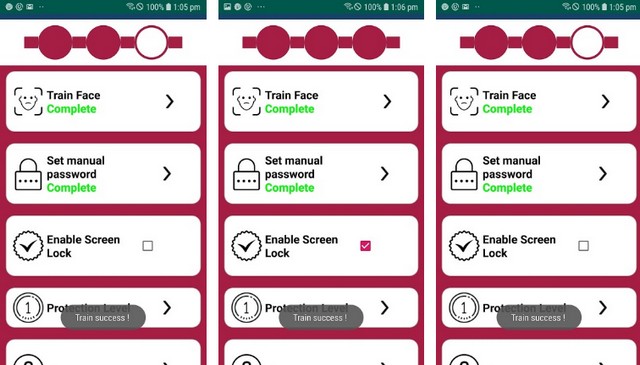 Face Lock Screen is another very impressive Face Recognition App for Android. The app uses the advanced neural network AI Technology to scan your faces and help you unlock apps.
Before you start using the app, it's important that you can train the AI for your face, and once it's ready, you can start protecting your important Apps with the Face Lock Screen. The good thing about this app is that it keeps getting better with time which is a plus. You can use Face Lock Screen for free, but it comes with Ads.
---
BioID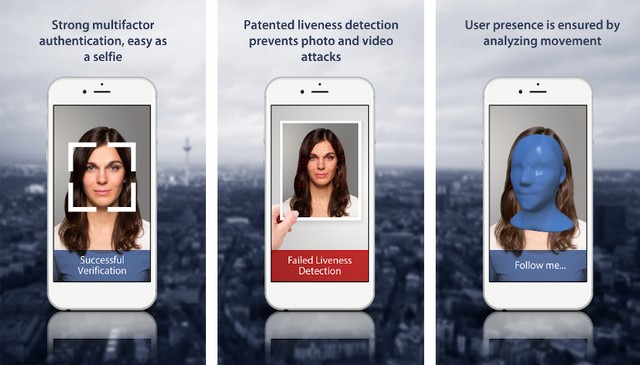 BioID is arguably one of the best face recognition apps for Android. It's an advanced security app that makes sure that the owner himself/herself is trying to access his/her account by verifying with Facial Recognition.
Once the user passes the Facial Recognition Test, the app gives access to the user. You can also use the app as an authenticator to the various app and make sure that only you get access to those apps.
---
MojiPop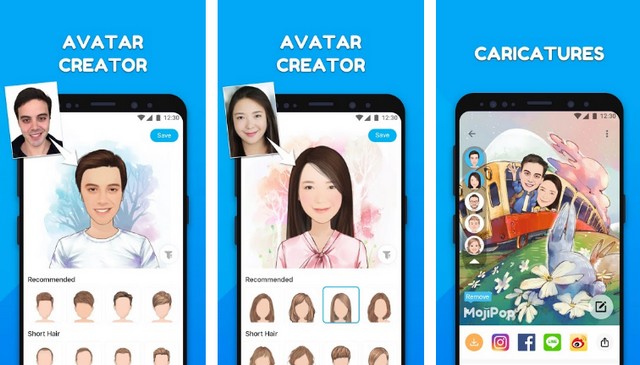 Emojis have become an important part of our conversations, and MojiPop is the app that allows you to create your personalized Emojis. The app uses facial recognition technology to detects your face from the selfie and then create a personalized emoji for you.
Once your personalized emoji is created, you can easily use it in your conversations and make your chats more fun. You can use MojiPop for free, but it comes with ads and in-app purchases.
---
LogMe Facial Recognition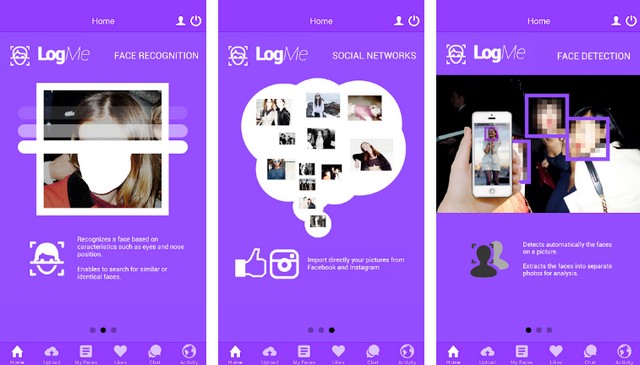 LogMe Facial Recognition is a very interesting Facer Recognition App. It's basically a search engine, but it's designed to find similar faces.
In this app, you will upload your photo to the engine, and the app uses an advanced face recognition algorithm to detect faces on the photos. Then it will run the image on the engine to find faces with similar characteristics. The app also allows you to send messages to the uploader of the photo so that you could chat with people that have similar faces to you. Overall, it's a new app, and surely there's a lot of room for improvement, but still, it's a nice app to try.
---
FACE IT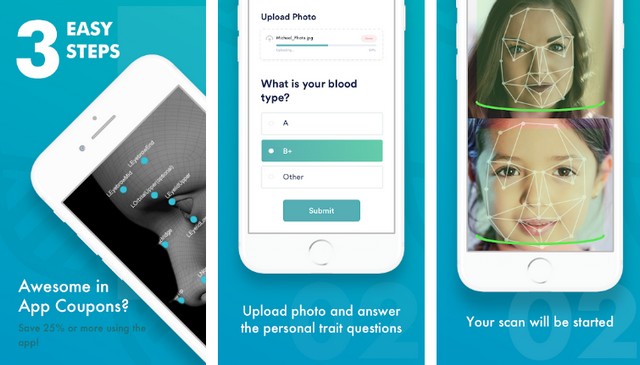 FACE IT is another very popular Face Recognition App for Android. This app uses Facial Recognition Technology and Advanced Algorithms to create the facial profile and then uses it to determine if you are related to other persons.
In the app, the algorithm scans the patterns of your face, eyebrows, eye, nose, lip, ear, mouth, head, chin, and skin to develop a comprehensive profile. Overall, if you want to check if you are related to another person, then use FACE IT to find it out.
---
AppLock Face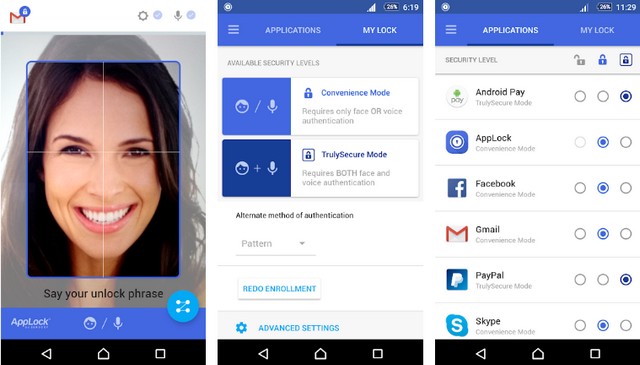 AppLock Face is one of the best face recognition apps for Android. This AppLock uses advanced Facial Recognition technology to protect data, and only the owner can access the data after verifying identity with Facial Recognition.
You can use the AppLock Face to secure your private photos, videos, apps, and other personal data. It also supports voice recognition which you can use as an additional layer of security. The best thing about AppLock Face is that it's completely free to use with no strings attached.
---
FaceApp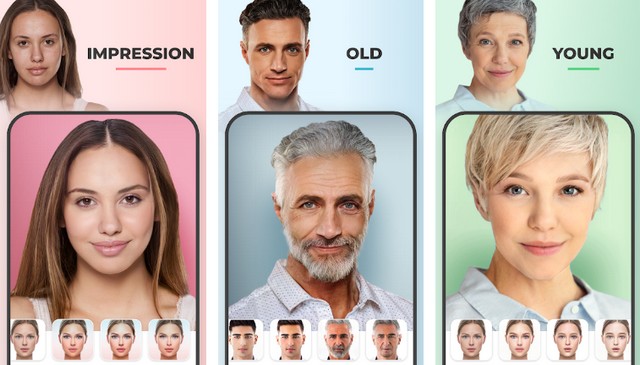 FaceApp is arguably one of the best face recognition apps for Android. You can use the app to make various adjustments to your face, but first, you will have to take a selfie, the app will run the facial recognition algorithm, and then you will get various options.
In the app, you can easily change your impressions, give yourself an old or young lock, change the background, add makeup filters, use creative lights, smooth wrinkles, remove acne, use the color lens, and many more. The app also comes with a video editor, which you can use to edit videos and add cool filters to them. You can use FaceApp for free, but it comes with Ads and in-app purchases.
---
Conclusion
That's all, folks. These are the 10 best face recognition apps for Android. Most of these apps are free to use, but some offer additional in-app purchases which you can use to unlock advanced features. If you have any questions, please let us know in the comments. Also, if you are into Horoscopes, check this guide where we have shared the best Horoscope apps for Android.