Virtual Reality (VR) is becoming a big deal and with the involvement of big players like Facebook, Google and Sony, VR is getting popularity very rapidly. These companies have the headsets like Oculus Rift, HTC Vive, PlayStation VR and others on the market but none of them come closer to Google Cardboard in term of affordability. We have handpicked the best Google Cardboard apps for Android.
Cardboard Theater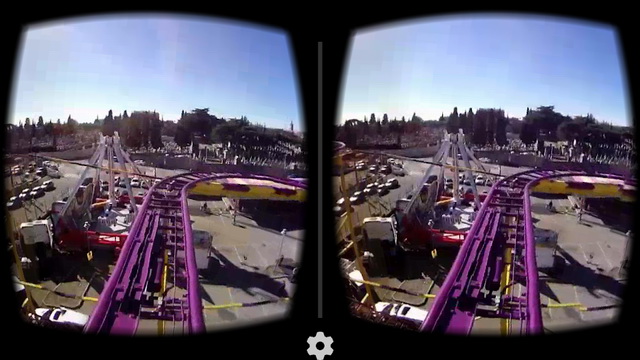 Cardboard Theater is one of the best Google Cardboard apps for Android. It allows you to view your 2D and 3D movies in a virtual cinema without any issue. The app also comes with several video codecs and it is also fairly easy to operate. If you want you can use the 360-degree and 180-degree video content as the app supports these formats as well. Overall, it is a very solid option for those who are looking for simple video player apps for Google Cardboard.
---
Google Cardboard App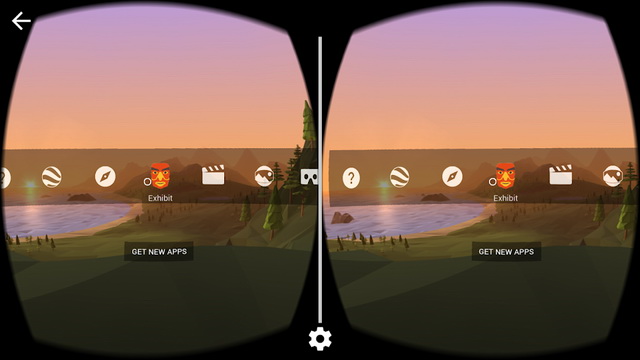 Google Cardboard App is the official app by Google which you will need to set up your Google Cardboard experience. It also comes with some VR experiences of its own and you can use your videos, photos and other VR content stored on your smartphone. One of the main highlights of this app is that it comes with a directory of VR apps and games which will allow you to explore the new stuff. The only problem with this app is that its last update was in 2016 but still the app works fine and you should give it a try.
---
Cardboard Camera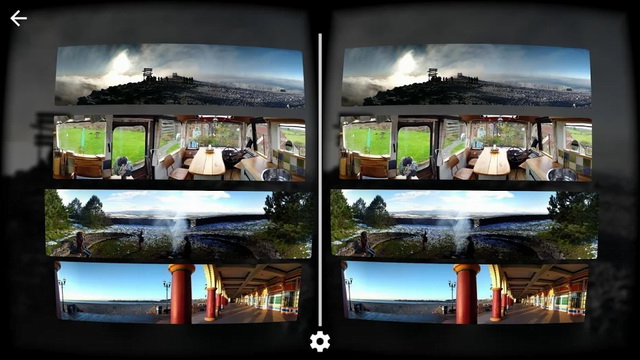 Cardboard Camera is another very useful Google cardboard app which allows you to take VR photos in VR. The app is very easy to use, you won't need to sign up, just open the app and start using it. However, you will need to dedicate some time on how to take good photos, after a small learning curve, you will be able to capture good photos with it. The app is completely free to use and you should give it a try.
---
Google Expeditions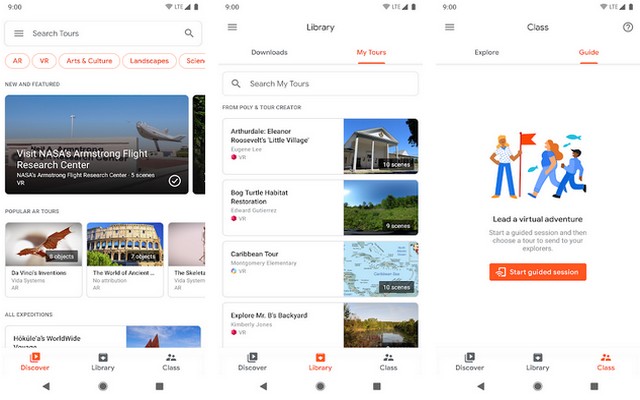 Google Expeditions is an education-oriented app by Google which is meant to be used in the classroom to teach the students. However, you can use it anywhere you want and use over 200 expeditions available in the app. The app comes with the various destinations, landmarks, landforms, waterscapes and number of other places. Moreover, the app also comes with a 360-degree mode which you can use without Google Cardboard. You can also use Google Cardboard with the app for immersive experience. Overall, Google Expeditions is an excellent app and you should give it a try.
---
Fulldive VR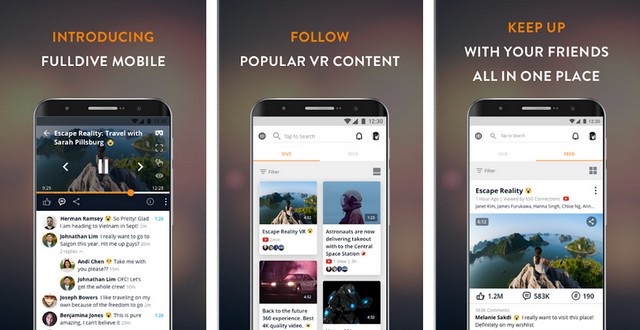 Fulldive VR advertises itself as VR navigation platform and it will help you find tons of useful VR content around the web. The app comes with built-in VR video player, VR browser and VR video support from youtube. Moreover, it also comes with a marketplace to take VR images, VR apps and VR games. Overall, Fulldive VR is an excellent app and it provides access to tons of VR content.
---
Google Street View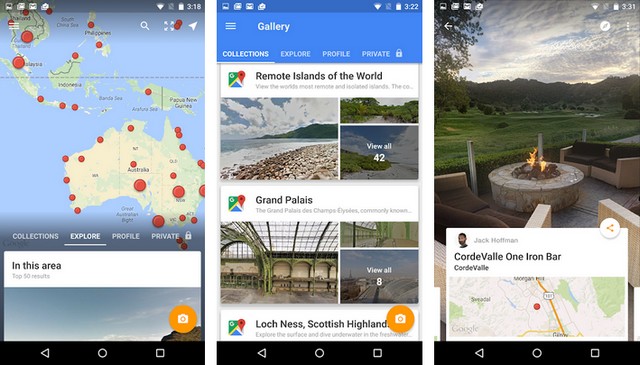 Google Street View is one of the most popular apps out there and it is the cousin of Google Maps. The app is recently updated with VR content and now it provides the 360-degree views of various landmarks, roads, addresses, and many other places. You can use the Google Cardboard to look at the stuff around you. Moreover, it also provides access to the VR content posted by other people. Overall, it offers a fun experience, you should give it a try.
---
Sketchfab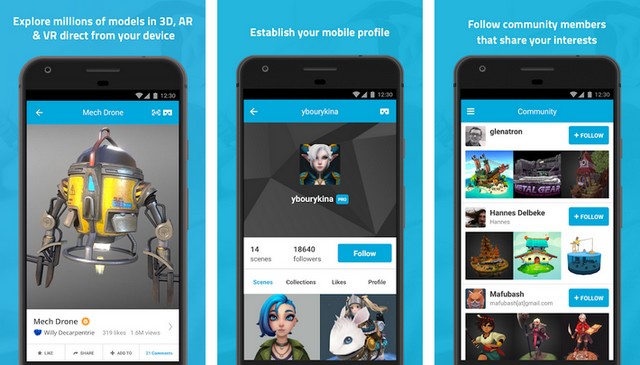 Sketchfab is another educational app which features both AR and VR elements. In the app, you can check a lot of things, learn new things and play with a variety of animation. Moreover, it also has a library of 2D and 3D animation which you can access and it boasts a collection of more than 2 million models. You can use the Google Cardboard with the app in a fun way. The app is free to use and you should give it a try.
---
Trinus Cardboard VR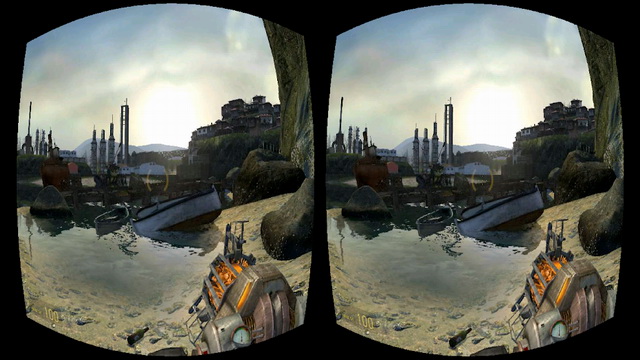 Trinus Cardboard VR is another VR app which allows you to play games. It works when you connect the App to your smartphone and PC in a Google Cardboard. The app provides the VR environment where you can play your computer games. You can use the controllers, and Cardboard style VR Headsets. You can use the app for free but if you want you can also go for the pro version which is available for $9.99. Overall, the app is good but still it is buggy and we hope developers will fix it sooner rather than later.
---
VLC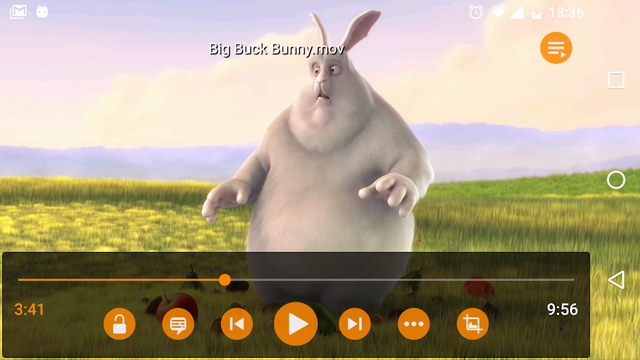 VLC for Android is one of the most popular video players available out there and it is working on VR specific features. The beta version of the app comes with VR specific features and it will roll out to the main app sooner or later. VLC is a very comprehensive video player which supports the tons of video codecs and allow you to live streams if you have the URL. The app is also open-source and completely free to use. If you are interested in using VR features then you sign up for their beta program.
---
YouTube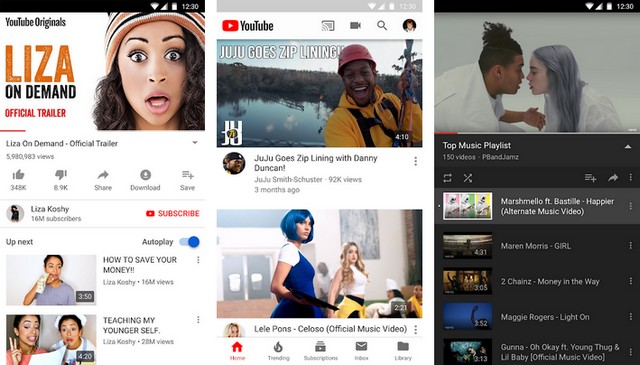 YouTube is the largest video sharing platform on the planet and it also has a large collection of VR content. The platform boasts the thousands of VR specific video content and channels where you get every type of content from entertainment videos to educational Videos. Moreover, the platform is also free to use but it comes with Ads. If you want, you can remove the Ads by going for YouTube Red version which not only removes the Ads but also unlocks some additional features.
---
Conclusion
VR has crazy potential and it has a long way to go. In the meantime, you can use these apps with your Google Cardboard. If you have any questions, please let us know in the comment section below. You can also check out the best free Android apps on our website.