Smartphones have evolved over the years and now instead of working just as a device for communications, they have become a source of entertainment. We can watch the movies and videos on the tall screens of our smartphones and have fun. There are tons of movie apps out there but very few of them deliver what they promise. We have handpicked the best free movie apps for Android.
CineTrak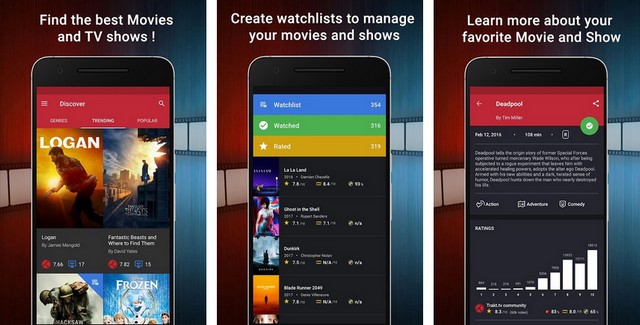 CineTrak is a solid movie and Tv show tracking app where you can keep track of your times and shows you watched. The app also has the discovery platform where you can discover new movies and shows. You can also read reviews from IMDb, Trakt, Metacritic and Rotten Tomatoes on the app. The basic version of the app is free but it comes with restrictions. The base version of the app is available for $3.99.
---
The Criterion Channel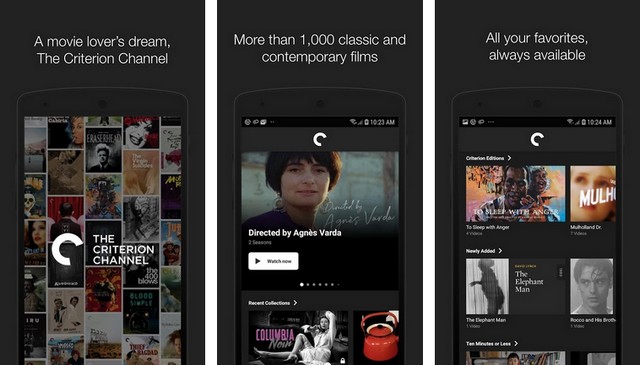 The Criterion Channel is a new movie streaming service which not only feature the Hollywood blockbusters but it also features the indie films, international films art-house stuff.Moroever, it also features the documentaries and short films in the app. The app comes with very simple UI which make it easy to use.  You can get the trial period of the app for free and paid version starts at $10.99 per month which is relatively expensive considering the content it offers. Unless you are a fan of theater stuff or indie films then this app is not very good and there are better options available on this list.
---
DVD Netflix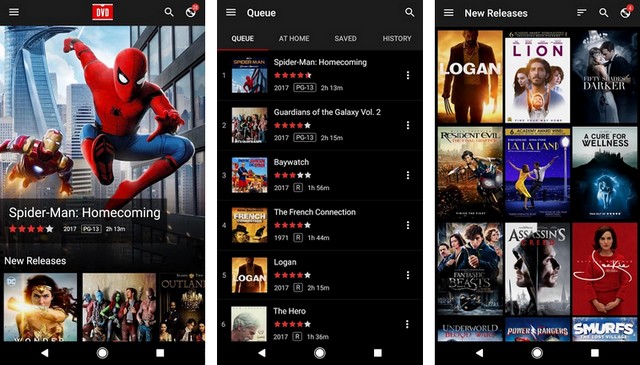 DVD Netflix is a moving app for renting DVDs and Blu-ray. The service provides access to thousands of latest movies. The app also offers personalized recommendations on the basis of your search. You can search the movies by titles, genres, actors and even channels. Once you select the movie, the company will send the DVD to you, watch it and return with prepaid envelope and the company will send you the next disc on your queue. The subscription price starts at $7.99 per month and goes up to $14.99 per month. If you want you can also try Redbox which is also renting DVDs service and have per-day rental structure.
---
Google Play Movies & TV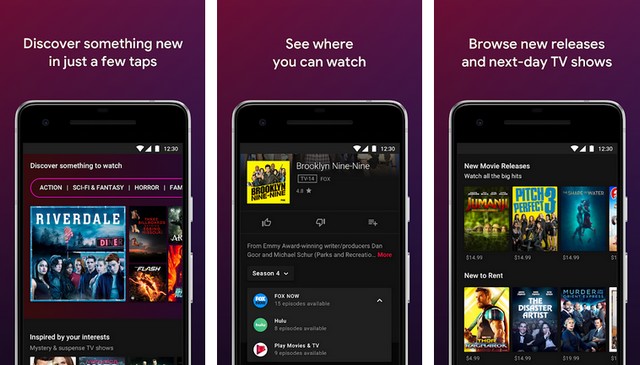 Google Play Movies & TV is a decent movie streaming service which allows you to buy the movie or TV Shows and then stream them as often s you want. You can also download for offline use. The app also supports the 4K Streaming for supported movies and it is also pretty easy to use. The only problem with this service is that it isn't available in all regions around the world, so if it isn't supported in your region then you can go for other streaming services such as Amazon Prime or Netflix.
---
Hoopla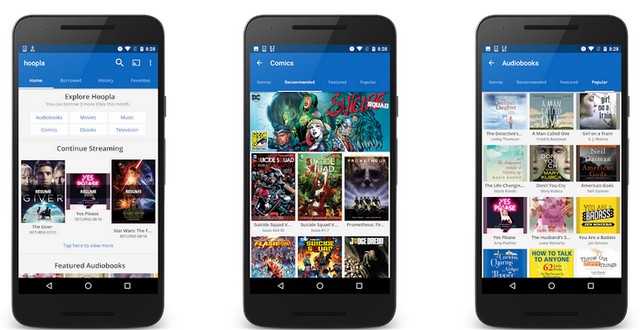 Hoopla is a unique move app and it is tied directly to your local library. Technically it isn't a streaming service but it can play the content from your local library. The app is completely free to use and it also supports the Chromecast, Android TV and others. However, the only problem with Hoopla is that it can only work if the local library is part of the Hoople network.
---
IMDb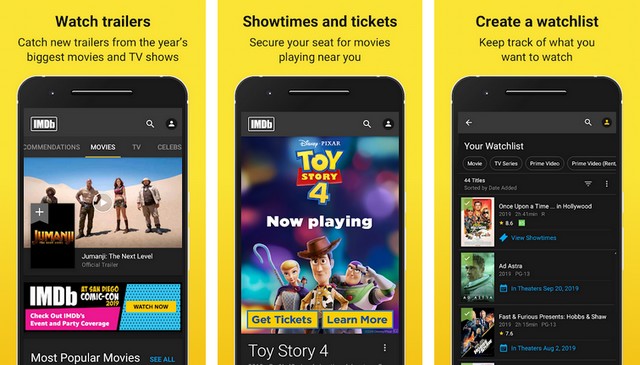 IMDb is an excellent movie app where you can find all the details you need about the movies including movie reviews, information, trailers, cast info and many more. The app also comes with support for local showtimes and ticket purchases. IMDb is completely free to but it comes with Ads which can be pretty annoying. Overall, IMDb is a solid option for those who are always looking for good movies as this app can help you find good movies and shows.
---
Movies Anywhere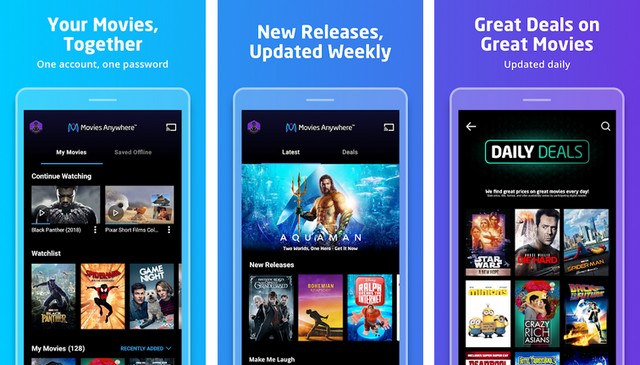 Movies Anywhere is technically not a movie streaming service but it allows you to log in to your Vudu, Amazon Prime, Xfinity and other streaming services accounts and let you stream it on the app. The App also works flawlessly with Chromcast. The only downside of this app is that it doesn't come with 4k support but overall it is a great movie app and it is also free to use.
---
Plex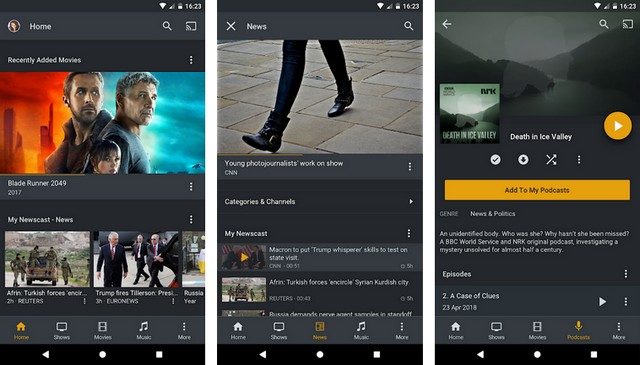 Plex is a perfect movie app for those who have a huge collection of movies. The app allows you to turn your computer into a Plex server and you can use it to watch movies on your smartphones, Tablet or almost any device. Moreover, the app also comes with chromecast support. It is free to use but there are subscription packages too which add some additional features to the app.
---
Tubi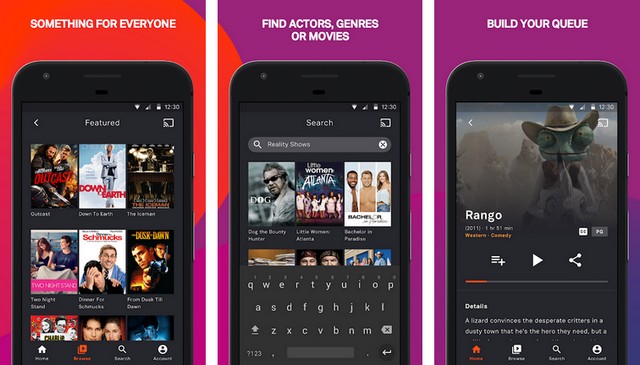 Tubi is one of the most popular movie streaming services which is 100% legal. The company generates its revenue through the Ads instead of subscription which make it ideal for those who are on a budget. The app also features the Movies as well as TV Shows. Moreover, the company adds new content every week. Tubi is an excellent music streaming service and you should give it a try before trying paid streaming services.
---
Netflix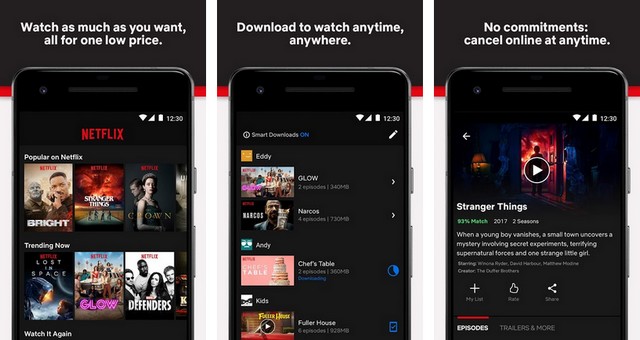 Netflix is the most popular streaming service out there. The service comes with a blockbuster from Hollywood, Bollywood and other content from around the world. Netflix also offers the Netflix originals which are pretty popular among the users. The company also create Netflix Originals for different regions which make them more successful. You can also try other streaming services such as Hulu, Amazon Prime Video, HBO, STARZ as all of them offer really good content. However, if you want the best then Netflix is the best option. The price varies from region to region.
---
Conclusion
These are the 10 best movie apps for Android. You can pick the app which best suits your needs. If you have any questions, please let us know in the comment section below. You can also check out the best video streaming apps for Android on our website.