It's 2023, and online shopping is more popular than ever. According to one report, more than 76% of US consumers prefer to shop online, and this trend is also getting very popular in other places in the world. So, if you are interested in the shop online and want the best apps, this guide is for you. Here are the best online shopping apps for iPhone.
Amazon Shopping (Editor's Choice)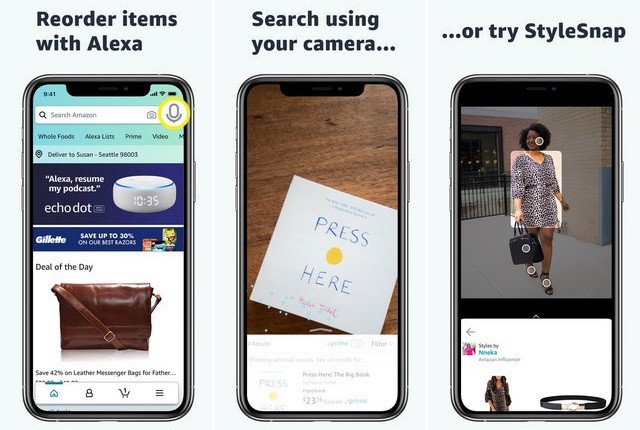 Amazon is arguably the most popular online shopping website, and Amazon Shopping is the platform's official app. You can use this app to access thousands of products on Amazon and get them delivered at your doorstep.
From simple USBs to Televisions, you will find everything on Amazon. It also has sections for Petfoods as well. Amazon Shopping also offers its services in major countries like the US, UK, Europe, and India, which means that you can get the amazon products at your address if you are from these regions.
---
Instacart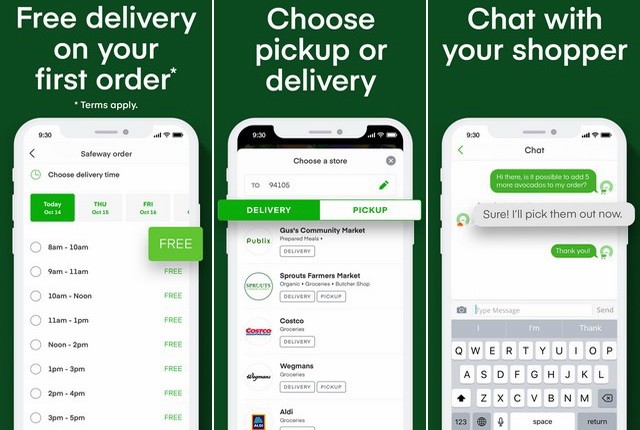 Grocery shopping and finding fresh items is no easy task, but it's possible with Instacart. It's an online grocery shopping service that guarantees same-day grocery delivery.
On this platform, you will find over 1000 retailers that provide fresh food and other grocery items. The service allows you to pick up the item yourself, or you can get them to deliver to your address. So, if you need help with finding groceries, Instacart is a solid option for you.
---
Flipkart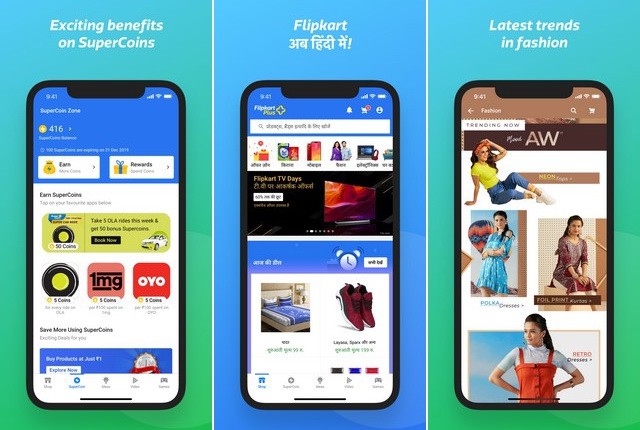 Flipkart is arguably one of the best online shopping apps for iPhone and iPad. It's a major online shopping platform in India, and it comes with a vast collection of items you can buy.
The platform also comes with a loyalty program where you get points for each buy, and once you have enough points, you can cash them. If you are from India, Flipkart is a solid option for you.
---
Google Shopping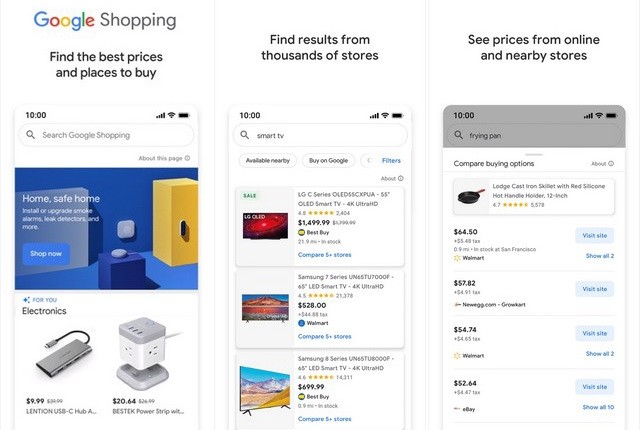 Google Shopping is one of the best online shopping apps for iPhone and iPad. It doesn't come with its own listing, but the app helps you find the products from thousands of online stores.
The best thing about Google Shopping is that it gets the search results from thousands of stores. You can compare the prices and then pick the store which offers the best prices. If you regularly shop online, Google Shopping is a solid option for you as it will help you find the best deals.
---
Walmart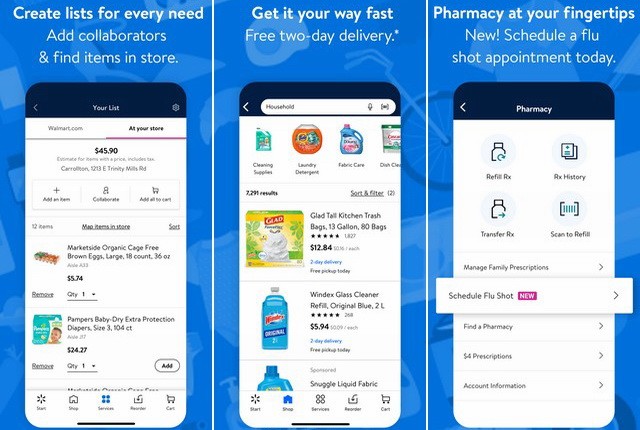 Walmart is a very popular American Retailer that comes with a number of stores nationwide. You can use the Walmart App to shop online and get the things delivered to your address within 1-hour, which is a pretty bold claim.
Also, if you want to get huge discounts and other benefits, you can get a Walmart membership, which will surely help you save a lot of money.
---
Chewy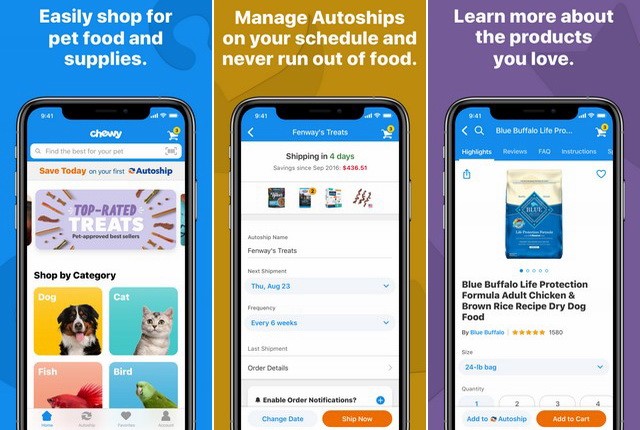 Chewy is like Amazon for pets because this platform comes with a huge collection of pet food. The app comes with various categories, which make it easier for you to find the food for your pet.
It also features over 1000+ trusted brands, so there is a chance that your favorite brand's products are available on Chewy. Also, if you are not sure about what food you need to get for your pet, just create the pet's profile, and you will get automatic recommendations.
---
Facebook Marketplace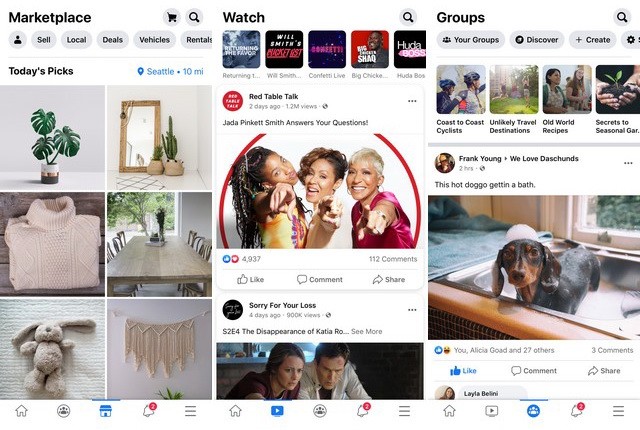 Facebook is a social media giant with over 2 billion users worldwide, and Facebook Marketplace is the platform where the users enlist the different products they want to sell.
Marketplace is an ideal place to buy the used items as many people sell them in the Buy & Sell groups. So, if you are looking for great items at an affordable price, Facebook Marketplace is a solid option for you.
---
Etsy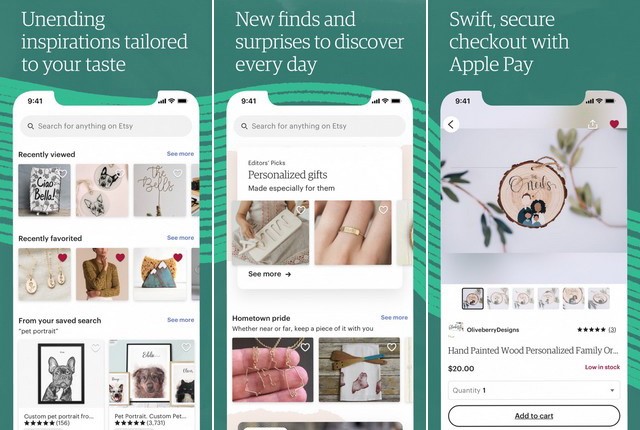 Etsy is one of the best online shopping apps for iPhone and iPad. It's a bit different from other shopping apps because this one is mainly dedicated to handmade goods and other custom goods.
The marketplace comes with thousands of independents Artists from around the world who list their custom items on the platform, and you can buy these goods to support the Artists. Etsy is a solid option for you if you want unique items for your house.
---
eBay Shopping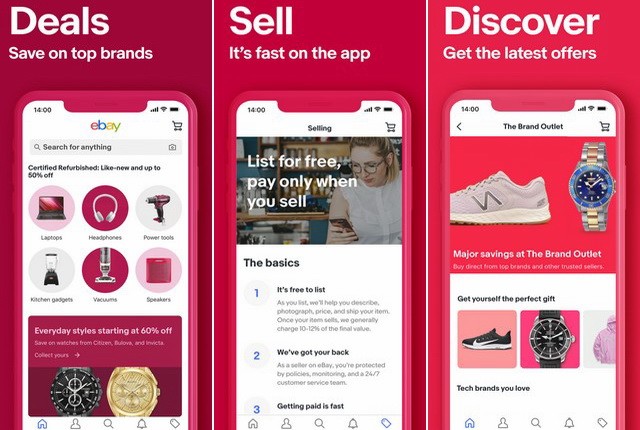 eBay Shopping is another very popular online shopping app for iPhone. Just like other shopping apps, eBay also comes with thousands of product listings, which you can order and get delivered to your address.
The unique thing about eBay is that it also allows the listing of used products, and it's more secured than Facebook Marketplace because it's more regulated comparatively. So, if you are interested in getting new or pre-owned items, eBay is a solid option for you.
---
Ali Express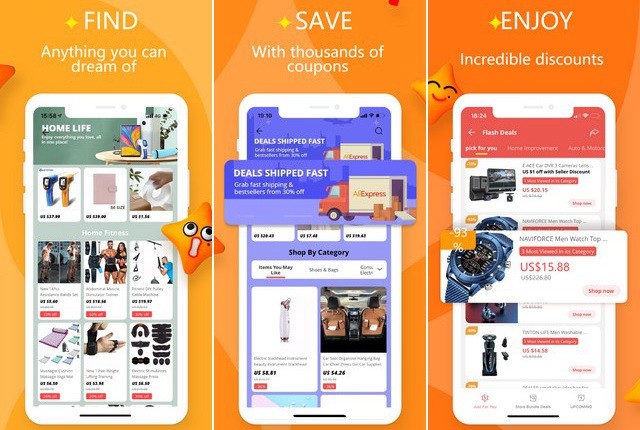 Ali Express is one of the best online shopping apps for iPhone. The app mainly operates in China, but it offers worldwide delivery, which is a major plus. Ali Express is known for its affordable listings, and you can often get good items at a very affordable price. However, the problem with Ali Express is delivery, and free delivery can take up to 2 months.
You can always get the premium delivery, which will allow you to get items within days, but it will also cost you more money. So, we would recommend you to use Ali Express only for items which you don't need urgently.
---
Conclusion
These are the 10 best online shopping apps for iPhone. All of these apps are trusted by millions of users worldwide, and you can use them to get items delivered at your doorstep. Now you tell us which online shopping apps sound promising to you? Let us know your answers in the comments. You can also make your online shopping sessions more secure with VPNs, and you can find the best of them on our guide.