Android has come a long way since its inceptions and many processes like rooting your devices which used to very popular but these days android discourage these types of actions. You can't use the apps like Netflix, Pokemon Go and Google Play on the rooted devices but there are some other good apps which you can use. In this guide, we will share the best root apps for Android. Some of these apps are not available on Google Play so use those apps at your own risk. Here are the best root apps for Android.
Adblock Plus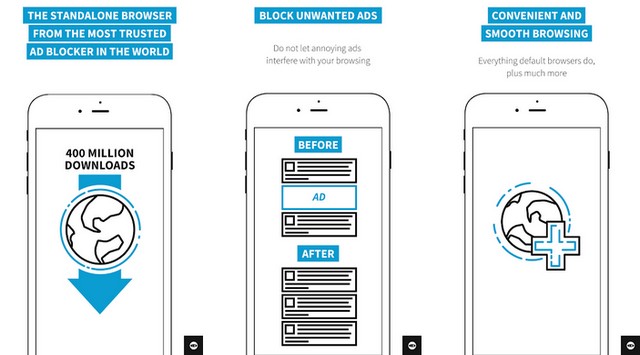 Adblock Plus is one of the most popular, open-source apps which remove the ads from the device. The people use this app to hide the apps and it has been very useful so far. You can also configure the app according to your preference. You can get this app from their official website as it is not compliant with the Google Policy. The app is completely free to use.
DOWNLOAD FROM OFFICIAL WEBSITE
---
Apps2SD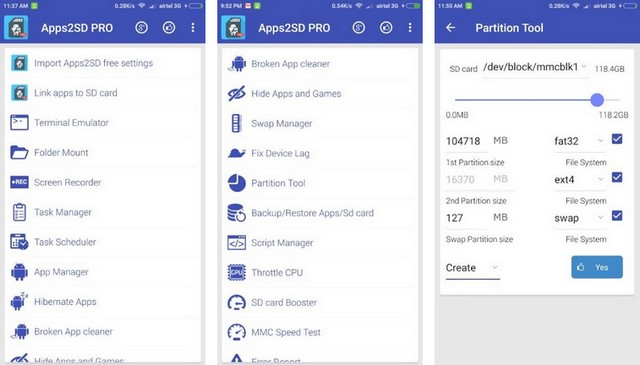 Apps2SD is one of the best root apps out there. It is basically used to transfer apps to the SD card with root. You can move the APK, odex, dex, lib, internal data, and external data to the SD card. Moreover, it also comes with Busybox installer, app remover, support for adoptable storage, terminal emulator and some other useful tools which will make your life easier. However, moving the Apps to SD card isn't recommended as it compromises the performance of the app but you can still do it. Apps2SD is free to use but there are Ads in the app.
---
JRummy Apps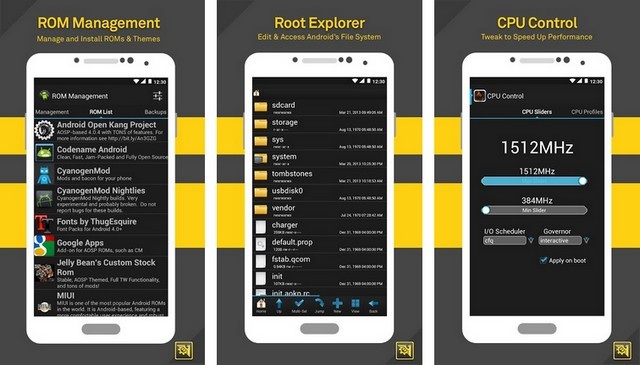 JRummy is the android app developer on Google Play which specializes in root apps. Some of their popular apps are Rom Toolbox, BuildProp Editor, Root File explorer, BusyBox Installer, and other apps. These apps are extremely useful for people who want to do more with the smartphone after installing the ROM. Some of these apps are free to use but some of them are paid. We would recommend you to visit the apps to read details.
---
FK Kernel Manager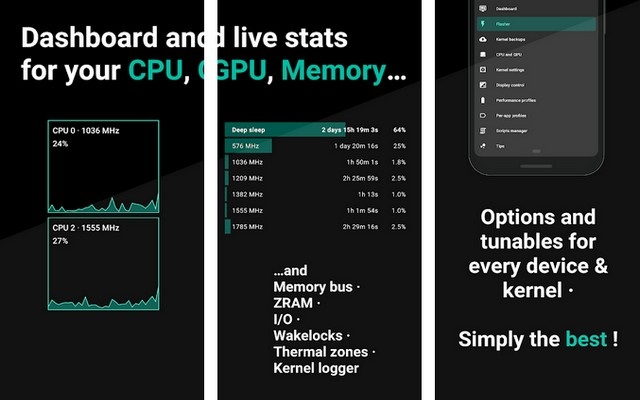 FK Kernel Manager is root manager for the smartphones with Franco Kernel installed. The app allows you to play with the variety of things such as CPU frequencies, the governer, GPU frequencies, color temperature presets and other things. In the app, you will also find support for dedicated devices from companies like Google and OnePlus. FK Kernel Manager is the best aftermarket Kernel in the market and you should get if it is compatible with your device. The price starts at $3.49 with in-app purchases.
---
Magisk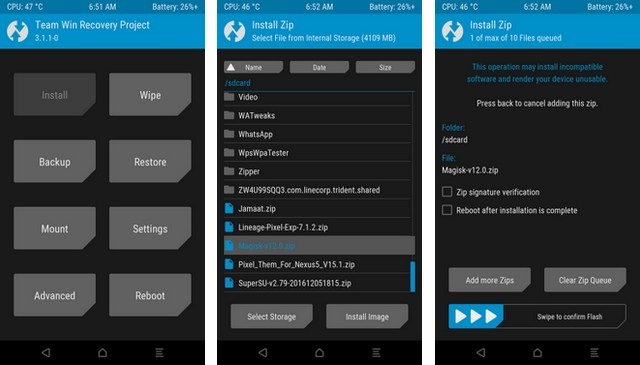 Magisk is another very popular root app which is relatively new but it provides top of the line feature. The app allows you to hide root very effectively and do things like watching Netflix and Pokemon Go from the rooted devices. In the app, you will also find support for modules which add additional functionality to the app. You can get the app for free and you can download it from the official Magisk website.
---
Migrate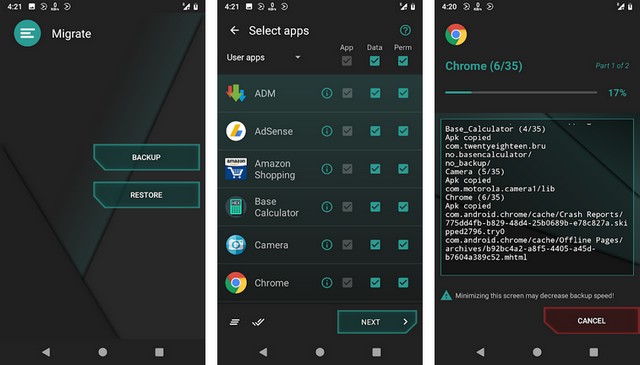 Migrate is one of the new root apps which is really good. It is basically a ROM migration tool which allows you to back up your data including the app's data, call log, SMS and other data and move it to a rooted smartphone. The app creates the zip file which you can store to your backup harddisk or cloud service. Migrate is a free app but it is still in beta phase and you will see a lot of new features when it will be out of beta phase. You can download it from Google Play.
---
Servicely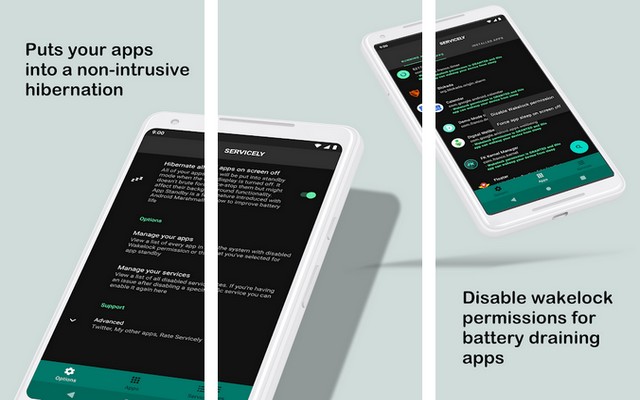 Servicely is another very popular root apps which help you control your background services. The major problem with the smartphones these days is that they run a lot of services in the background which constantly transfer data to their servers and consume your smartphone battery life. You can stop all those background processes with this app. You can download the app for free but there are ads which you can remove by getting the premium version.
---
Substratum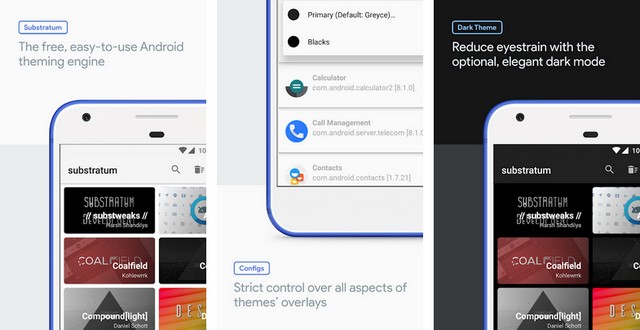 Substratum is a theming engine app for Android which works on most of the rooted android smartphones but it doesn't work on some specific models of the rooted smartphones. The app works well with Stock Android Nougat, Oreo and Samsung devices with latest android versions. You can download the app from the Google Play and start using it. It features the themes which you can download and apply on your rooted device. The app is free to use but some components are paid but there is enough free content in the app which you can use.
---
Tasker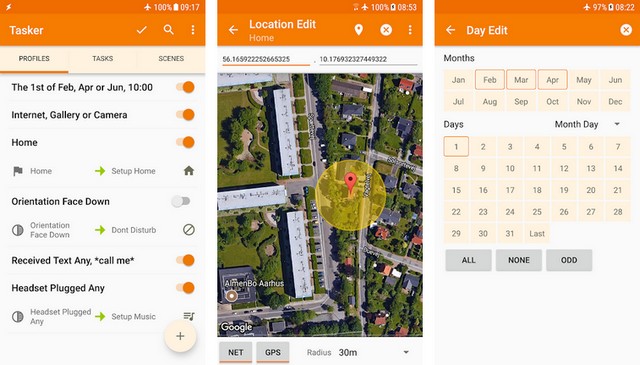 Tasker is one of the most useful root apps which you can download from the Google Play. This one is best for those people who want to do the unusual thing with their smartphone, those who always want to do some extra. The app offers tons of functions which don't need the root permissions and you can wonder with this app. It is a premium app and you can get it for $2.99. However, we must mention that it is a very complex app with a steep curve but if you have passion, you will enjoy this app.
---
Titanium Backup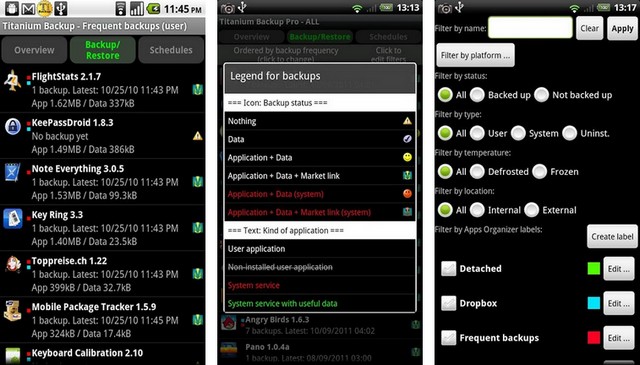 Titanium Backup is one of the most popular root apps out there and most of the root lists out there will include this app on it the app. This app allows you to do things like uninstalling the bloatware, freeze apps where you can block apps from tunning and backup your applications and their data. This app is recommended for every new root user as it will help you a lot. The free version of the app comes with restrictions and the paid version is available for $5.99.
---
Conclusion
These are the 10 best root apps for Android. If you are thinking off rooting your device then we would recommend you to consider it affects as rooting the device will void its warranty. You can do a lot of stuff without rooting your device but still if you root then you can use these apps. If you have any questions, please let us know in the comment section below. You can also check out the best Android file explorer and file manager apps on our website.