Web browser is one of the most important apps on any smartphone and for good experience, it is very important to have a good browser with the right features. However, Finding the right browser can be really difficult considering that there are so many browsers out there. Here are the best Android browsers.
Brave Browser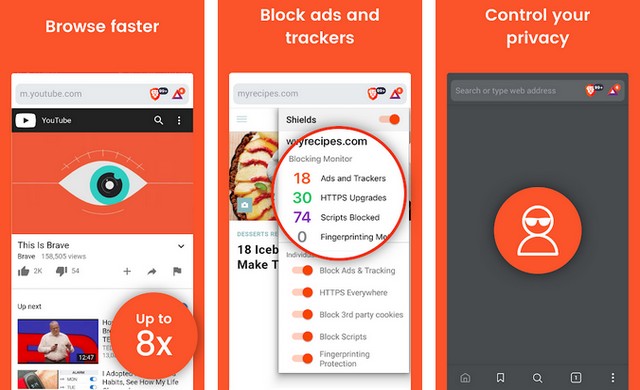 The first browser in this list is the one which was launched back in 2016. The Brave Browser focuses on the performance and privacy of its users. This browser comes with many great features such as built-in Ad Blocker which will block the annoying ads. It also successfully block the third party cookies and scripts. It also works efficiently by boosting the optimizations to save the battery life and give you the best performance. Moreover, it also keeps track of the all blocked stuff just in case if you need to review it. You will also find the features such as bookmark, history and also a privacy mode where the browser will not save your history. The Brave Browser is completely free to use, there not Ads or in-app purchase.
---
Dolphin Browser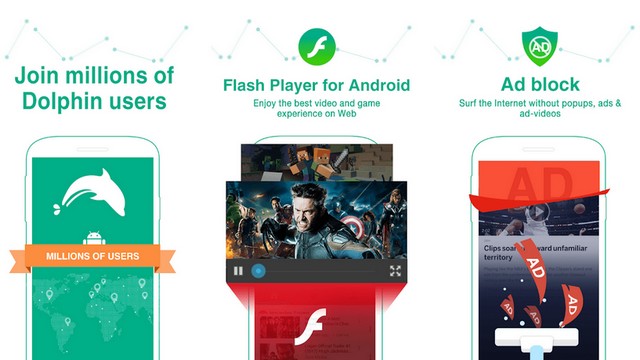 Dolphin Browser is another famous browser which enjoys good following and reputation in the community. It comes with built-in Ad blocker which will block the pop-up Ads. You will also find the tons of useful features such as Multiple Tab Bar support, Bookmarks, Add-ons, Personalized Search, Incognito Mode, Gesture support and Sonar. The main highlight of Dolphin Browser is its Add-ons which you can add to your browser to extend its functionality. The only downside of this browser is that there are Ads in it.
---
Firefox Browser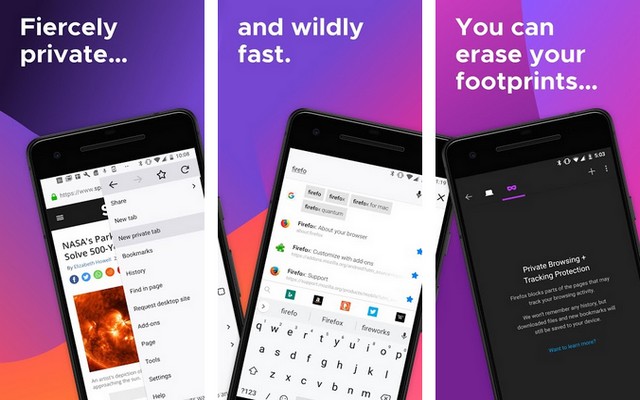 Firefox is one of the best Android browsers out there and it is designed by Mozilla which was voted the Most Trusted Internet Company for Privacy. Mozilla FireFox is used by millions of people around the world and it is a direct competitor to the Google Chrome which is arguably the best Web Browser out there. Firefox Browser comes with all possible features which you will find in a good Web Browser. Moreover, it also comes with Add-ons to personalize our browser. It is also completely free to use.
---
Firefox Focus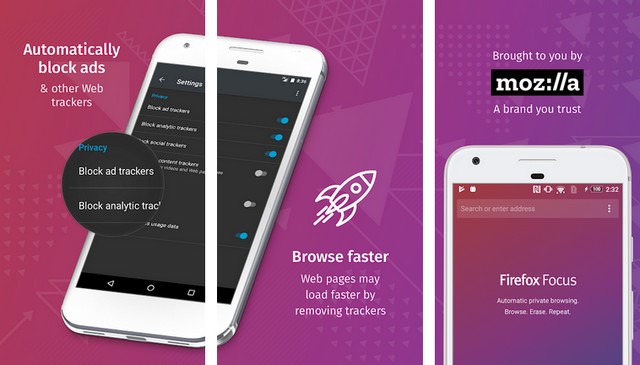 FireFox Focus is another Browser developed by Mozilla, It is geared toward those people who take their privacy very seriously. This browser ensures that your online activities are not being tracked by blocking all trackers. It also erases your history, passwords, and cookies so that you don't get followed by Ads. You will also get the top performance as by removing trackers and Ads, the pages load more quickly. If you are looking for a free privacy oriented Browser then Firefox Focus is one of the best options.
---
Google Chrome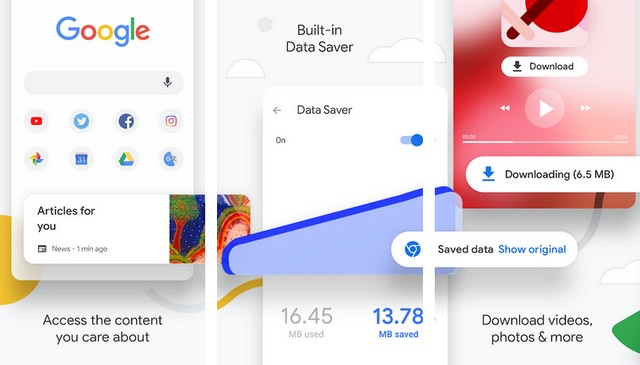 Google Chrome is arguably the best and most famous Browser out there. It is developed and maintains by Google and it gets regular updates which make this browser fast and efficient. It comes with material design UI which make it easy to use and it has deep integration with Android which makes it ideal for Android users. In this Browser, you will get the all possible features such as Bookmark, Multiple Tab Support, Incognito mode and many more. Google Chrome is completely free to use and if you are looking for the best Android browsers then Google Chrome is for you.
---
Kiwi Browser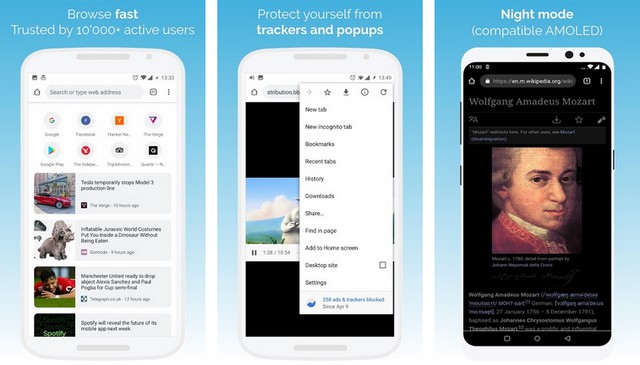 Kiwi Browser is the new entrant in the market and we are including it in this list as it has all the great features and good performance. It is basically a chromium-based Browser which makes it significantly fast and it has clean UI which make it easy to use. The main highlight of this browser is the dark mode which looks stunning. In this browser, you will find all good features such as Ad-blocker, pop-up blocker, bookmark support, and cryptojacking protection. It is also completely free to use.
---
Microsoft Edge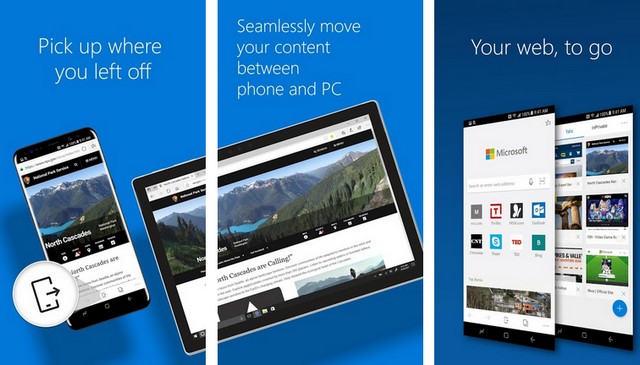 Microsoft has been trolled a lot for its Internet Explorer in the past but they have finally come up with a decent Browser and in our opinion, it will become one of the three best browsers for android in the future. The app comes with all basic features such as hub Feature, Bookmark support, RQ code reader, voice search and private browsing mode. It doesn't come with fancy features but it has great sync for the desktop version. If you are looking for a basic web browser then Microsoft Edge is a great choice.
---
Opera Touch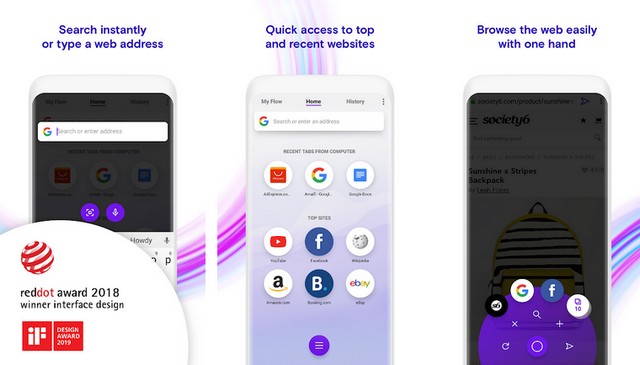 Opera Touch is another really good browser developed by opera. Opera Browsers are known for their speed and functionalities and Opera Touch is notan exception. It is designed to be fast and it loads the web pages very quickly. In the browser, you will find useful features such as Ad-block, Bookmark support, video compression to save data and dashboard where you will find the useful information. There is also other versions of the Opera Available on Google Play. You can use it for free.
---
Ecosia Browser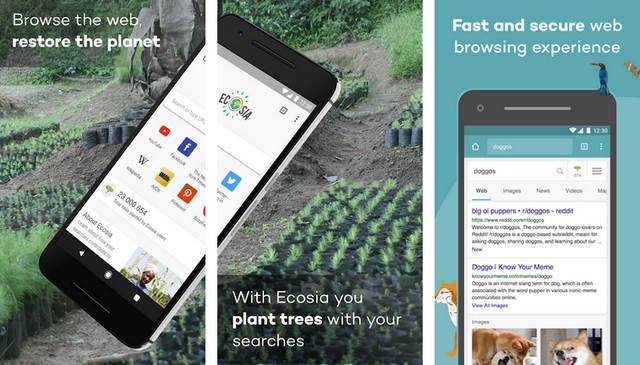 Ecosia Browser is the chromium based browser which has similar looks like Google Chrome. It comes with all features such as Bookmark support, multiple tabs, private browsing mode, and download manager. Ecosia Browser is an environmentally friendly browser and it donates up to 80% of its profits to planting trees. The main highlight of this browser is its cause and you can join it for free. Just use the Browser and you will become part of this great cause.
---
Tor Browser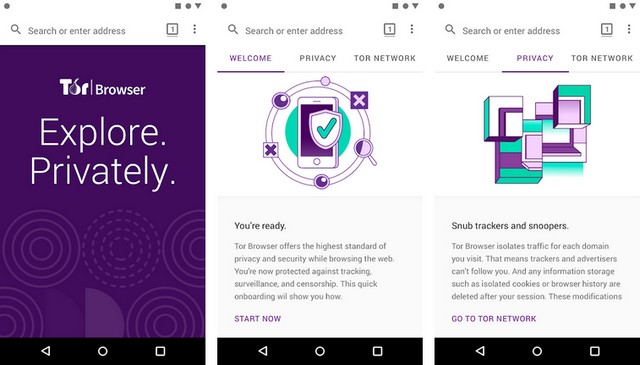 Tor Browser is the best browser for those who take their privacy very seriously. It automatically blocks the third-party trackers and Ads, defends your device against surveillance and it used the multi-layer encryptions technology to secure the communication. Tor is also completely free to use, however you can always donate. If you are looking for privacy based browser then Tor Browser is a great option.
---
Conclusion
These are the 10 best Android browsers. Each Browser has its unique features and you can pick the one which suits your needs. If you have any question, please let us know in the comment section below. You can also check out the best free Android apps on our website.