A few months back, LastPass was arguably one of the most popular and reliable password managers with a very generous free plan. However, the company has recently made changes to its free plan to compel users to switch to paid plans, and LastPass users are not happy with it. If you are one of the LastPass users and want to learn how to Leave LastPass and move to another password manager, this guide is for you. Let's get started.
How to Export your LastPass Data to another Password Manager
One of the very first things you will need to do is to export your LastPass Data so that you could import it in your next password manager. Now when it comes to exporting data, LastPass supports various formats, but we recommend that you export your LastPass Data in CSV Format because it's supported by most Password Managers. On top of that, it shows the data in a simple format which means that you can also use the file to check your passwords.
When it comes to exporting your LastPass Data, there are two ways to do it. The first and easiest way is to use your LastPass Browser extension. Similarly, you can also download your data from the LastPass Website.
How to Export your LastPass Data from LastPass Browser Extension
If you want the quickest and easiest way to export your data from LastPass, you should use your LastPass Browser extension. Here's how you can export your LastPass Data from LastPass Browser Extension.
Open your Web Browser. In our case, we are using Google Chrome.
Now click on the LastPass Extension.
Click on Advanced Options.
Now navigate to the advanced section and click it.
Click on Export Section and select "LastPass CSV File" from the available options.
Now you will be asked to insert your Master Password to continue.
That's it.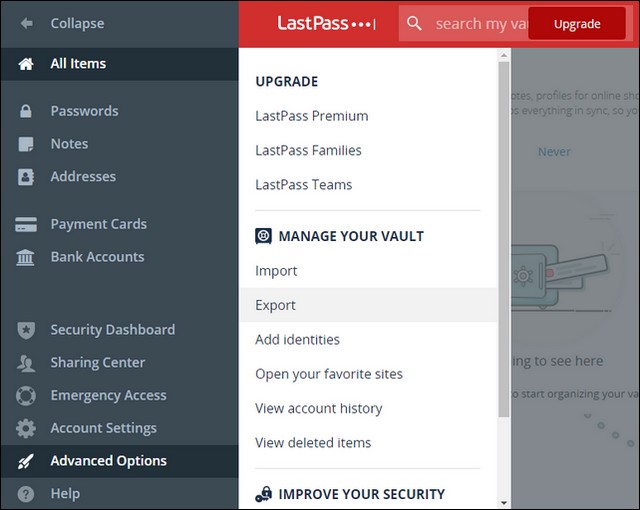 Now you should see the LastPass Data CSV File downloaded in the Download Manager.
How to Export your LastPass Data from LastPass Website
LastPass also allows its users to export data from the website, but the process is a bit long. However, we will explain it in detail, which will make it easier for you to follow.
Open your web browser and type "LastPass.com."
Now sign in to the website using your credentials.
Once you are in the portal, go to the Advanced Options, which you will find on the menu on the left side of the screen.
Now go to the Export section, and you will need to enter your Master Password to continue.
In the process, the system may also send a verification email to your email address and once you verify the export, go back to the export section.
This time you will land on a webpage where you will be seeing all of your passwords.
Simply copy them and save them on your computer with CSV Extension.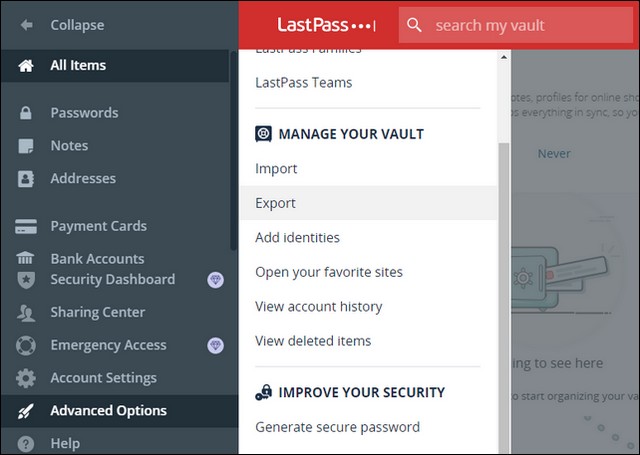 How to Delete your LastPass Account
Once you have exported your data, we strongly recommend that you delete your data from LastPass Servers to ensure that your data never get compromised. As you are permanently moving to another LastPass Password manager, there is no need to keep your data at LastPass Servers. Here's how you can delete your LastPass Account.
Go to LastPass Delete your Account Page.
If you are not already logged in, you will be asked to enter your login credentials to proceed.
Once you are logged in, click on Delete to proceed.
You will see a prompt asking whether you remember your Master Password or not.
Click on Yes, and on the next screen, enter your Master Password and explain why you want to leave LastPass.
Once you are done, click on Delete to complete the process.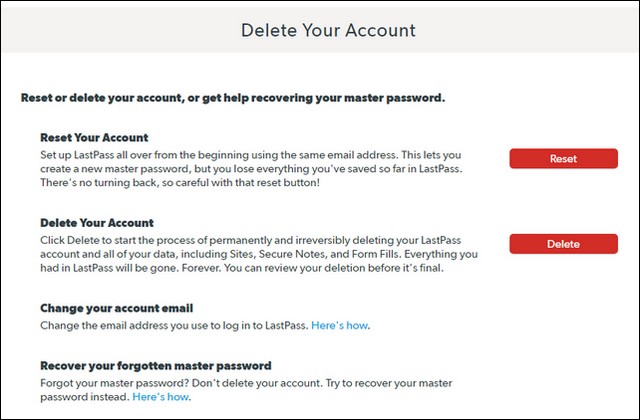 How to Choose the Best Password Manager in 2021
Now that you have your LastPass Data and have deleted your account, the next step is to choose a reliable Password Manager. When it comes to Password Managers, there are tons of them available, and it can get a bit overwhelming for users. That's why we will explain the important points which you should consider when choosing a Password Manager.
Reliability – Password Managers are great tools, and they carry the passwords to your accounts which means that they must be reliable. So, make sure that you pick a password manager who hasa good reputation and a great customer base. In this way, you can make sure that the password manager you are choosing is reliable.
Features – There are tons of Password Managers available, but only very few of them are feature-rich. So, make sure that your chosen Password Manager has features such as Auto fill-in, Password Generator, Dark-Web Monitoring, and more.
Free or Paid – When it comes to Password Managers, most of them offer paid and free plans. Free plans usually come with limitations, and Paid plans offer advanced features such as Dark Web Monitoring, VPN, and more. We recommend that you go for Paid Plans as they come with no limitations and offer a variety of great features. However, you can also go for the free Password Managers.
Is Bitwarden better than LastPass?
Bitwarden is a very capable Password Manager with a very generous free plan, making it an ideal option for most people. However, if you want the better Password Manager Than LastPass in terms of features, you will need to consider other Password Managers such as Dashlane, 1Password, etc.
Which file format is better for exporting Passwords from LastPass?
CSV Format is arguably the best format because it's readable and supported by most Password Managers out there.
Conclusion
That's all, folks. In this guide, you learned how to leave LastPass and move to Another Password Manager. We also explained how you can choose the best password manager for you in 2021. Also, we strongly recommend that you check our guides where we have shared the Best Password Managers for Windows, Android, and iPhone.