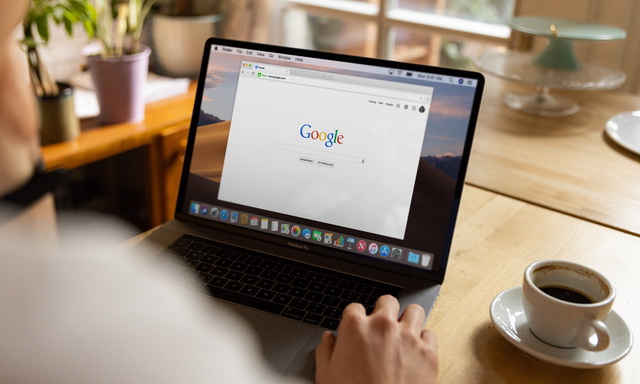 Google Chrome is one of the most popular Web Browsers, and many people prefer using it because it offers the best browsing experience. However, you can still improve your overall experience by making some changes to it, and we will tell you what you need to make it more functional. In this Vodytech guide, you will learn how to make your Google Chrome more functional. Let's get started.
5 Ways to make Google Chrome more Functional
1. Switching DNS Provider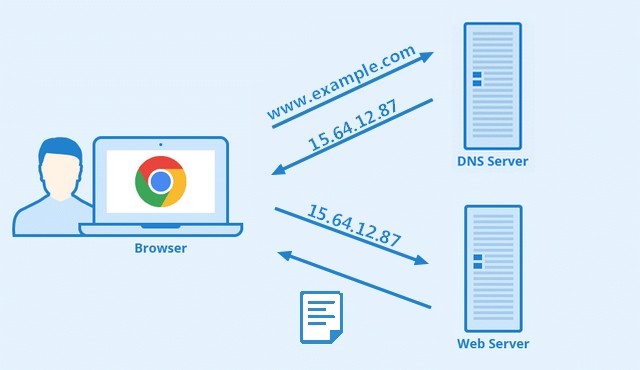 If you have a complaint that the web pages don't open fast on your Google Chrome, then you can try switching your DNS Provider, which will improve the overall speed.
When you type any URL in the Address bar, Google Chrome relies on DNS (Domain Name System Server) to find the IP Address of the site and then connect you with the Server. Now, the speed of the whole process mainly depends on the DNS Server your service provider is using, and by default, Google Chrome relies on your Service provider. However, you can also go for third-party DNS Servers to get better speeds.
Google Chrome basically offers the 3 DNS Servers by default, and you can also add your own custom server to the browser. In Google Chrome, you get the following DNS Servers.
Google (Public DNS)
Cloudflare DNS (1.1.11)
Clean Browsing (Family Filter)
In Our Opinion, you should go for Cloudflare DNS (1.1.1.1), which offers a relatively better and faster experience. However, you can also try Google DNS and see if it suits you.
2. Using HTTPS Everywhere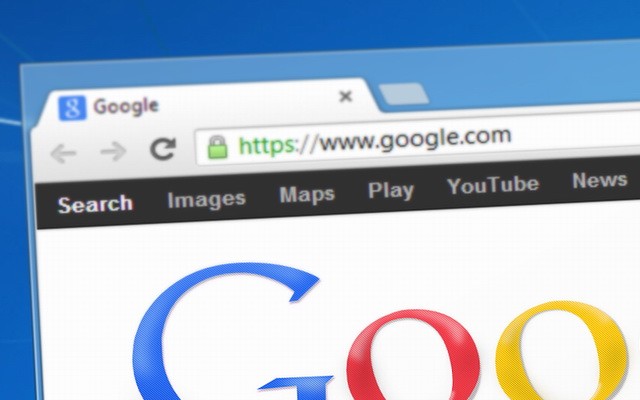 There are millions of websites on the internet, and it's a fact that many of them don't use encrypted channels. It means that if you provide any information on that website, it won't be transferred via an encrypted channel, and your data can be intercepted by other entities.
The first way to avoid this issue is to use the sites that come with encrypted HTTPS connection, or you can use an extension called HTTPS Everywhere, which will switch the non-HTTPS site to HTTPS and make sure that your data is protected from snooping eyes. It's a secure and safe to use Add-on, and it's developed in collaboration by Electronic Frontier Foundation and the Tor Project, which are two of the most respected independent organizations.
3. Using Preload Pages
One of the biggest problems with previous browsers was that they would take a lot of time while loading pages, but the good thing about Google Chrome is that it comes with Preload Pages. In this feature, Google Chrome uses advanced algorithms to predict the pages you would visit and preload them so that you don't have to wait. It's a very handy feature, and it will surely enhance your overall experience. Here's how you can enable Preload Pages on your Google Chrome Browser on your PC.
Type chrome://settings/ on your Address Bar.
Now scroll down and click on Advanced Settings.
Go to the Cookies and other Site Data section.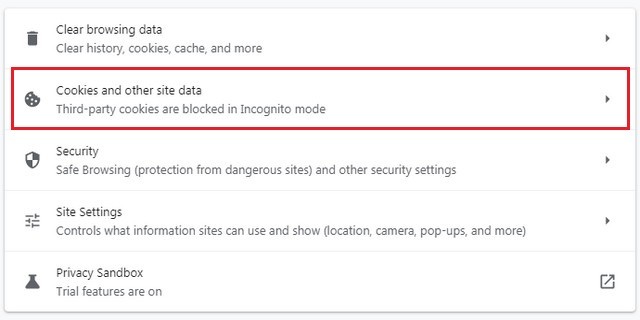 Scroll down and find Preload Pages for faster browsing and searching and toggle it blue to turn it on.
That's it.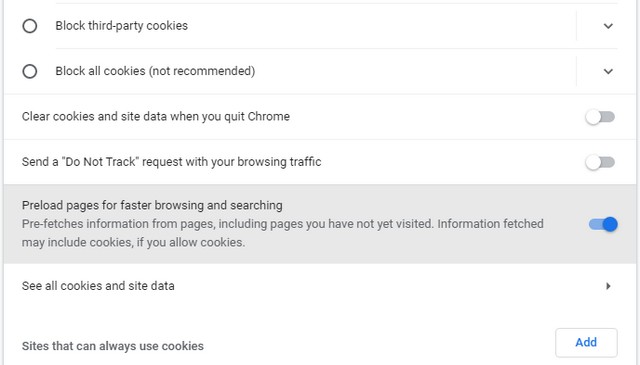 4. Using AdBlocker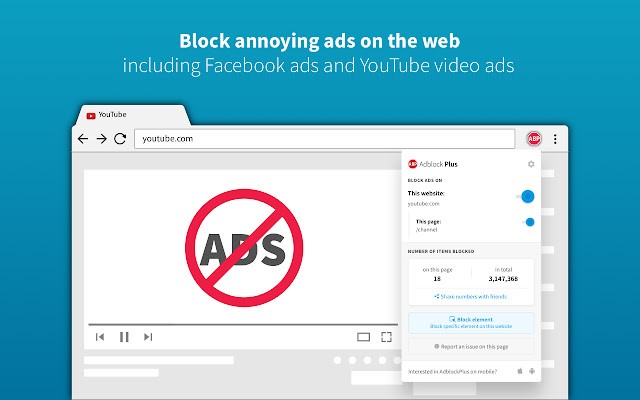 Advertisement is one of the major sources of income for most websites, and normal Advertisement is okay because it helps the websites to cover their editorial cost. However, some websites come with very aggressive advertisements, which ruins the whole browsing experience. You can easily avoid annoying Ads by using a good AdBlocker. When it comes to AdBlocker, there are tons of them available on Chrome Web Store, but we recommend Adblock Plus, which is arguably the best AdBlocker for Chrome.
The best thing about Adblock Plus is that it's completely free to use. You can use it to block all types of ads, including pop-ups, video ads, and banners. On top of that, it also stops websites from tracking and ensures that your privacy is not being violated.
Also, it comes with a whitelist option where you can whitelist the websites, and it won't Block Ads on whitelisted websites. Overall, if you are looking for the best AdBlocker and want to enhance your overall browsing experience, you should consider Adblock Plus.
5. Using Script Blocker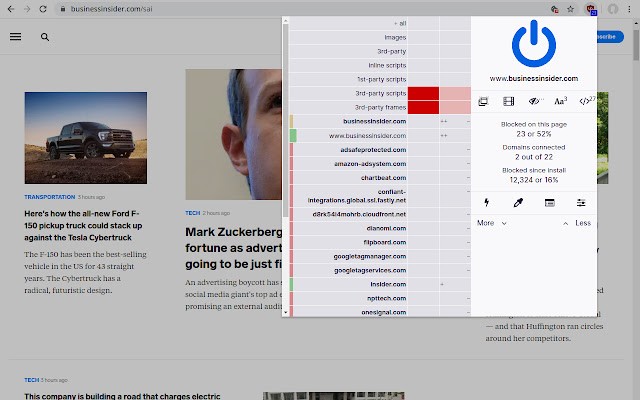 When you access a website, it runs a wide range of scripts, including tracking scripts, video-playing scripts, and ad-loading scripts. The problem with scripts is that some websites use tons of them, and while they load, you will be unable to access a website.
However, you can easily solve this issue and block scripts from loading by using a good Script Blocker Extension. When it comes to Script Blockers, we recommend uBlock Origin Extension, which is arguably the best Script Blocker for Google Chrome. The best thing about uBlock Origin is that it effectively blocks all scripts from loading and offers a flawless browsing experience.
On top of that, it also allows you to whitelist some sites where you want to run the scripts. For example, if you are visiting a website and you want to watch the video at that site, you can enable the script for the video and watch the video. Another great benefit of using uBlock Origin is that if you visit any malicious website, it will stop the malicious script from running and protect your PC. Overall, uBlock Origin is an excellent extension, and it will help you make your Google Chrome more functional.
How can I improve the speed of my Google Chrome?
Google Chrome is a pretty fast browser, but if you are experiencing speed issues while accessing websites, you can try changing DNS from the settings.
Conclusion
That's all, folks. In this guide, you learned how to make your Google Chrome more functional. If you have any questions or suggestions, please let us know in the comments. Also, we strongly suggest you check out this guide where we have shared the best Google Chrome extensions. In the guide, we shared a wide range of Extensions that will increase your productivity.