In this guide, you will learn how to enable dark mode in WhatsApp for Android. Dark Mode has become one of the most important features of any smartphone or app. Most of the app developers are using it in their apps to make their users happy. Facebook Inc. has also been working on its Dark mode for its different apps for months and it has finally arrived for the WhatsApp. The testing for the dark mode in WhatsApp started a few months back and it was only available to developers. However, now it is widely available for the WhatsApp users around the world and the company is rolling out the dark mode for the different regions step by step. If you want to enable the dark mode on your WhatsApp then keep reading because we will tell you how to do it.
Benefits of Dark Mode
Dark Mode has proven to be very useful as it has many benefits.
It causes less strain on eyes as compared to the light mode.
Gives a cool look to the app and that is the reason why millennials are asking for it.
It not only looks cool but it also saves battery life which is a great benefit.
How to enable dark mode in WhatsApp for Android
Now you know the benefits of dark mode. Let's get to the actual process of enabling the dark mode. Here's how you can do it.
Open your WhatsApp app on your smartphone.
Tap the three vertical dots icon on the top right corner and tap it.
It will reveal the overflow menu, tap the Settings to access the settings.
Navigate to the Chats section and tap it.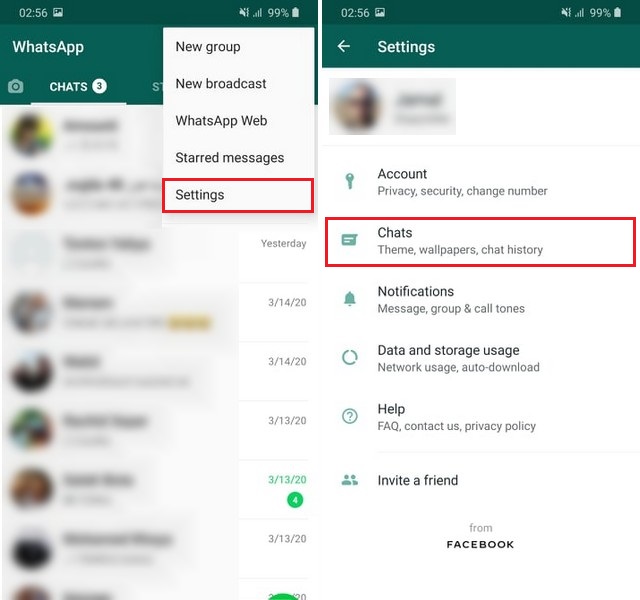 In the display section, navigate to Theme and tap it.
Now select the Dark and then tap Ok.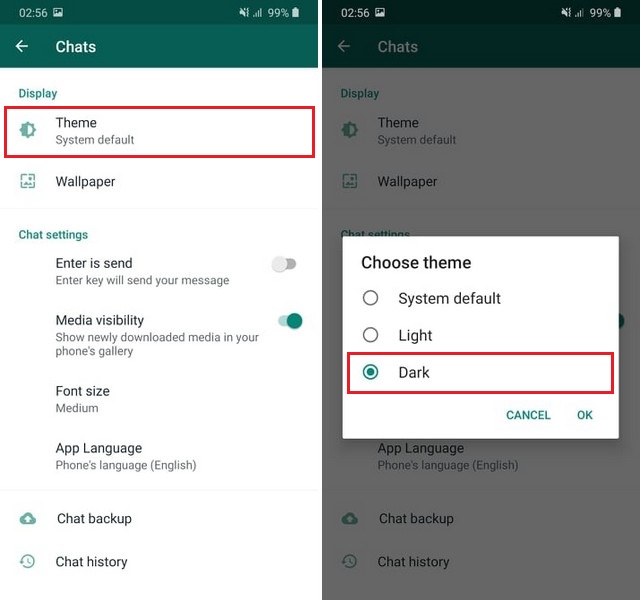 Voila! You have successfully enabled the dark mode on your WhatsApp.
When you should use the Dark Mode?
It depends on personal preference so you should use it the way it suits you. Normally, you can use the light mode in the day and the dark mode in the night time. However, you can use dark mode all day as well. If you face some reading issues on the dark mode then you can stick with the light mode as it also looks pretty cool.
Conclusion
That's how you can enable dark mode in WhatsApp for Android. Let us know your thoughts about the new dark mode in WhatsApp in the comment section below. Also, if you want to learn how to hide last seen in WhatsApp on Android, then visit our website.