In this guide, you will learn how to record screen on Samsung Galaxy A80. Samsung Galaxy A80 is a mid-range smartphone and it comes with all bells and whistles which you would normally find in a great upper mid-range smartphone. It comes with the Snapdragon 730 which is arguably the best the mid-range processor out there. It also comes with a beautiful tall display that providesvibrant colors and deep blacks. Its tall display is also ideal for screen recording and Samsung Natively allows you to record screen on Galaxy A80 and we will show you how you can do it.
How useful is Record Screen Feature?
Record Screen feature is not new and it has been around for a long time. The only difference is that a few years back one had to download the separate app to record screen but now this feature is available natively and one can access it with few taps. This feature is very useful especially if you are encountering any issue on your smartphone and you want to demonstrate it to the customer support by recording the screen. Moreover, you can also use this feature to record any video or your gameplay and put it on your discord or YouTube channel. Many gamers use this feature to record their gaming skills and show it to their friends.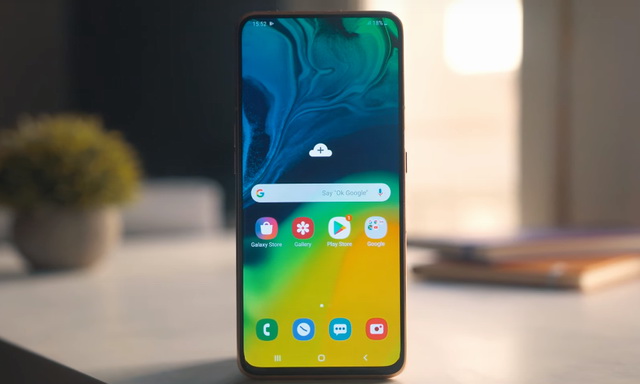 How to Record Screen on Samsung Galaxy A80?
Samsung has made huge improvements in its UI and now One UI has become one of the best mobile UIs out there. It is very simple and easy to use. Everything is accessible which is a major plus. Finding the Record Screen feature is also very easy, it is not hidden in the settings. Instead, you can access it from the notification panel which makes it accessible. Here's how you can activate it.
Open your Galaxy A80.
Now Swipe down from the top of the Screen.
In the notification panel, find the Screen Recorder Icon.
Press the Screen Recorder Icon.
If you are doing it for the first time, the system will ask you for permission. Press "Allow".
Now the screen recording will start and you will see the panel on the top right corner.
In this panel, you will see the pen tool which you can use to draw something on the screen. If you want to add your photo then tap the person icon, which is right next to the pen tool. Similarly, if you want to stop the recording, simply press the stop button which is the first button from the right side.
Conclusion
That's how you can record the screen on Samsung Galaxy A80. You can use this feature without restrictions but please note that it will record the video in high resolution which can cause the storage issues. If you have any questions, please let us know in the comment section below. Also, if you want to learn how to wipe cache partition On Samsung Galaxy A80, then visit our website.