Galaxy A30 is the budget smartphone by Samsung and it comes with all the bells and whistles which you would find in any good budget smartphone. It is also possible that you might experience issues such as freezing, unresponsiveness or lagging which is very common in android smartphones. Wiping the cache partition is one of the best ways to fix these issues. In this guide, you will learn how to wipe cache partition on Samsung Galaxy A30.
What happens when you wipe the Cache Partition?
Before we get to this question, it is important that you should know about the Cache. A cache is a temporary data that is needed by your system apps and third-party apps i.e. Facebook, Twitter etc. to function properly. Now the smartphone allocates a separate partition to store these cache from different apps and if you store too many caches then it can cause issues such as freezing, lagging etc.
When you clear the cache partition, the smartphone removes this partition and remove all the temporary data from your device. It doesn't remove permanent data such as pictures, videos etc. Some experts also recommend clearing the cache partition once in a while to keep the performance of your smartphone up to the mark.
How to Wipe Cache Partition On Samsung Galaxy A30?
Unlock your Galaxy A30.
Press and hold the power key until you see the restart option and tap it.
Let the smartphone restart and keep your eye on the screen. When the Samsung logo appears on the screen, press and holds the power and volume up buttons until you see the recovery mode menu.
In this menu, you will find many options but you need to find Wipe Cache partition.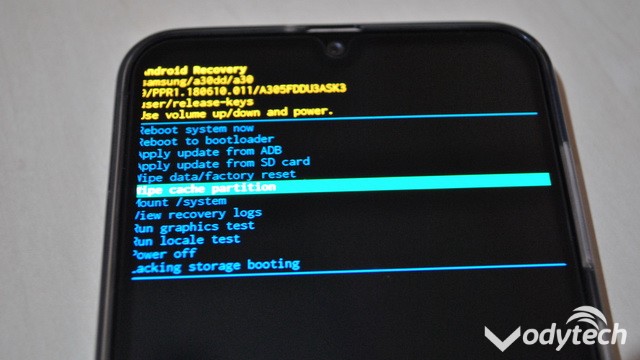 Use the volume down key to navigate to Wipe cache partition and use the power button to select it.
Now use the volume down button to highlight Yes and then press the power button to select it.
The system will wipe the cache partition and the recovery menu will appear again with the highlighted Reboot System now.
Press the power button to select it and your smartphone will reboot.
Congratulations! You have successfully wiped cache partition on your Samsung Galaxy A30.
Conclusion
That's how you can wipe cache partition on Samsung Galaxy A30. It is a very simple and safe process and you won't lose any permanent data in the process and it will also solve issues such as lagging, unresponsiveness, etc. for you. However, if you are still facing these issues then it could be due to other issue and you should contact the service center to repair your device. If you have any questions, please let us know in the comment section below. Also, if you want to learn how to take a screenshot on Samsung Galaxy A30, then visit our website.