Learning is an important part of our lives and it is also important to keep learning new skills to excel in our lives. Learning through your smartphone makes sense because we carry it around and we keep it with us all the time. You can take the help of android apps which will help your new skills and luckily, there are tons of learning apps available on Google Play. In this guide, we will share the best Android apps to learn new skills.
Khan Academy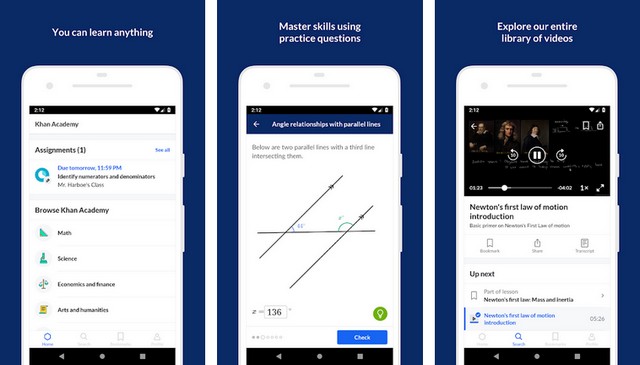 Khan Academy is one of the best apps which you can use to learn new skills. It comes with the thousands of interactive exercises and you can learn on various subjects ranging from math to economics finance to the government, it covers all major subjects. The app also helps you prepare for SAT, GMAT, LSAT, MCAT and other major exams. Moreover, the best thing about Khan Academy is that it is completely free to use, with no strings attached.
---
LinkedIn Learning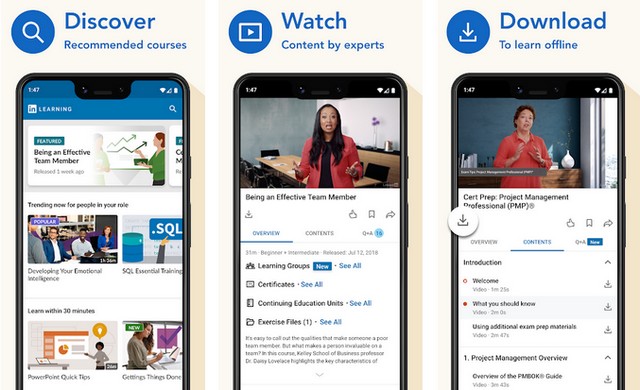 LinkedIn is the biggest platform for the professionals and LinkedIn Learning is an online learning platform for the professionals where you can learn various skills. The platform features more than 4000 courses from the top professionals around the world. On this platform, you can find courses related to programming, business, creativity, photography, designing, videography, 3D Modeling, and other topics. You also get the certificate of completion which you can add to your LinkedIn profile and make it more attractive for employers.
---
EdX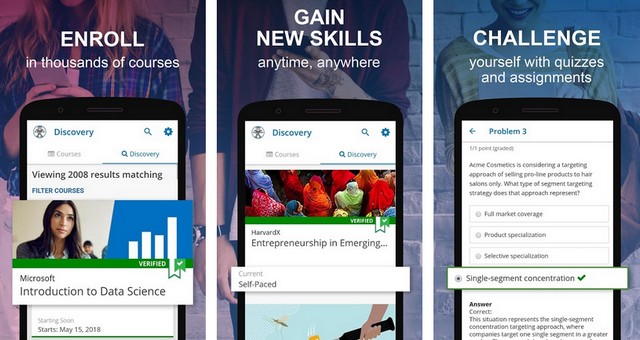 EdX is an online learning platform that is founded by Harvard University and MIT. Both universities are considered some of the best universities out there and you can use the EdX to learn the courses from these universities as well as other major universities. The platform features more than 2000 online courses from the top-ranked universities in the world. EdX covers major topics such as programming, Artificial intelligence, psychology, mechanical engineering, IT, digital marketing, machine learning and many more.
---
TED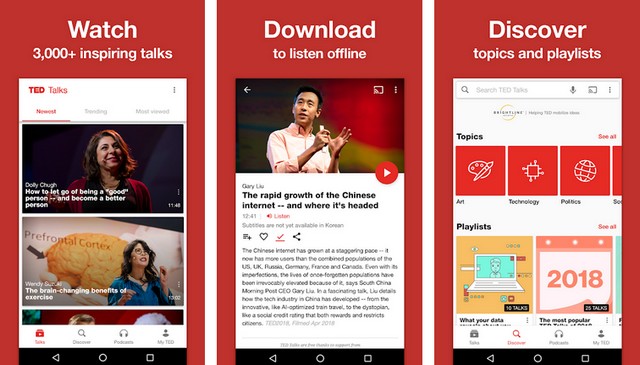 Courses are not the only way to learn new skills, sometimes you can learn a lot from the mentors. TED is an online platform that invites the top entrepreneurs, philosophers, and other prominent personalities to talk on various topics. The platform features more than 3000 TED Talks from some of the most exceptional people on this earth and you can learn a lot from them. You can learn how they became prominent personalities, what things they followed and learn about their struggle. It will surely motivate you and learn from the mistakes they made.
---
Udemy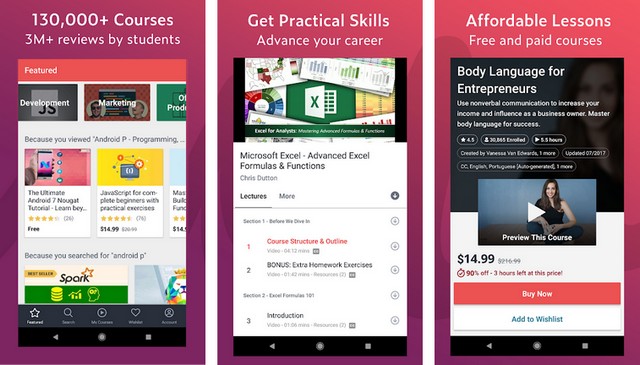 Udemy is one of the most popular online learning platforms where you can find the courses from some of the best teachers around the world. It features more than 130,000 courses from the top professionals and you can use their knowledge to learn a lot. The courses on Udemy cover many topics such as coding, data science, Artificial Intelligence, blockchain, creative writing, CCNA, Cybersecurity, photography and many more.
---
SoloLearn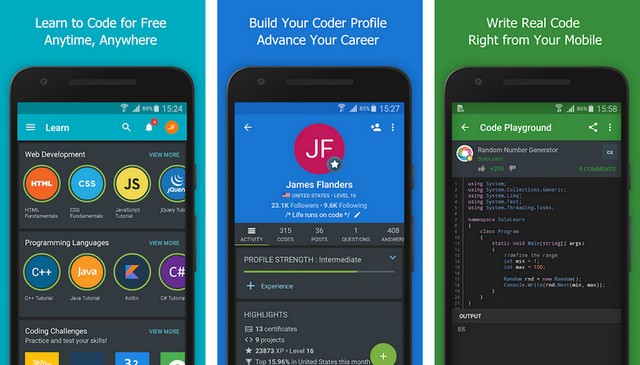 Technology is one of the most prominent fields these days and it has already made many billionaires. If you also want to do something special and want to learn the coding languages then you can use the SoloLearn Apps. The developer specializes in coding apps and you can learn various coding languages. Some of the most popular apps by SoloLearn are Learn Python, Learn HTML, Learn C++, Learn JavaScript, Learn Java and many more. These apps are also completely free to use, with no strings attached.
---
Coursera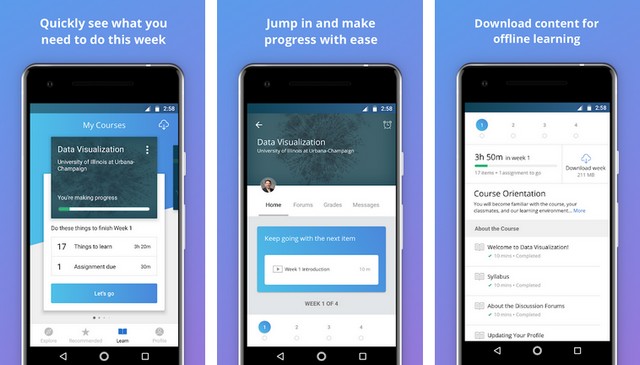 Coursera is another online learning platform where you can learn the various skills from the top teachers around the world. The platform features more than 2,000 courses and specializations from the best teachers and universities in the world. On this platform, you will find courses related to programming, web development, machine learning, accounting, marketing, entrepreneurship, photography, music, creative writing and many more. Some courses are free while others are paid courses.
---
YouTube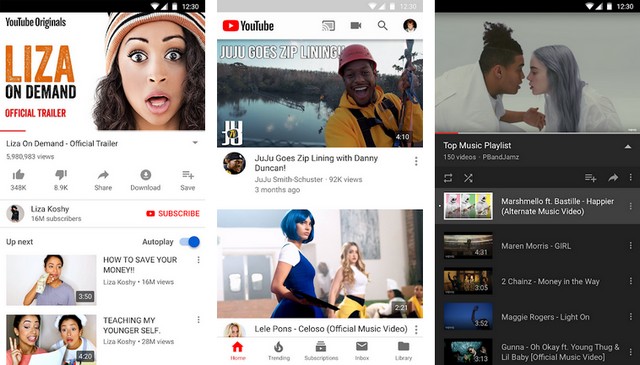 YouTube is the biggest video streaming platform in the world and it features millions of videos from creators all around the world. The platform also features many channels that are geared toward the skills. Many mentors also have their YouTube channels where they share their wisdom and things they learned over the years. Also, some instructors put mini-courses for free on their YouTube channels which you can use for learning. These courses are also completely free so if you don't want to spend your money on expensive courses then you can use YouTube for learning.
---
Duolingo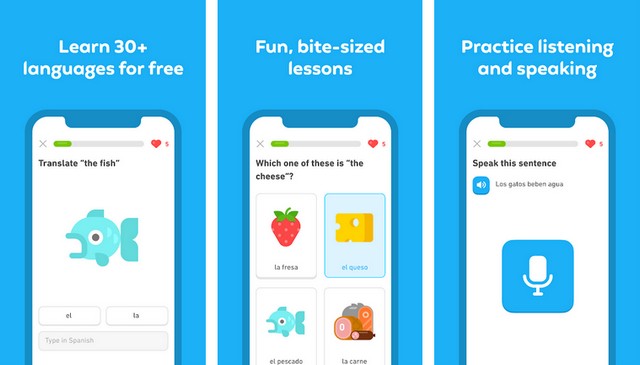 If you have learned enough skills and want to learn something different then you can learn a new language. Duolingo is a very interesting online language learning platform which features more than 30 languages that you can learn. The platform features the Spanish, French, German, Italian, Russian, Turkish, Polish, Hebrew and many more. You can learn these languages to open the door of opportunities in many regions. It is also free to use but it comes with ads and in-app purchases.
---
Mondly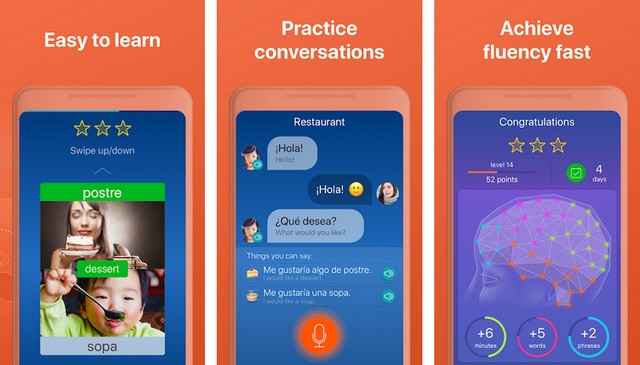 Mondly is another online language learning platform that can help you learn various languages. The app is used by more than 50 million people around the world to learn new languages. On this app, you can learn the major languages such as Spanish, English, French, Italian, Russian, Norwegian, Dutch, Chinese, Japanese and many more. The app uses the state of the art speech recognition system which allows you to correct your pronunciation. It also comes with an adaptive learning technology that comes in handy when comes to learning a new language. You can use the app for free but it comes with in-app purchases.
---
Conclusion
These are the 10 best Android apps to learn new skills. These apps have been used by millions of people to learn new skills and now it is your turn. Also, if you like this guide then you may like our "10 Best Job Search Apps for Android" guide.