In the modern world, the majority of us have hectic routines that affect our mental and physical health. Fishing can be a great way to leave the hectic routine one day and get near to nature. There are many fishing spots available out there and you can use the technology to pick the right day and right tools for good fishing sessions. We have handpicked the best fishing apps for Android which will help with the stuff.
1Weather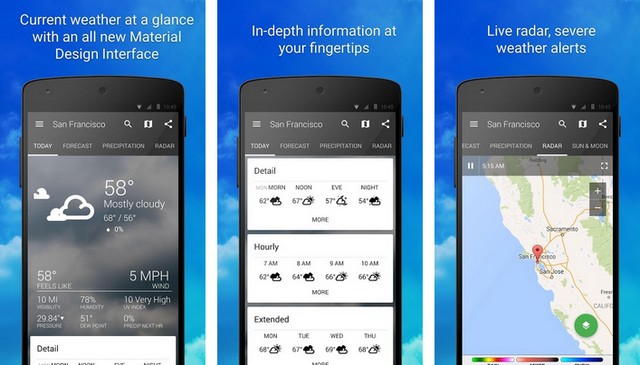 When it comes to fishing, the weather plays a very important role. You can't go fishing on a rainy day that's why it is important to have a good weather app at your disposal. 1Weather is one of the most popular weather apps out there. The app comes with tons of advanced features such as a 12-week forecast which is not always 100% accurate but it is very near and you can plan your fishing session according to the weather. Moreover, it also provides the smallest details like sunset time, sunrise time and many other details which can be proved very useful. It comes with Ads that you can remove by paying $1.99.
---
Angler's Log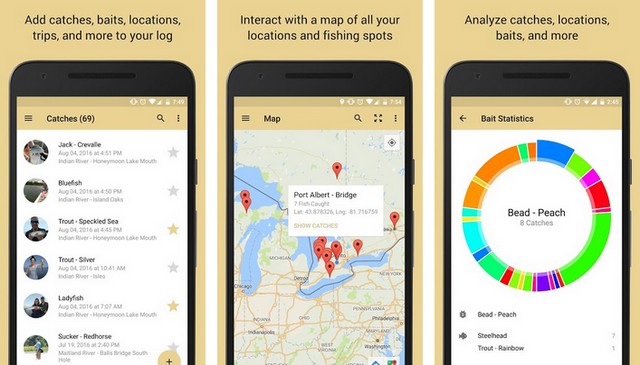 Angler's Log is a dedicated fishing app that allows you to track and analyze the catching in the fishing session. It acts as a fishing log where you can record your catches, the bait you used, the location o your catches and many more. Overall, it is a nice app for those who want to keep track of their catching. However, if you are not one of those people then keep reading because you can use other apps on this list.
---
Fishbrain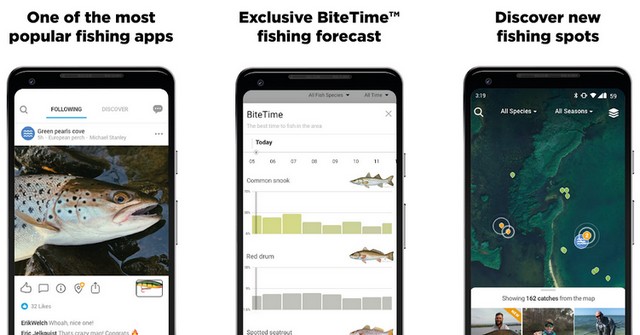 Fishbrain is one of the best fishing apps out there. The app allows you to record your catches, the baits you used and location. However, it also allows you to check what other anglers caught at your location. This app is more like a socializing app where you can interact with other anglers. It also comes with some handy features such as forecast and calender features so you can easily plan your fishing session. If you are into fishing then Fishbrain is a must-have app for you.
---
Fishing Points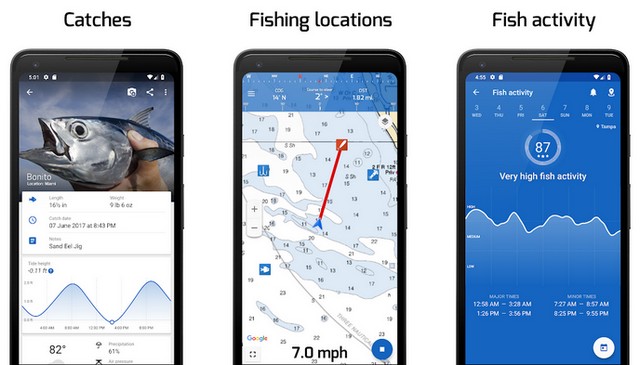 Fishing Points is a very comprehensive Fishing app that comes with tons of features that you can use. The app comes with GPS support to find your favorite fishing sports, fishing log to record you catching, Google Map integration, offline mode, compass and many more. Moreover, it also comes with things like popular feeding time for fish, sunrise and sunset times and even moon phases. You can use the app for free but it comes with ads. The premium version removed the ads and bring features such as offline nautical maps and more.
---
HuntStand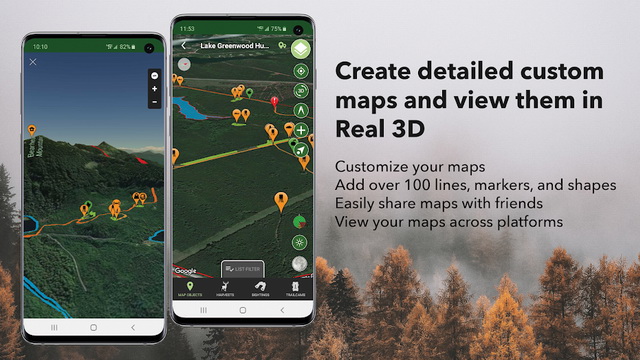 HuntStand is basically a hunting app but it is also a very good fishing app. You can use the app to create the hunting areas or you can use the public records to show borders and parcels. This app stops you from trespassing on someone else's property and you can use to mark the exact spot where you want to do fishing. The free version comes with ads and a premium version starts at $5.99.
---
Google Maps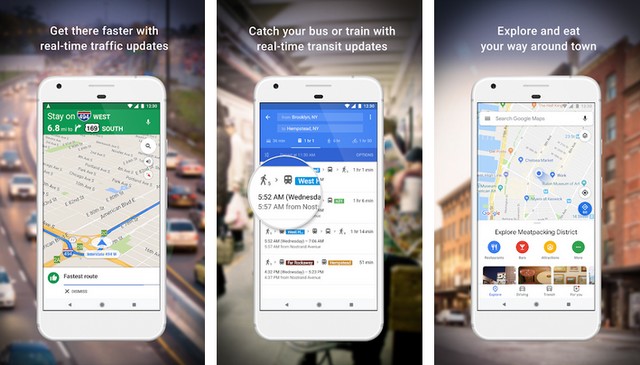 Google Maps is one of the best apps for anglers out there. You can use it to find the best spots for fishing and then you can examine the spots with the help of Google Earth. Moreover, you can also use it to find the shops for buying stuff like baits, sporting goods and other supplies you might need for the fishing. Unlike other fishing apps, Google Maps is completely free to use, no ads or anything, you can use it without any restriction.
---
YouTube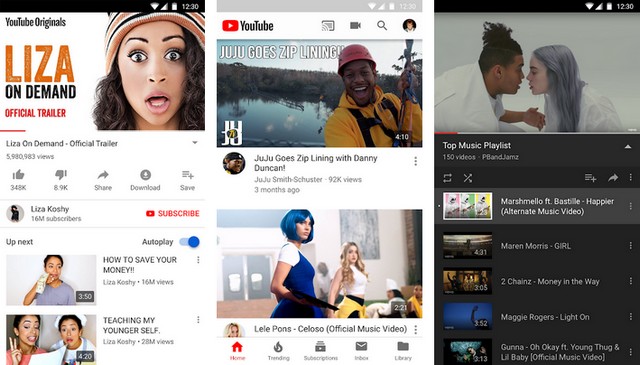 YouTube is an excellent app for beginners. It is the biggest video sharing platform on the internet and you can use the vast collection to find the best tutorials for the fishing. There are dozens of really good fishing channels on YouTube where you can learn different tips and tricks and other things which will help you in fishing. Also, you can also use it to find the good fishing spots as some users record their fishing experience and put it on YouTube. YouTube is free to use so it is good to have it on your smartphone.
---
Fishidy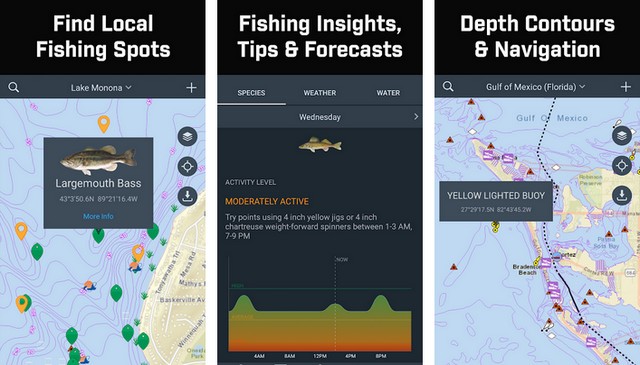 Fishidy is another very useful fishing app that provides information about the best fishing spots. It is powered by the Fishing Hot Spots which is a well-known name in the fishing industry for more than 40 years. The company is known for making reliable fishing maps and now the company is using its expertise to provide the best experience to fishers on the Fishidy App. Fishidy comes with reliable fishing spots, fishing log which you can keep private, expert-verified fishing tips and presentations, information about the fish habitat like reefs, rock piles, cribs and many more. It also comes with offline maps so you could still access the maps in remote locations. The app is free to use but you would need a premium subscription to access advanced features.
---
Fishing Licensing Apps (Fish|Hunt FL)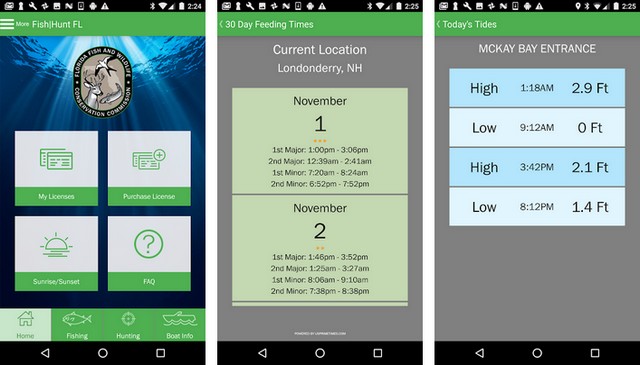 In the US, a lot of states require you to have a fishing license for fishing. Those states also have official apps where you can register yourself and pay the fee directly from the app. These states also have official apps on Google Play. The states such as Missouri, Florida, Utah, Pennsylvania, Virginia, and Georgia have the apps on Google Play and you can download them without any trouble. You can use the apps for free but the licensing fee varies from state to state.
---
Fish Deeper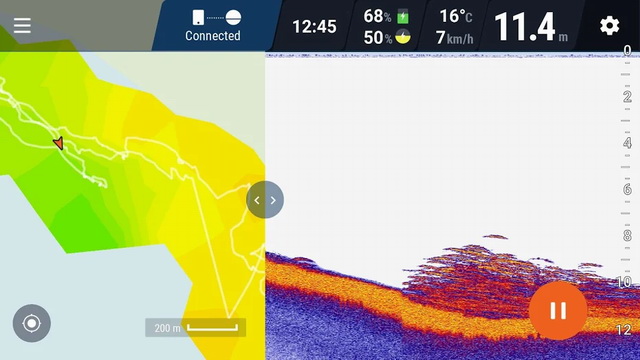 Fish Deeper is one of the advanced fishing apps which can address your fishing needs. The app turns your smartphone into a high-grade sonar display where you can scan the waters. It also provides the history of the specific places and also checks out things like water depth, temperature and many more. The app also offers you ultimate control over the functions and you can create Bathymetcis maps directly from the shore in Onshore mode. Fish Deeper is a very comprehensive app with many advanced features. You can use the app for free but to use the advanced features you will need a pro version.
---
Conclusion
These are the 10 fishing apps for Android. You can use these useful apps to make your fishing sessions more successful. Let us know your favorite fishing app in the comment section below. You can also check out the best fishing games for Android on our website.