Smartphones these days come with really good cameras which allow you to take the stunning photos and save your memories. To manage and see your photos you need a good gallery app. However, despite the simple premise of the app, not all gallery apps are the same. Some have a minimalistic design and some have tons of features. There are hundreds of gallery apps available out there which mean you have a lot of options to pick from. In this guide, we will share the best gallery apps for Android.
A+ Gallery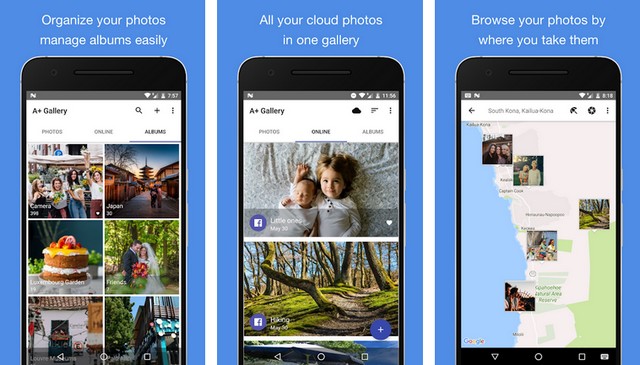 A+ Gallery is a really simple gallery app which allows you to manage your photos, create albums and share them with others. Moreover, it also comes with support for Facebook, Dropbox and Amazon Cloud which is a plus point. You also find the Vault feature in the app where you can save your private photos and it will keep them safe from prying eyes. It is available for free with some in-app purchase features.
---
F-Stop Gallery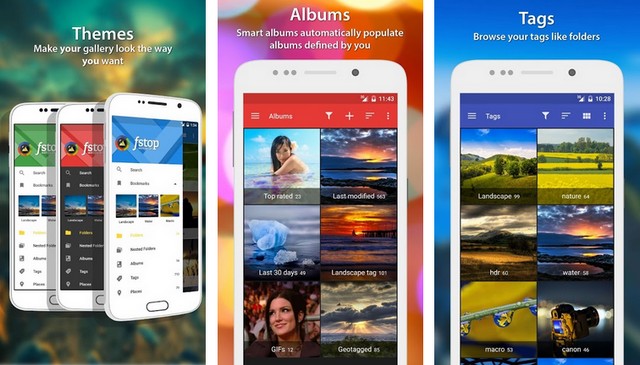 F-Stop Gallery is another really good and old gallery app which has been around for years. It comes with material design with some really good features. It allows you to search the photos based on their metadata and you can also add tags to your photos for better management. There is also a smart Albums feature which sorts out the pictures automatically. Some features are only available for pro version while the free version comes with some restrictions.
---
Focus Go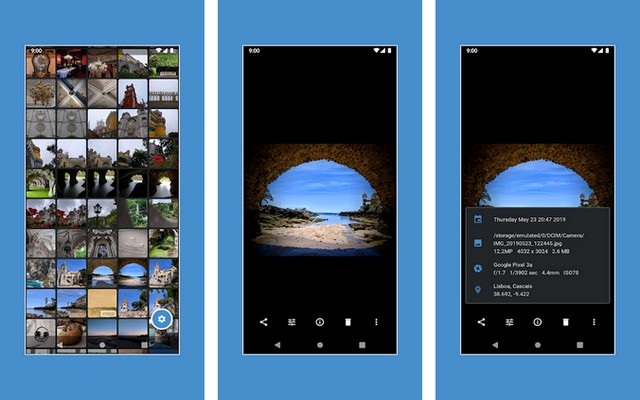 Focus Go is the new kid in the gallery apps block, it comes with a very light design which makes it very fast. It allows you to do the management, sharing and other stuff. Moreover, it also comes with an optional 32-bit encoder which ensures better image quality. Focus Go is free to use the app and it is perfect for those who want more basic yet fast gallery app.
---
Gallery Vault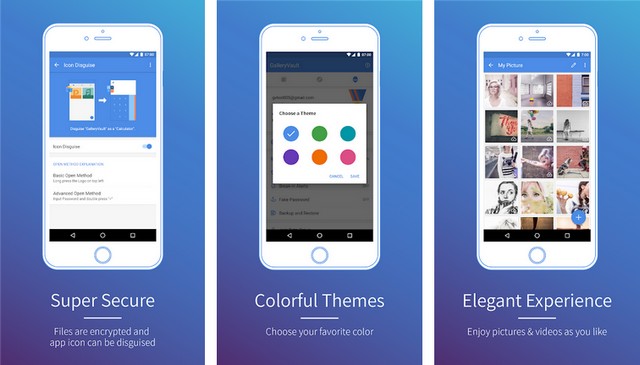 Gallery Vault is more privacy-centric gallery app. It allows you to create the private vault to save your sensitive photos. You can also hide videos and other types of files in the gallery. You can also hide the icon of the app and it comes with fingerprint support which means it will be difficult for someone to break into this app. If you are looking for a privacy-centric gallery app then Gallery Vault is for you.
---
Google Photos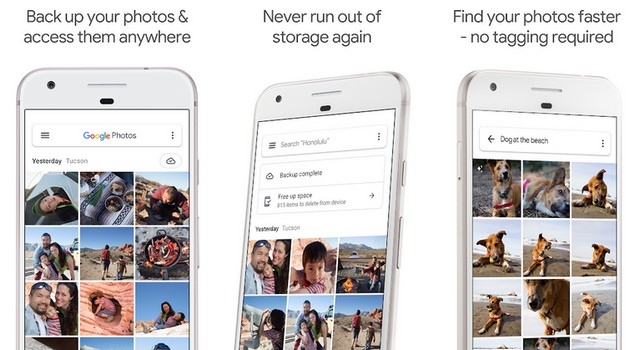 Google Photos is undoubtedly one of the most popular gallery apps out there. It comes pre-installed in most of the Android smartphones so if your smartphone has this app then we would recommend you to try this one. The app allows you to upload the photos and video to the cloud storage but the images and videos will be compressed according to Google's High-quality settings. It is also completely free to use and it has really neat UI which make it easy to use. If you are looking for more established, trustworthy and fast gallery app then Google Photos is a great option for you.
---
Memoria Photo Gallery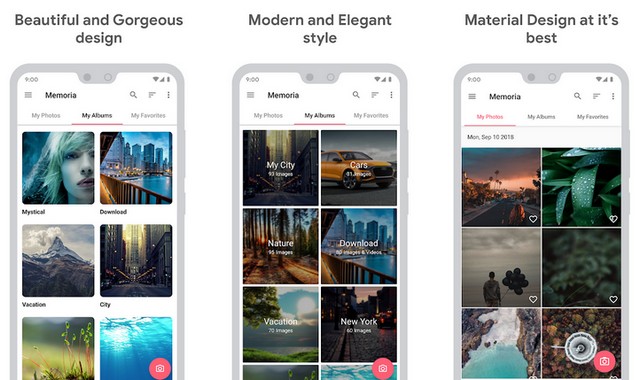 Memoria Photo Gallery is another really good gallery app which offers a lot of customization option, smooth performance, and some really good security features. You can change the look of the app by installing the themes. It also supports the fingerprint authentication and hiding album features where you can hide your private photos from prying eyes. There is also encrypted vault which only you can access and all of your photos there will be saved in encrypted form which makes them more secure. It is another really good security centric gallery app and you should check it out.
---
PhotoMap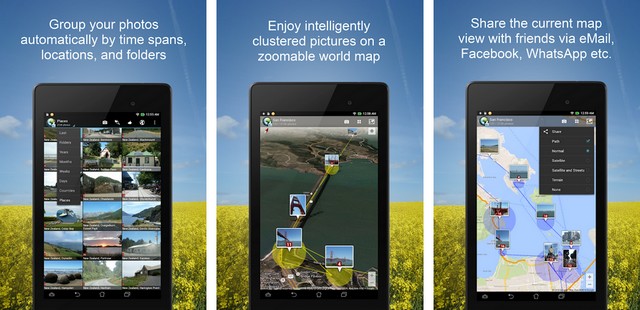 PhotoMap is a unique gallery app which allows you to take the photos and save them according to their location. It uses GPS technology to do it and it saves the photos according to the places where the photos were taken. For example, if you want to see your photos on the beach then you can navigate to the beach on the app and it will show all the photos captured on the beach. The free version comes with restrictions and the pro version is available for $2.99.
---
Piktures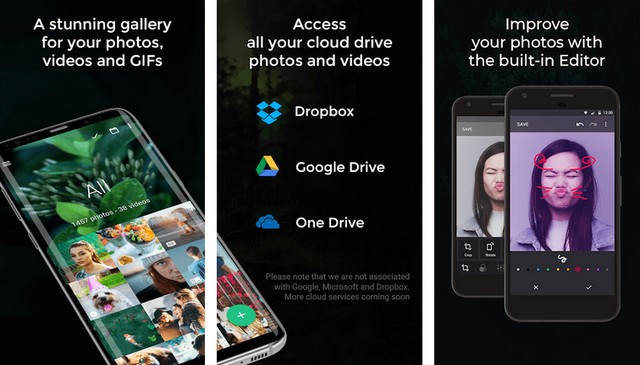 Piktures is another minimalistic gallery app which comes with basic gallery app features, such as managing pictures, sorting pictures according to location, time, etc. It also comes with GIF support which means you can save and play GIFS on the app and send them to your friends. The app also has gesture-based controls which is a nice touch. It is free to use with some in-app purchases.
---
Simple Gallery Pro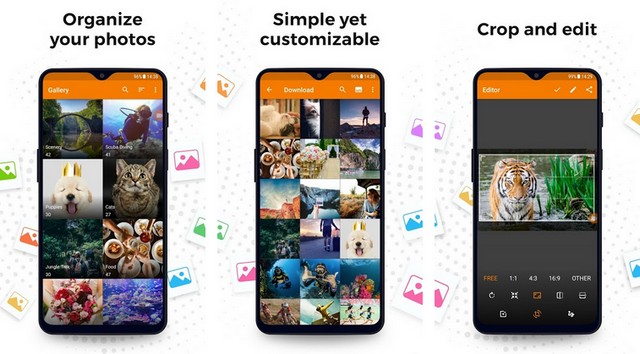 Simple Gallery Pro is another minimalistic gallery app which is completely offline and it doesn't require any unnecessary permission. The app comes with many features such as image and video management, image and video search, support for 32 languages and many more. It also allows you to recover the photos from built-in recycle bin. There are also security features such as fingerprint support for additional privacy. The free version of the app comeswith some restriction and the pro version is available for only $0.99.
---
Your Default Gallery Apps
Most of the Android smartphones come with their default gallery apps such as Samsung gallery, HTC Gallery, Huawei Gallery, and others. These apps are really good and they work flawlessly with the camera. Most of these apps are also optimized to work with different features of your smartphone. For example, Samsung Gallery apps support the Bixby Features in the app. Similarly, Huawei Photos app has built-in support for Huawei features. If you are not looking for some additional features then these apps are perfect for you.
---
Best gallery apps for Android – Conclusion
These are the 10 best gallery apps for Android. Most of these apps are free to use but some come with in-app purchases. However, the apps like Google Photos are completely free to use and you can do a lot with it without spending any money. Let us know your favorite gallery app in the comment section below. You can also check out the best photo editor apps for Android on our website.