In this guide, you will learn how to enable the dark mode on Samsung Galaxy phones. Samsung is one of the biggest Android manufacturers in the world and their smartphones are the best in class but their weak point has always been their UI. Samsung has recently launched their new UI "ONE UI" which has been redesigned from the scratch and the Samsung claims that it is more user-friendly and it comes with tons of useful features. One of these features is the "Night Mode" which is the major trend these days and Samsung users have been demanding this feature for months. Night Mode not only looks really cool on Samsung's AMOLED Panels but ti also saves a lot of battery.
SEE ALSO: How to Enable Dark Mode in Facebook Messenger
How to Enable the One UI Dark Mode on Samsung Galaxy Phones
Follow these steps to enable the Dark Mode.
Swipe down from the top of the screen and tap the gear-shaped icon on the top right corner.
In the settings, find the Display section and open it.
Find the Night Mode in the Display settings and toggle it on. Dark Mode will be enabled on your Galaxy phone.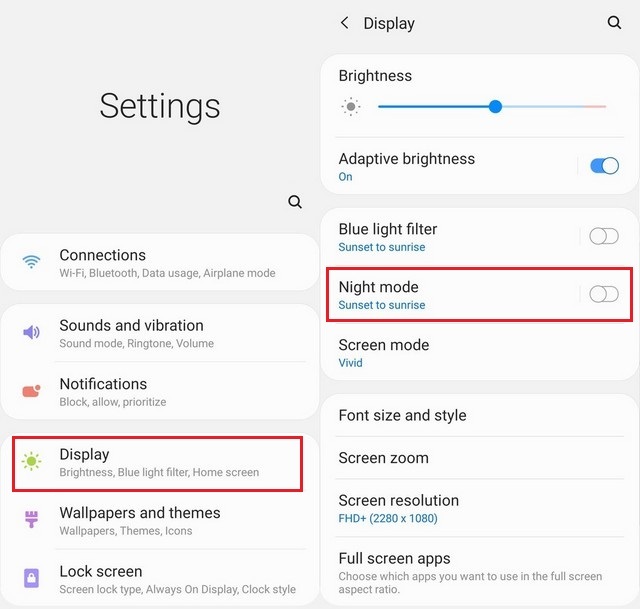 Now you can also further customize it according to schedule. For example, you can set the dark Mode for the night and Default mode for the day.
You can also add the Dark Mode toggle in the notification shade to quickly access it.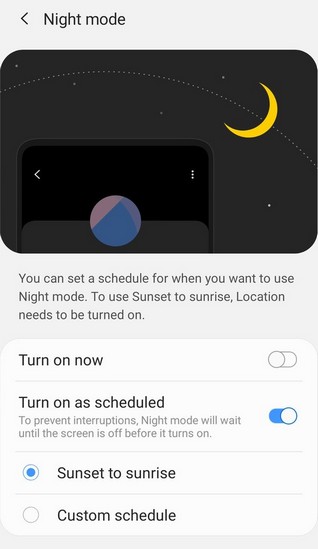 Samsung's new dark Mode may not be as good as a dark theme like we have seen in other smartphones but still, it is better than many other smartphones out there. One UI is also comparatively new so we can expect that Samsung will make it perfect with time. In our opinion, Samsung Dark Mode looks stunning on AMOLED Panels and that deep blacks on the screen give some really good vibes. Let us know your thoughts about the Samsung Dark mode in the comment section below. Also, visit our website for more useful guides.