In this guide, you will learn how to fix Galaxy Note 8 screen color problems. Samsung's AMOLED panels are the best in class and Samsung Galaxy Note 8 also comes with Super AMOLED curved Panel with the resolution of 1440 x 2960 pixels which look stunning. It also features the Corning Gorilla Glass 5 which offer the ultimate protection. Galaxy Note 8 has all the features which you could expect in a Flagship Smartphone. However, some users found screen color problems in Note 8 where it Displays reddish pink and sometimes yellow tin on the display. If you have also encountered a similar issue then worry not because we got you covered. Here how you can fix this issue.
SEE ALSO: How to Update the Software on Samsung Galaxy Note 8
How to fix Galaxy Note 8 Screen Color Problems
Super AMOLED Panels are the best in class and they have very accurate colors but the screen color problem occurs due to poor calibration of the display and you will have to fix it manually. Here how you can fix Screen Color Problems.
Swipe down from the top of the screen and tap the gear-shaped icon on the top right corner to access the Settings.
In the settings, find the Display section and tap it.
Under the Display setting, you will find a lot of options, find Screen Mode and tap it.
Here you will get a total of 4 modes – Adaptive display, AMOLED Cinema, AMOLED Photo, and Basic.
Play around with these modes and check if any of these modes fix the problem.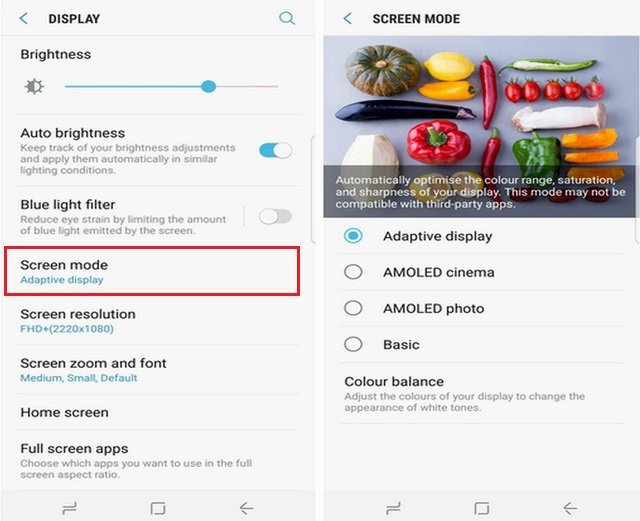 If the problem still persists then your last option is to play with Color Balance where you can adjust the RGB (Red, Green, and Blue) colors to find the perfect combination. You can either have the warm tones or cool tones or the mixture of both. If you are new to the color calibration then you will have to spend some time finding the right combination.
Conclusion
Now that you know two different ways to fix the color problems, you can easily balance the color and fix the issue. Let us know if you have any questions, in the comment section below. Also, visit our website for more useful guides.
Image Source: YouTube / DetroitBORG