In this guide, you will learn how to use wireless PowerShare on the Galaxy Note 10. Galaxy Note 10 is a flagship smartphone and it comes with the Snapdragon 855 processor which is arguably one of the most powerful processors out there. The device also features the Dynamic AMOLED Panel which ensures that you get the best colors on your display panel. Apart from these bleeding-edge features, Note 10 also comes with the Wireless PowerShare feature which is a premium feature and it allows you to share the power of your Note 10 with other smartphones. Isn't it awesome? Let's get into it.
What's Wireless PowerShare?
Wireless PowerShare is a state of the art power-sharing feature which allow you to share the battery of your Note 10 with other compatible smartphones and gadgets. All you need is to put it on the back of your Note 10 and it will start recharging. To recharge the other device with your Note 10, it must have the wireless charging feature. The following are some of the compatible devices that can be charged with Note 10.
Samsung S6, S7,S8, S9 & S10
Samsung Note 5, Note 8, Note 9, Note 10
LG V30, G6, G4, G3
Samsung Galaxy Watch, Galaxy Watch Active 2, Galaxy Buds, etc.
Any Qi-Certified wireless capable devices and gadgets can be charged with the Note 10.
How to use Wireless PowerShare on the Galaxy Note 10
Before you start using the Wireless PowerShare feature on your Note 10, you will need to enable it and here's how you can do it.
Swipe down from the top of the panel and tap the gear-shaped icon on the top right corner to access the settings,
A Quick settings panel will appear on the screen.
Find the "Wireless PowerShare" and tap it to turn it on.
Now put your Note 10 down and ensure its display is on the downside.
Place the supported device on the back of your Note 10 and it will start recharging.
That's it.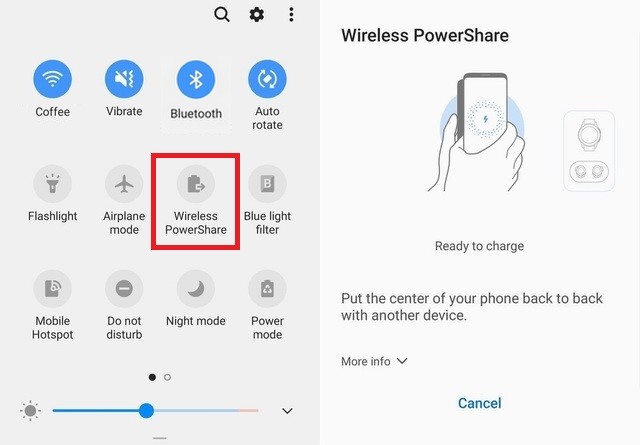 Is Wireless PowerShare Safe?
Yes, Wireless PowerShare is completely safe to use and it has been vigorously tested by Samsung to ensure that it is safe to use. However, it only works with the WPC Qi-Certified devices so we would recommend you to only use the Qi-compatible devices with Note 10.
Bottom Line
That's how you can use the wireless PowerShare on your Galaxy Note 10. This feature is very easy to use and you can use it to power your gadgets such as your wireless headsets, Smartwatches, etc. Also, if you want to learn how to wipe cache partition on your Note 10 then you can read this guide. If you have any questions, please let us know in the comment section below. Also, visit our website for more useful guides.