Samsung Galaxy S6 was launched in 2015 as a flagship smartphone by Samsung. It is still one of the very capable smartphones in 2020 and if you are using it for some time then you would naturally notice the drop in performance. However, you can boost its performance by wiping the cache partition. In this guide, you will learn how to wipe cache partition on Samsung Galaxy S6.
What is Cache?
If you don't know about cache then this section is for you. A cache is basically the temporary information that is required by the system apps and third-party apps for their functionality. It is usually the temporary data and it has the information such as your login credentials for smooth login so that you need to enter your login credentials every time, preferences and other data, etc.
When you install tons of apps on your smartphone, these caches get accumulated and it causes some performance issues. You can clear the cache to boost the performance of your smartphone to some extent.
How to Wipe Cache Partition on Samsung Galaxy S6
Wiping Cache Partition will not remove your permanent data and it will only remove the cache in your Galaxy S6. Here's how you can do it.
Turn off your Galaxy S6.
Now press and hold the Volume Up, Home and Power keys at the same time.
Keep holding then until you see the Samsung Galaxy S6 logo and only release the power key.
When you see the Android logo on the screen, you can release the rest of the keys.
You are in the Android System recovery menu.
Use the volume down button for navigation and navigate to Wipe Cache Partition and use the power key to select it.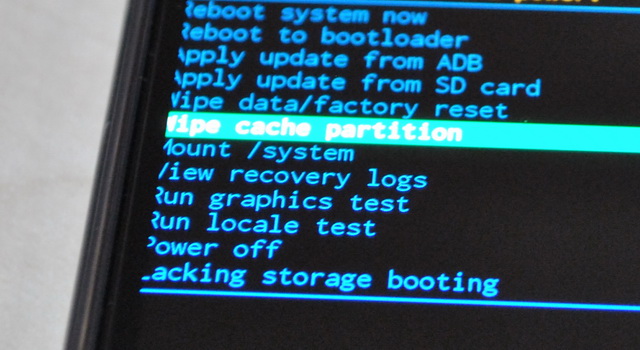 Now use the volume down key to highlight Yes and then use the Power key to select.
The system will wipe cache partition and the menu will appear again with highlighted Reboot System now.
Press the Power button to select it.
Congratulations! You have successfully wiped cache partition on your Samsung Galaxy S6.
Conclusion
That's how you can wipe cache partition on Samsung Galaxy S6. In most cases, wiping the cache partition would fix the issue for you. You can also clear the app cache of a certain app from the App Manager in the settings if you think that you are facing issues due to any certain app. However, if you are still facing the performance issue then it could be the hardware issue. We would recommend you to contact the Samsung service center or any well-reputed service center so that they could diagnose the issue and fix it. If you have any questions, please let us know in the comment section below. Also, if you want to learn how to factory reset your Galaxy S6, then visit our website.