In this guide, you will learn how to factory reset Samsung Galaxy S6. Samsung Galaxy is a flagship smartphone and it has been around for some time. It is also natural that after some time these flagships start experiencing some performance issues, battery issues and space issues. In this case, you can either switch to the latest model or you can go for the factory reset option that will solve these issues to some extent. If you are also facing issues then Factory reset is a great option for you and we will tell you how to do it.
What Does a Factory Reset do to your Galaxy S6?
Factory Reset is the proven method that basically takes your device to the state when you bought it. After the Factory reset, you will set up your mobile just like new. Factory reset will remove the data including the apps, photos, etc. from your smartphone so make sure to save the backup of the data before doing it. Also, we recommend you use the Factory reset method only if you are facing some serious performance issues, battery issues or space issues. In normal cases, you can simply turn off the device and then turn it on, will solve the issue. It is also known as the Soft Reset.
How to Factory Reset Samsung Galaxy S6
Now you know the details about the Factory reset, let's get to the process.
Swipe down from the top of the screen and tap the gear-shaped icon to access the settings. Alternatively, you can go to the menu, find the settings icon and tap it to access the settings.
In the settings, go to the Backup and reset section and open it.
In the Backup and reset section, tap the Factory Data Reset section.
Here you will see the details of the data that will be deleted when you Factory reset your Galaxy S6.
Tap the Reset Phone and you will be taken to the next screen.
Enter the password, pin or pattern of your phone.
Now you will get the final warning, tap the Delete All and confirm it in the next window.
Your phone will be shut down and start the process.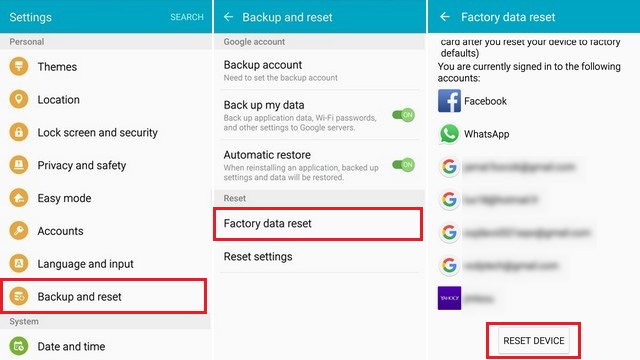 It will take some time to reset the whole phone. When the process will be completed, your S6 will restart and you will see the Welcome Screen.
Conclusion
That's how you can factory reset Samsung Galaxy S6. If you are facing some network issues or setting issue then you can also reset the network settings and Settings from the Backup and Reset Menu. Doing it will solve the issue in most of the cases. If you have any questions, please let us know in the comment section below. Also, if you want to learn how to update the software on Samsung Galaxy S6 , then visit our website.