In this guide, we will explain how to transfer whatsApp messages to Samsung Galaxy S9. WhatsApp is one of the most popular apps out there and it is used by almost 1.5 billion people for communication and sharing memes etc. if you are switching to the Samsung Galaxy S9 and worried about how to Transfer WhatsApp messages to it then don't worry because we got you covered. WhatsApp offers a really easy solution to transfer messages your WhatsApp Messages from your old phone to the Samsung Galaxy S9. Let's get into it.
How to Transfer WhatsApp Messages to Samsung Galaxy S9
Google Drive Backup is the easiest, secure and fast method to transfer your WhatsApp Messages from your old device to Samsung S9. Before we proceed to steps, make sure that your Google Account is signed in to your android smartphone.
Step 1. Open the WhatsApp
Step 2. Tap the Three dots on the top right corner and tap the Settings
Step 3. In the settings, tap the Chat and then Chat Backup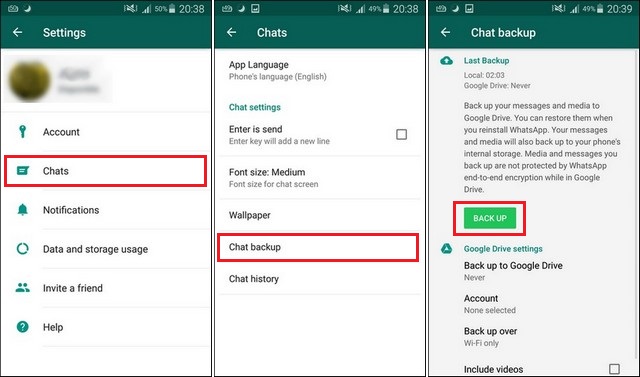 Step 4. Here you will find the option to backup your data to the Google Drive, Now before you proceed, if you are planning to use the other Gmail account on Samsung Galaxy S9 then use that account for backup by selecting it from Google account section
Step 5. Now you can also add videos to the backup
Step 6. Tap the Backup button and the smartphone will start backing up the WhatsApp messages to the Google Drive. It may take a few minutes depending on the size of the backup.
Once the process is finished, login from the same google account to the Samsung Galaxy S9 and install the WhatsApp. Open it and verify your number, after verification, you will see the option to restore chats and media from Google Drive, Tap it and restoration process will start. Once the process is completed, you will see WhatsApp messages and media on your Samsung Galaxy S9.
Conclusion
There are also other methods available but they are not very effective and Google Drive method is the best in our opinion. It also keeps your data secure, so even if you lost your device, you can still recover your data from the cloud. If you have any questions, please feel free to ask us in the comment section below. Also, if you want to learn how to hide last seen in WhatsApp on Android, then visit our website.