Fighting games used to be a very popular genre but with time other genres become more popular and now we don't see many good fighting games on the PlayStore. However, there are still many people who love fighting games. In this guide, we will share the best fighting games for Android.
Brawl Stars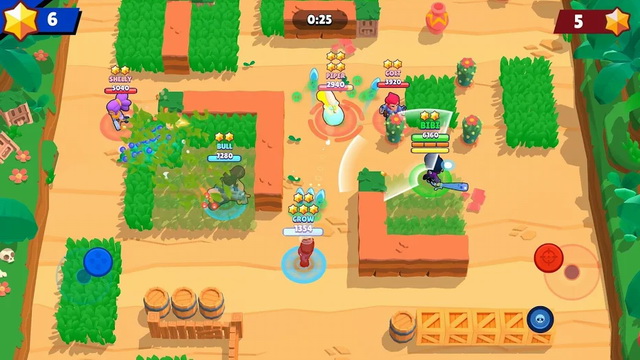 Brawl Stars is not an exact fighting game but still, there are some tense components which also qualify it as a fighting game. In this game, there are multiple brawlers and each brawler has its own unique abilities and powers. You will be playing with other people in PVP in an online arena and there are multiple modes available to choose from. Overall, Brawl Stars is a really good game with solid gameplay, good graphics, and easy controls. It is also completely free to play.
---
ChromeBlade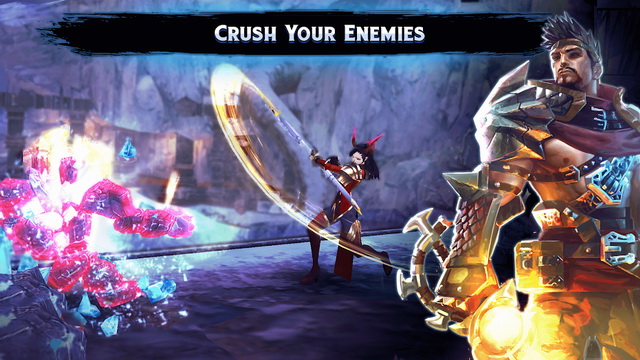 ChromeBlade is a newer fighting game which was released back in 2018 and it features the brawler elements with RPG, arcade and side-scrolling mechanics. In the game. You will select one out of four characters, learn their moves and then d battle. Each character has a variety of attacks so you will have to learn the moves of your character if you want to win the battle. It is completely free to play.
---
Clash of Robots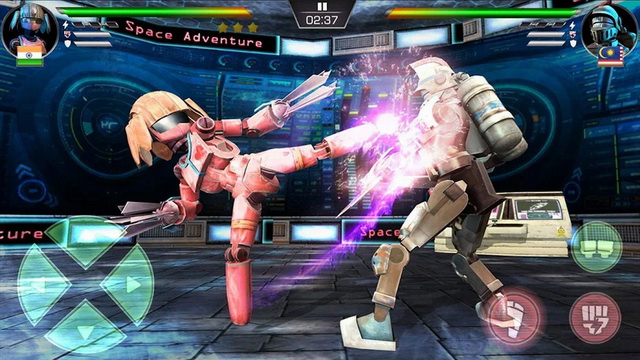 Clash of Robots is another fighting game which is basically Iron Kill: Roboto Games but with a new title and some new features. It is a classic arcade fighter where you will be up against another player in 1v1 battles. The controls are fairly simple, you get the virtual buttons on the left to control the movement of your character and buttons on the right to do the action. Overall, it provides a pretty decent fighting experience but it not very extraordinary. It is free to play.
---
EA Sports UFC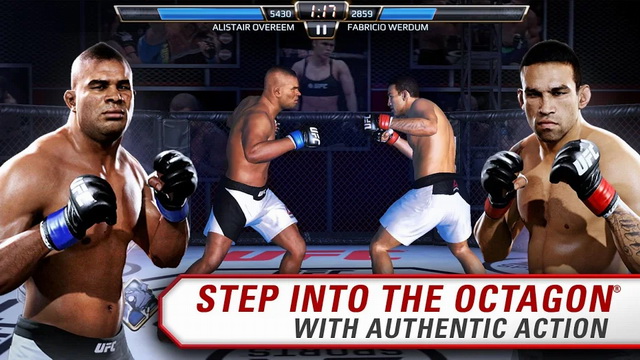 EA Sports UFC is one of the most popular fighting games for Android. It comes with fairly decent graphics, more than 70 MMA fighter including both male and female fighters and tons of content. Overall, it provides good action but the one thing which is dragging it down is its controls which are not good. If you want to have the MMA Fighting experience then EA Sports UFC is the best you can get on PlayStore.
---
Fight Club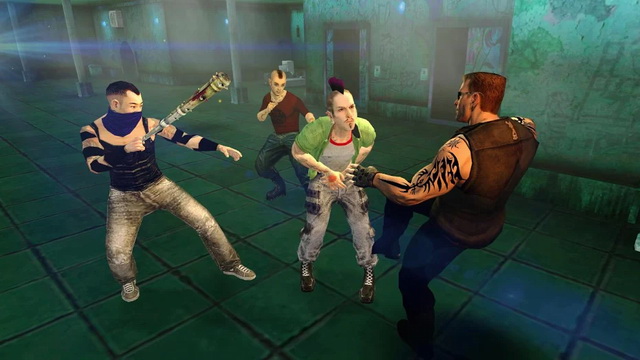 Fight Club is an action-adventure fighting game which provides a decent fighting experience. The game features more than 20 levels, variety of equipment and even some superpowers. Moreover, the fights take place in a dimly lit basement. Overall graphics of the game are very basic and they also have very aggressive advertising which can be very annoying. It is completely free to play.
---
Fighting Tiger – Liberal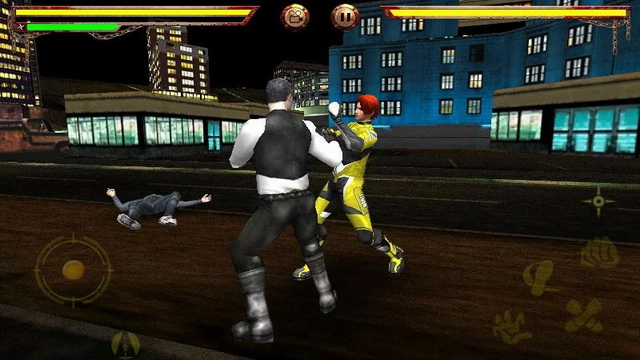 Fighting Tiger – Liberal is one of the oldest fighting games available on PlayStore. In the game, you will start in an area and you will have to beat the good number of opponents to proceed. The controls are fairly simple and easy to learn. The game also features the number of fighting styles and weapons which you can use to beat the bad guys. There is also a campaign mode where you will have to save our girlfriend and fight for your life. It is free to play but there are ads in the game. Advertising is not very aggressive and you can play the game with ads.
---
Punch Boxing 3D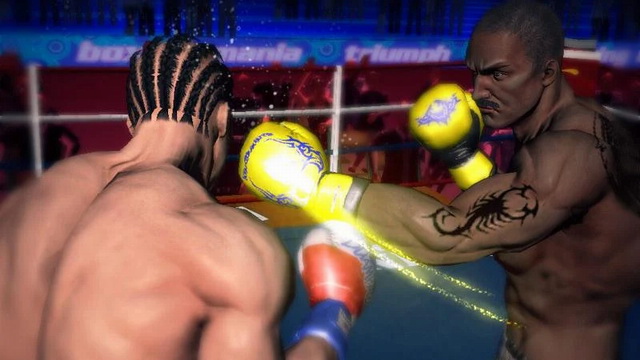 Punch Boxing 3D is a boxing game and just like other boxing games, the gameplay is a bit slower than other fighting games. Moreover, the controls are also restricted to block and strike but it is what it is. The graphics are pretty good but they are not good enough. Also, you will be upgrading your character by fighting at the gym and as you progress you will unlock various accessories in the game. Overall, it is a decent boxing game which you can enjoy. It is free to play.
---
Real Boxing 2 Rocky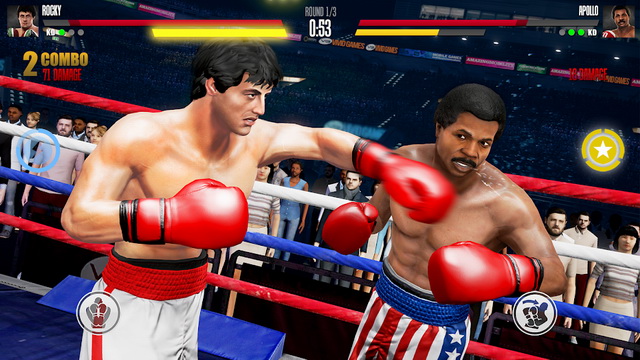 Real Boxing 2 Rocky is one of the best fighting games for Android. You will be playing as the popular fictional boxers such as Rocky, Creed, and others. The game features the really good graphics, much better than other fighting games on this list. In the game, you can challenge other fighters, pay mini-games, battes bosses and even you can create your own character. The controls are also really good so overall it is a really good package for those who want to enjoy the boxing on their smartphone. It is completely free to play with some Ads.
---
Shadow Fight 3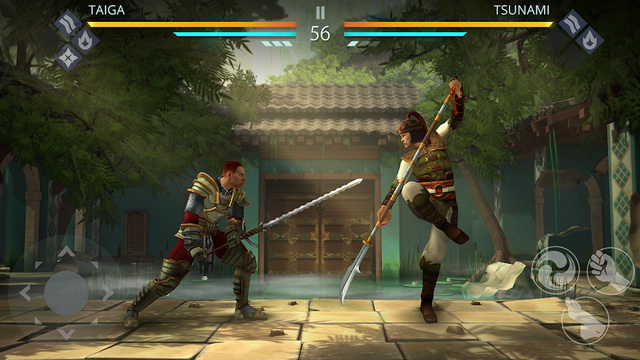 Shadow Fight 3 is the third iteration of the famous fighting series Shadow Fight. Just like its predecessors, it is really good but there are some improvements in the graphics and some minor detail. The mechanics of the game are the same as its predecessor but there is a modern touch to it as well. Overall. Shadow Fight 3 is an excellent Fighting game and you can't go wrong with it. If you want some good fighting experience then Shadow Fight 3 is an excellent option. It is free to play.
---
SNK Corporation Fighting Games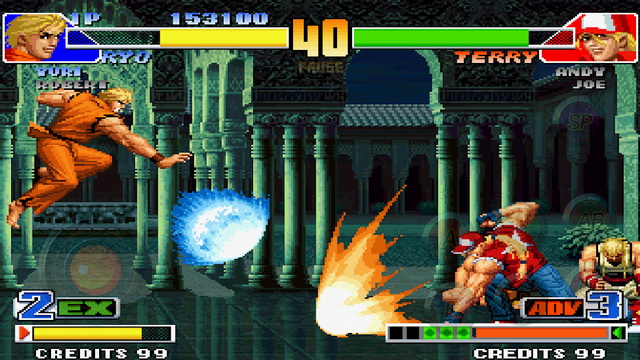 SNK Corporation is one of the best developers for fighting games and they have a decent collection of retro fighting games. Some of these games include The King of Fighter Titles, Samurai Showdown games, Garou: Mark of wolves and Fatal Fury special. Most of these games are the mobile versions of the popular console and arcade games and SNK has done a good job with them. If you are into retro fighting games then we would recommend you to try SNK games as they are good enough. Some of them are free to play but some of them are paid games.
---
Conclusion
These are the 10 best fighting games for Android. Some of these games are really good but some of them are decent. You can pick the ones which you like the most. Let us know your favorite fighting games in the comment section below. You can also check out the best action games for Android on our website.