WiFi is surely one of the major necessities these days, which allows us to connect with the internet. Huawei P40 Pro also supports WiFi connectivity, but it can also experience WiFi Problems like other smartphones. In this Vodytech guide, you will learn how to fix WiFi problems on Huawei P40 Pro. Let's dive right into it.
Solution#1: Restart your Router
WiFi connectivity is a very common issue, and mostly it's from the Router's side, which you can easily fix it. Just turned off and on your Router, and it will solve the issue in most cases. Sometimes the issue is from the ISP's side, so ensure that you wait for 10 to 15 minutes before we proceed to the next steps.
Solution#2: Forget WiFi
If you are still unable to connect the WiFi with your Huawei P40 Pro, it could be due to a settings issue. One way to fix this issue is to Forget WiFi. Just go to WiFi settings, press and hold your WiFi, and Tap Forget. Now connect your WiFi again, and it should solve the issue for you.
Solution#3: looks for Errors
Sometimes smartphone shows a certain code on the screen, which indicates the problem. Just Google the error code, and it will show what it's all about. You will also find many solutions which you can use to fix that particular problem.
Solution#4: Restart your Huawei P40 Pro
Sometimes the issue isn't very complex, and you can fix it by simply restarting your device. Simply press and hold the power key for a few seconds, and the smartphone will turn off. Now turn it on by pressing the power button and holding it until the Huawei logo appears on the screen. Restarting your Huawei P40 Pro should solve the problem for you.
Solution#5: Reset your Network Settings
If none of the above solutions have worked for you, you can use this solution as it will solve this issue in most cases. In this solution, we will reset the network settings to default condition resulting in solving the issue. Here's how you can reset network settings on Huawei P40 Pro.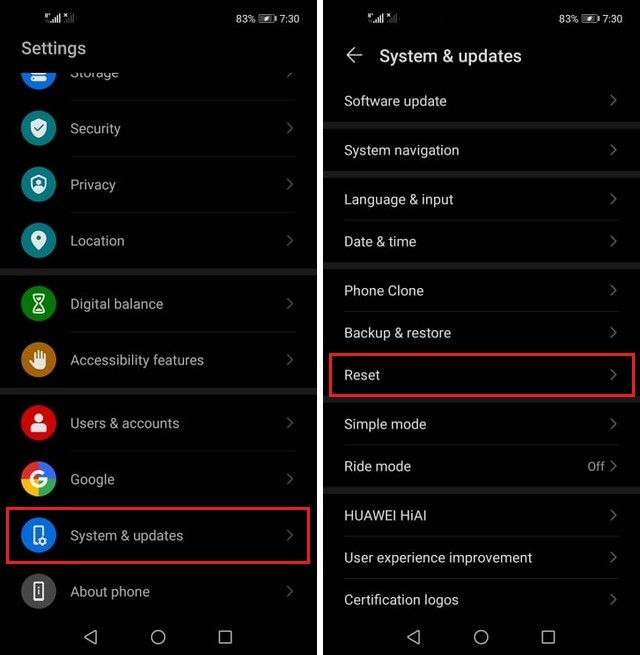 Go to the Settings of Huawei P40 Pro.
Navigate to System & Updates and tap it.
Scroll down, find Reset, and Tap it.
Now tap Reset Network Settings.
Confirm your action.
Congratulations! You have successfully reset the Network Settings of your Huawei P40 Pro.
Conclusion
That's all, folks. In this guide, you learned how to fix WiFi problems on Huawei P40 Pro. We shared the 5 potential solutions which can fix this issue for you. If you have any questions, please let us know in the comment section. Also, make sure to check this guide if you want to learn how to wipe cache partition on Huawei P40 Pro.