In this guide, you will learn how to adjust display colors on the Galaxy S8. Samsung Galaxy S8 is a flagship smartphone that has been around for some time. It is regarded as one of the most beautiful smartphones out there due to its curved design and beautiful display. Galaxy S8 comes with a 2960 x 1440 Super AMOLED Panel which ensures that you get the best colors out of it. However, as it is flagship smartphone, it also allows you to adjust display colors and customize them according to your liking. We will tell you how to do so. Sounds interesting? Let's get started.
How to adjust display colors on the Galaxy S8
Adjusting the colors on the Galaxy S8 is very easy and you can do it by following these steps.
Swipe down from the top of the screen and tap the gear-shaped icon on the top right corner to access settings. Alternatively, you can go to the menu and find the gear-shaped icon and tap it to access the settings.
In the settings, find the Display section and tap it.
Now, find the Screen mode in the display section and open it.
Here you will see different display Modes, such as Adaptive Display, AMOLED cinema, AMOLED photo and Basic.
You can pick the Display mode you like the most and proceed.
If you are not satisfied with the pre-set display modes, then you can manually adjust the color balance where you can adjust the RGB (Red, Green & Blue) color to find the sweet spot.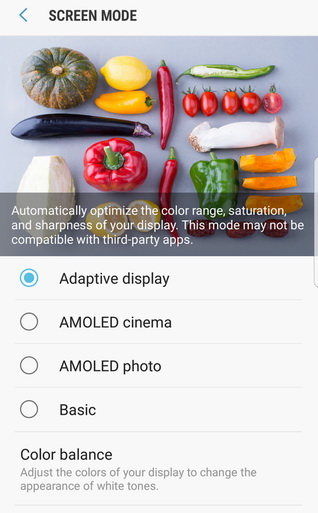 How to make your Galaxy S8's screen less reddish/warm
Some people also come across the issue where they find the screen of their Galaxy S8 reddish, pink or warm. You can fix this by switching to the cooler color modes such as Adaptive Display. Alternatively, you can also manually adjust the RGB of the screen. In our opinion, the manual method is the best as you can easily keep sliding the color slides and try different combinations until you find the right color combination for your display.
Conclusion
In this way, you can easily adjust the display colors on the Galaxy S8. The pre-set display modes work for most of the people but you can always go manual and pick the right display combination for your display. If you are still unsatisfied with the display mode then we would recommend you to update the firmware as Samsung regularly release the updates to fix the different issues. Moreover, even after the firmware update, you are not satisfied with the display color then you can go for the customer service center and ask them to replace the unit for you. If you have any questions, please let us know in the comment section below. Also, if you want to learn how to disable the Galaxy S8 Always On Display, then visit our website.