In this guide, you will learn how to change display resolution on the Galaxy S8. Galaxy S8 is a flagship smartphone that comes with top of the lines specs and features. However, beautiful display is the major attraction of premium Samsung smartphones and Galaxy S8 is no exception.
You can enjoy the movies or any multimedia on your beautiful Galaxy S8 with a beautiful display but having a high-quality display with high resolution also impacts battery life. That's is the very reason why Samsung allows its users to change their smartphone's display resolution which ultimately improvesbattery life. If you are interested in changing the display resolution of your Galaxy S8 then we will tell you how to do it.
How to change display resolution on the Galaxy S8?
The whole process of changing the display resolution on the Galaxy S8 is very simple. You can do it within a minute. Here's how you can do it.
Swipe down from the top of the screen and tap the gear-shaped icon on the top right corner to access the settings. Alternatively, you can go to the home menu and tap the Settings icon to access the settings.
In the Settings, find the Display section and open it.
In the Display settings, tap the Screen resolution and open it.
Here you can easily move the slider to the desired resolution and the smartphone will get to that display resolution.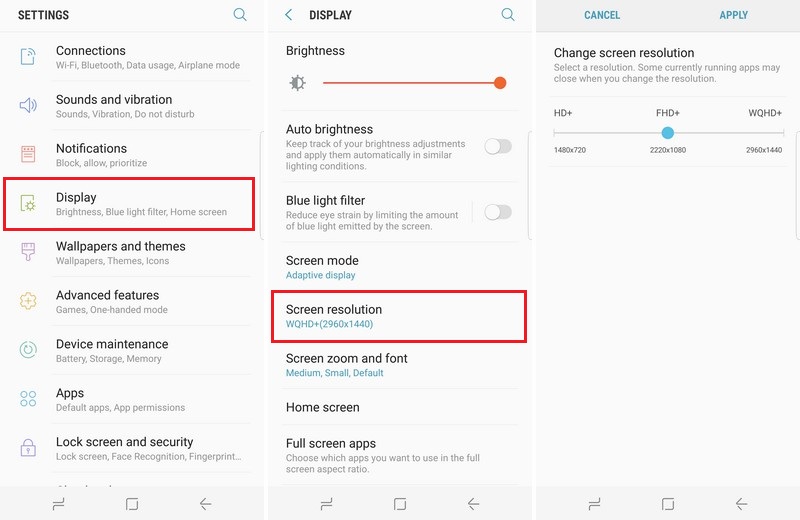 Congratulations! You have successfully changed the display resolution on the Galaxy S8.
Should I change the Display resolution on the Galaxy S8?
This question is asked by many users out there and a short answer to this question is that it depends on your preference. If you are someone who likes the vivid display then lowering the resolution will compromise the whole experience. However, if you are someone who wants to save battery and can live with 720p or 1080p then you can lower the resolution. We will suggest you not lower the resolution as the main reason why people buy Samsung phones is due to their displays and if you lower the resolution then the display will not look as good as it can. You can use the Samsung fast charging to quickly recharge your phone and you won't have to compromise the whole experience by lowering the display resolution. Let us know your thoughts in the comment section below. Also, visit our website for more useful guides.