Samsung and other Android manufacturers always choose their own custom skins on top of Android and their own applications for their smartphones, sometimes these applications are good but most of the time they are not very good. However you can always choose your default app and in this quick guide, we will tell you how to change your Messaging App on Galaxy Note 9.
How to Change your Messaging App on Galaxy Note 9
The first step is to download your favorite text message application from the Google Play Store. If you are confused about which application to choose, then a quick way to decide is to look at the rating and how many times it is downloaded. If the app has more than 4.0 rating and has around millions or more downloads then it's a good chance that this application is good. Now once you select the app, download it and follow these steps to set it as default.
Swipe down from top of the screen and tap the gear icon to go to the settings.
Now find the Apps tab and open it.
In the applications settings, tap the 3 dots icon on the top right corner. Tap it and choose the Default Apps
In this setting, you can select your default Messaging app. Once you select it, you can now use your favorite messaging app as the default messaging app.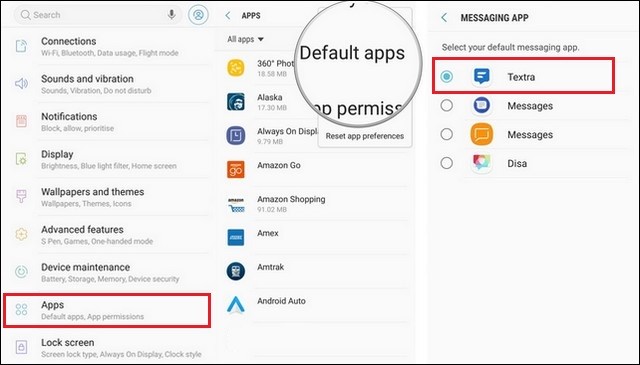 In this way, you can select the default Messaging App. You can also choose the "Hangouts" which is the communication app by Google and it includes features like messaging, video chats etc. We hope that you will find our guide useful and if you have any questions, please feel free to ask us in the comment section below. Also, visit our website for more useful guides and reviews.