In this guide, you will learn how to enable flash notifications on Samsung Galaxy S10. Let's get started.
Being a flagship smartphone, Samsung Galaxy S10 comes with all the bells and whistles which you can expect from a great smartphone. It also comes with a handy way of alerting you about notifications with Flash Notification. If you want to enable it, then you can do it from the Advanced Settings in the Accessibility section. Let's take a look at the step-by-step guide on how you can do it.
What is Flash Notification in Samsung Galaxy S10?
Flash Notification is basically the notification alert feature that allows the flash on your S10 to start flashing when it receives any notification. In Samsung Galaxy S10, you get the two types of flash notifications.
Camera Flash – The camera flash starts flashing when the smartphone receives a notification.
Screen Flash – The display of S10 starts flashing when it receives any notification.
How to Enable Flash Notifications on Samsung Galaxy S10
The whole process of enabling the flash notification on Samsung Galaxy S10 is pretty simple, and you can do it with no problems. The Flash Notification option is hidden in the settings, but you can easily find it by following these steps.
Unlock your Samsung Galaxy S10.
Swipe down from the top of the display and tap the gear-shaped icon on the top right corner to get access to settings. Alternatively, you can go to the apps menu, find the icon of the Settings and tap it to access the settings.
Now navigate to the Accessibility section and tap it.
Find the Advanced Settings and tap it.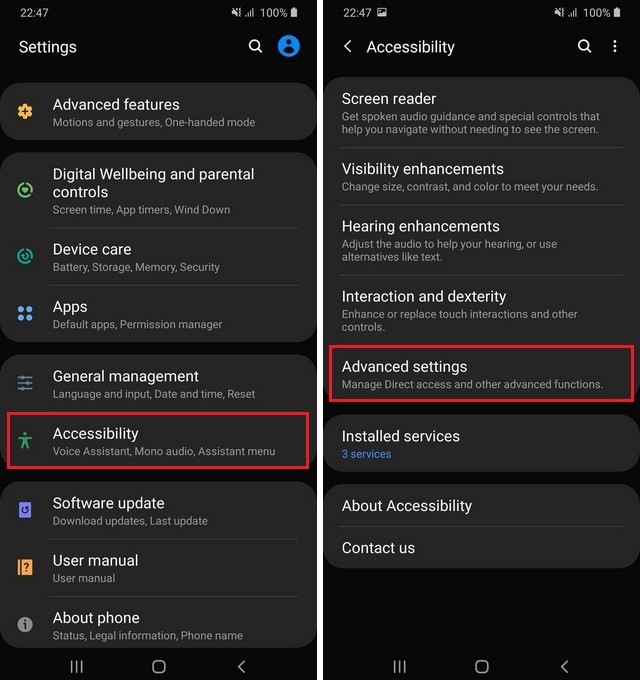 Here you will find many advanced features. Find the Flash Notifications and tap it.
Now you can enable the Camera Flash Notification or Screen Flash Notification by toggling them to blue.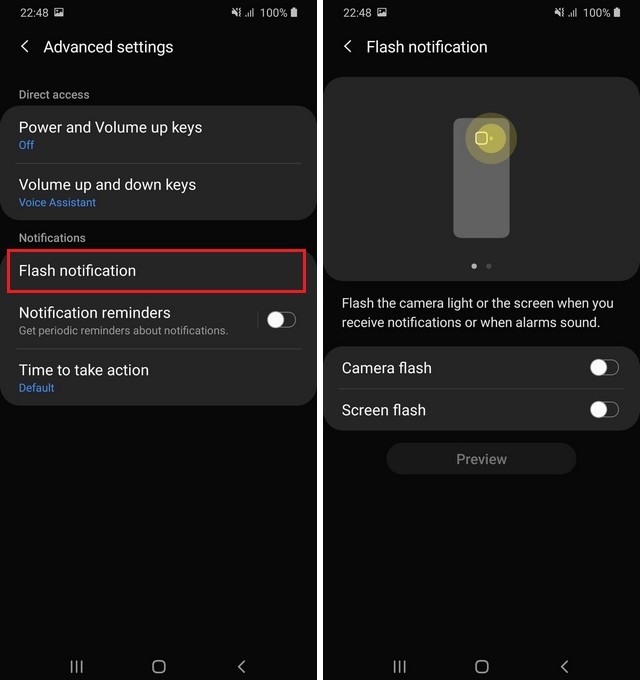 You have successfully enabled the flash notifications on Samsung Galaxy S10. Now, whenever you receive any notification, your smartphone will start flashing, and you will know that you have received any notification.
Why is Flash Notification not working on my Galaxy S10?
If the Flash Notification is not working on your Samsung Galaxy S10, then you use the following fixes.
Flash Notification is not enabled by default, so make sure that you have enabled it on your Galaxy S10.
If you have enabled it, but still it isn't working, then you should restart your S10 and see if it's working or not.
For most people, restarting the device helps them solve this issue. However, if you are still unable to use this feature, then you should contact the customer support.
Conclusion
That's how you can enable Flash notifications on Samsung Galaxy S10. Now you tell us, what type of Flash Notification you prefer: Camera Flash or Screen Flash? Also, if you want to learn how to change screen resolution on Samsung Galaxy S10 then you can read this guide on our website.