In this guide, we will show you how to change default apps on Android. Android is one of the most popular mobile OS out there and more than 2.5 billion smartphones out there use Android as their OS. Many companies also make some alterations to the software by setting up their own skin on top of Android which gives it some additional functions. Companies like Samsung and Huawei offer their own custom skins which are studded with tons of features. On the other hand, companies like OnePlus keep their skins as close to stock Android as possible. Changing the default apps on these Android smartphones is very easy but the process varies as many companies change many things in the default android version. We will try to keep this guide as universal as possible and we will tell you some tricks which will help you change your default Apps.
How to Change Default Apps on Android
The whole process is very simple and you can do it within minutes. Here's how you can do it.
Swipe down from the top of the screen and tap the gear-shaped icon on the top right corner to access the settings. Alternatively, go to your menu and find the Settings app and open it.
In the settings, find the Apps & Notifications section. In some versions of the Android, it will be Apps. If you have the latest version of the android then you can also use the search feature and simply type Default Apps which will show you the default apps section.
Now in the Default Apps section, you will see the default apps for different purposes.
Tap the app that you don't want to keep as your default app and select the new app.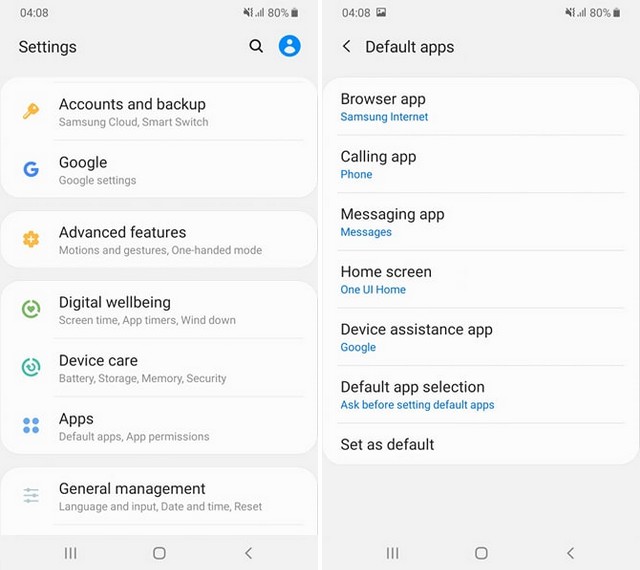 Conclusion
In this way, you can easily change the default apps in Android. Alternatively, when you download any replacement app from the Google Play and open it, it by default shows you the option to set it as your default app. If you somehow missed that step then you can follow the above-mentioned steps to change default apps. If you have any questions, please let us know in the comment section below. Also, if you want to learn How to install apps from unknown sources on Android, then visit our website.