Google Play Store comes with over 2 million apps that you can install on your smartphone, but these are not the only apps you can install. There are thousands of apps available outside, which you won't find on the Google Play Store, but you can still install them on your Android smartphone. This practice of installing apps outside the Google Play Store is known as "Sideloading." In this comprehensive guide, we will tell you how to sideload apps on your Android Smartphones. Let's get started.
Disclaimer
Before we get to the actual topic, let us quickly tell you about the issues you can face by installing the App from unknown sources. When you sideload an app on an android smartphone, you will be doing it by bypassing the basic security protocols that protect your smartphone from potential threats.
If you have downloaded an app from a trusted source, you won't have any problem. However, if you have downloaded a malicious app, it can invade your privacy, and it can also result in a financial loss as well. So, if you are thinking of Sideloading an app, make sure to double-check the website's reputation to ensure that you are not downloading a malicious app.
How to Enable the Sideloading on Android Smartphone
When it comes to Android smartphones, many manufacturers have given different names to Sideloading. Some companies have the settings for Unknown Sources, External Sources, etc. You can enable Sideloading for different apps. For example, if you use Google Chrome as your default browser, you can give permission to the App to install the apps from external sources. Here's how you can enable the sideloading on Android apps.
Go to the Settings of your Android Smartphone.
Now find the Biometrics and Security section and tap it. Depending on the smartphone and android version you have, the title can change. So, the thumb rule is to look for the Privacy or Security section.
Now scroll down and tap More Settings. As it's sensitive permission, you won't find it in the main menu.
Tap Install Apps from External Sources or Unknown Sources or Install Unknown Apps.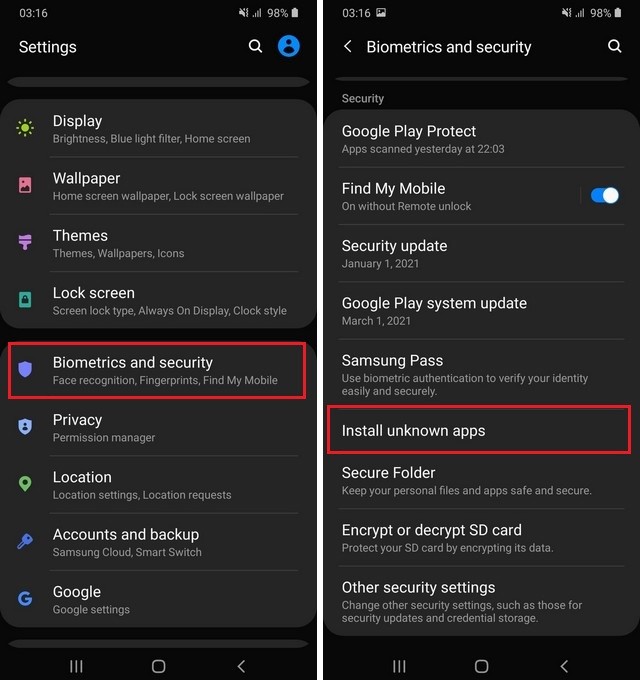 Navigate to App, which you will be using for downloading the App. In our case, we are using Chrome, so we will pick Google Chrome and give it permission.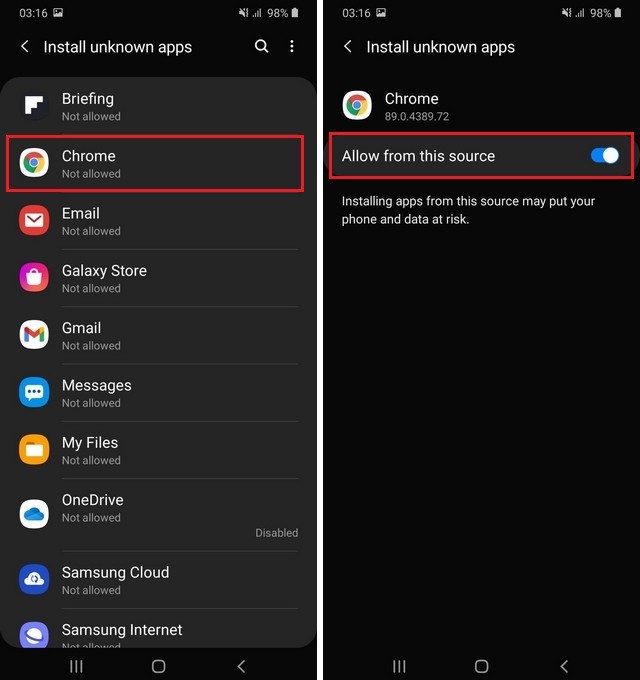 You have successfully enabled sideloading on your Android Smartphone. Now you will be able to download the apps from external sources without any problem.
How to Find the Trusted Website for Downloading Apps
Now that you have enabled the sideloading on your Android smartphone, the next step is finding the trusted source you will be using to download the apps. When it comes to APK websites, there are tons of available, but most of them are malicious websites with malicious APKs. So, the handy way of finding a trusted website is to look for reviews from other users.
See Also: How to Install Apps Android without Google Play Store
You can join the communities on Facebook and Reddit and ask for recommendations from the users. Once you get the recommendation from at least 5-10 members, it will be a healthy sign that the site is trusted.
Also, you can Google the reviews of the website. For example, let's say that you want to download a file from APKPure. You can google "Is APKPure Legit?" and you will find tons of reviews from independent sites on the internet. Once you have found the trusted site, you can download the App on your smartphone.
How to safely install the APK on Android Smartphone
Once you have downloaded the App on your smartphone, you can install it like a regular app. Here's how you can safely install the APK on Android smartphones.
Open the Download Manager on your Smartphone.
Find the App you want to download and tap it.
The system will ask for confirmation, tap Install.
Once the App is installed, you will be asked to give permissions to the App.
Pro Tip: If the App asks permission,which it normally doesn't ask, it's a red flag. For example, a notepad shouldn't ask for permission for photos and cameras. If it's asking for this permission, it's a sign that there's something wrong.
Give the permissions to the App, and you are all set to use the App.
FAQ
What is the difference between an APP and an APK?
An App is basically an application that you can install on our devices. APK stands for Android Application Package, which can only be installed on Android. The App is basically a general term, and it covers a wide range of apps such as Web App, IOS App, Windows PC App, OS X App, etc. However, APK covers only apps for Android.
Is APKs Dangerous?
It depends on the source from which you download the APK. If it's downloaded from a trusted source with a good reputation, it won't be dangerous. However, if you have downloaded the malicious App, it can damage you financially and invade your privacy. So, always install the apps from trusted sources.
Can the Play Store be hacked?
Technically anything can be hacked, but Google has placed a number of security protocols and methods to ensure that its Play Store stays safe from hackers. The company has also added a security mechanism on the Play Store, which bars the developers from adding malicious apps to the store. So, the apps you will get on Google Play Store will be safe to use.
Conclusion
That's all, folks. Now you know how to sideload apps on your Android Smartphone. If you have any questions, please let us know in the comment section below. Also, if you are Sideloading apps, we would recommend that to install a good Antivirus App just in case if things go south. Happy Sideloading!