In this guide, you will learn how to change wallpaper on Samsung Galaxy A51. Galaxy A51 is a budget smartphone by Samsung and it is by far the best one in the market right now. It comes with the 6.5 inches Super AMOLED display which ensures that you get the best colors on the display. Also, Galaxy A51's Exynos 9611 processor and 6 GB of RAM is more than capable of handling any modern mobile game at decent settings. The beautiful display of Galaxy A51 demands the beautiful wallpaper which you can get from a good wallpaper app. If you have the wallpaper and wondering how to change the wallpaper on your A51 then keep reading because we will tell you how to do it. Let's get started.
How to Change Wallpaper on Samsung Galaxy A51
The whole process of changing the wallpaper on Galaxy A51 is pretty simple and anyone can do it by following these instructions.
Swipe down from the top of the screen and tap the gear-shaped icons at the top right corner to access the settings. Alternatively, go to the app menu, find the settings icon and tap it to access the Settings.
In the settings, Navigate to Wallpapers and themes and tap it.
Here you will find the array of wallpapers that are available in your device. You can either pick the one from this section or you can either tap the Gallery icon which will open the gallery and you will be able to select the wallpaper from the gallery.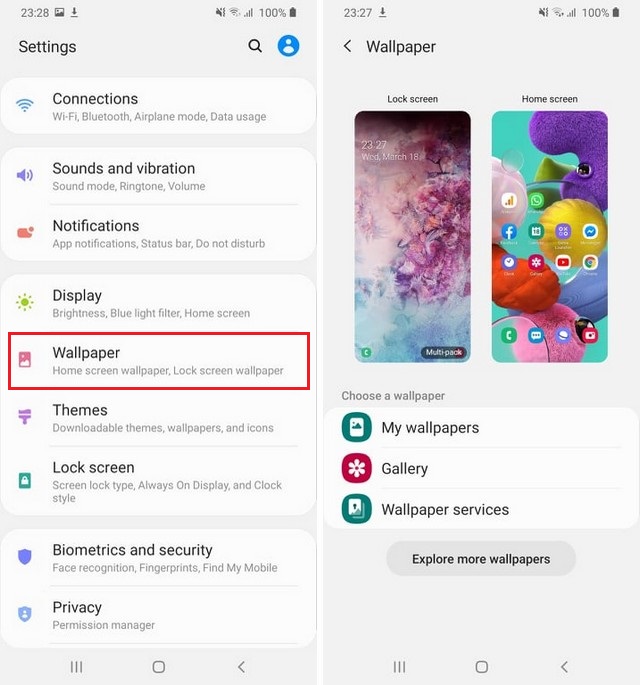 Once you select the wallpaper, you will be asked to set the wallpaper as a Home screen, Lock screen or Both.
Select the option of your choice and then tap "Set as wallpaper".
That's it.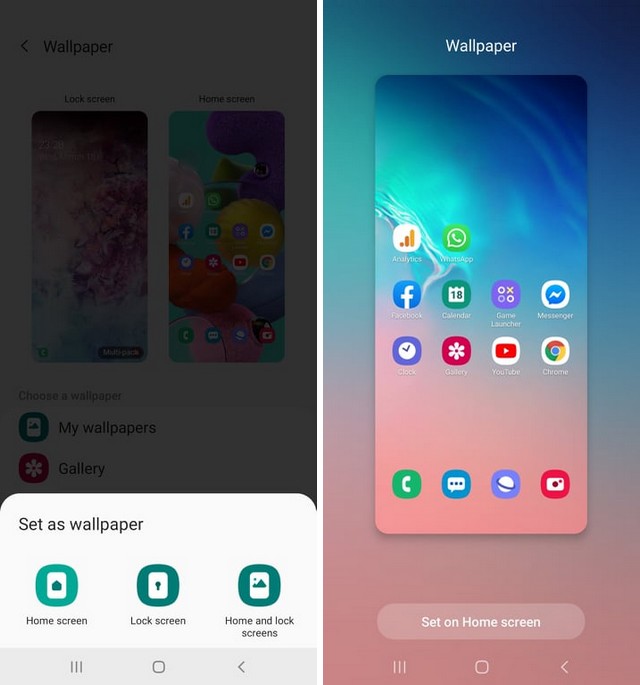 Congratulations! You have successfully changed the wallpaper on your Galaxy A51.
How to Change Wallpaper on Samsung Galaxy A51 via Home Screen
Samsung also allows you to change the wallpaper directly from the Home Screen. This method is easier and straightforward than previous methods. Here's how you can do it.
Go to your home screen.
Press and hold any blank area on the display until It shrinks.
You will see the various options on the display. Select wallpaper.
Here you will have the available wallpaper options. Select the wallpaper of your choice.
Then select one of the three options to set the wallpaper as the Home screen, Lock screen or Both.
Now tap the "Set as Wallpaper" to change the wallpaper.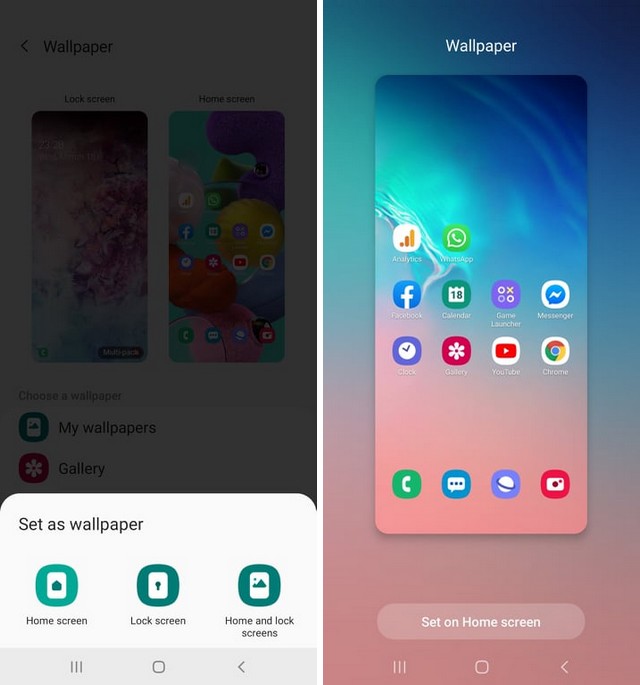 Conclusion
That's how you can change the wallpaper on Samsung Galaxy A51. You can use any of the above-mentioned methods to change the wallpaper. Also, if you are looking for some amazing HD wallpapers then you can check our guide where we have shared the 10 Best Wallpaper Apps for Android. If you have any questions, please let us know in the comment section below. Also, if you want to learn how to turn off autocorrect, then visit our website.