In this guide, you will learn how to customize the Audio Profile on your Galaxy S8. If we look at the smartphones of the past, we notice that they came with terrible speakers and we have made huge improvements over the years. Smartphones these days come with loud and good speakers and Galaxy S8 is no exception. However, Samsung is aware that not everyone likes the same audio profile. That's why it allows you to play with the audio settings and you can find the sweet spot according to your audio taste. Sounds interesting? Let's get started.
How to customize the Audio Profile on your Galaxy S8
Samsung Galaxy S8's speaker is good, it is loud and it produces good sound. However, you can still improve it by tuning the audio settings and make it best for you. The audio settings are hidden deep in the settings so follow these steps to find them.
Swipe down from the top of the screen and tap the gear-shaped icon on the top right corner to access the settings. Alternatively, go to the app menu and find the Settings icon and tap it to access the settings.
In the settings, find the Sounds and Vibration section and open it.
Now scroll down and find Sound Quality and effects and open it.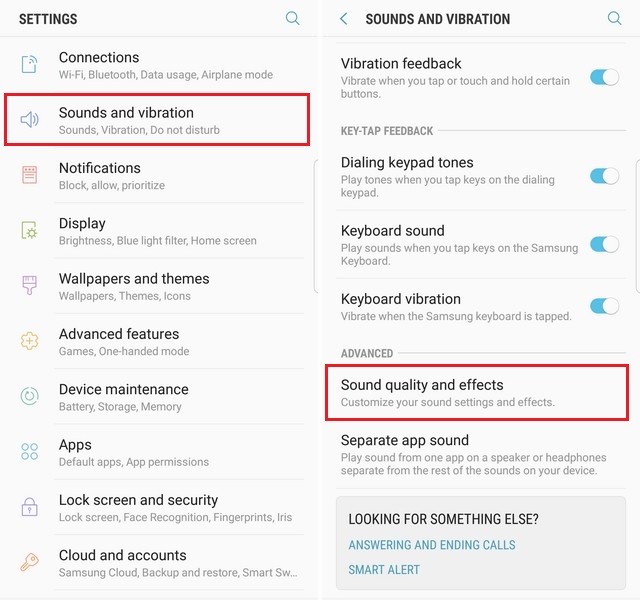 Here you will find the Advanced and Basic controls. You can adjust the bass, treble, instrument and vocal settings. If you listen music with a lot of instruments then you can customize the instrument settings so you will hear the instruments clearly. Similarly, if you want the vocal to pop up then you can play with the vocal settings.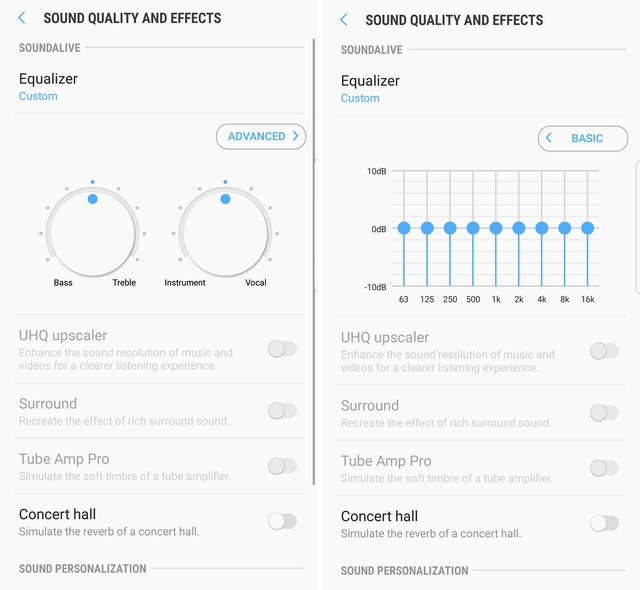 You can also go for the Adapt Sound feature which is designed by the Samsung to find the best sound profile according to your taste. In the Adapt sound, you will also find three audio presets which are already customized for the people with different age.
You can also play with the other options such as Surround, Tube Amp Pro and Concert Hall which provide more personality to the sound.
In this way, you can play with the different options and equalizers to find the best music profile for you. The Adapt Sound is also a really useful feature and you should give it a try if you are unable to manually find the right profile for you.
Conclusion
That's how you can customize the audio profile on your Galaxy S8. For most of the people out there, the default audio profile works but you can always use the audio options to customize the sound. Similarly, if you use the earbuds then you can play with their audio settings to find the right audio profile for you. Let us know if you the tweaking the sound profiles work for you. Also, if you want to learn how to adjust display colors on the Galaxy S8, then visit our website.