In this guide, you will learn how to Disable the Galaxy Note 9 Always On Display. Samsung Galaxy Note 9 is the flagship smartphone and it comes with the best possible specs and features. One of these specs is the Always On Display which you will see in most of the top tier smartphones by Samsung. It is basically the small display which stays on 24/7 and it displays the information like time etc. Some People love this feature but at the same time, many people don't like it. If you are the one who doesn't like this feature then we will tell you how to disable it. let's get started.
How to Disable the Always on Display on Galaxy Note 9
Samsung smartphones come with their own custom Android skin which has improved a lot over the years. Now you can easily find the various options using the built-in search bar which is a very handy feature. Follow these steps to disable the Galaxy Note 9 Always On Display.
Swipe down from the top of the screen and tap the gear-shaped icon on the top right corner.
Now find the Lock Screen & Security section in the settings. Alternatively, you can use the built-in search bar, type the Lock Screen& Security and it will show the section in the result.
Tap it and Toggle off the Always on Display.
You can also tap the Always on Display where you will find the other options related to this feature.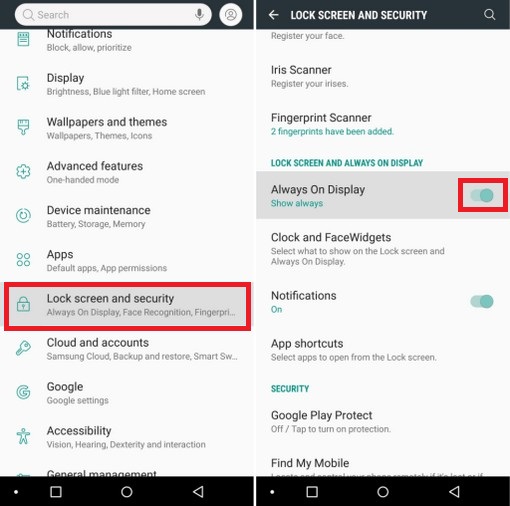 Once you toggle it off, the Always On feature will be disabled. Now you will have to either tap the fingerprint sensor or power button to check the time and other related details.
Conclusion
According to one research, an average smartphone user open his/her smartphone over 150 times a day which consume a lot of battery and if you keep on the Always On Display it will surely save the battery to some extent. However, if you are a power user then disabling or enabling the Always On Display won't matter. If you have any questions, please let us know in the comment section below. Also, visit our website for more useful guides.