In this guide, you will learn how to clear the Cache on your iPhone and iPad. iPhones and iPads are known for their top of the line performance, however, they can also get slower with time. If you are facing the decline in the performance of your iPhone or iPad then cache could be the culprit here. Cache is the data which is stored on your devices which help the apps to run the function properly. It has the data like your login details, personalized Ads info pattern, etc. Getting rid of Cache can give a significant boost to your iPhone and iPad performance.
How to Clear the Cache on Your iPhone and iPad
The best and easiest way to get rid of cache is to restart your iPhone and iPad. However, this doesn't work for the browsers and some third-party apps. You will have to manually delete the cache from the different apps.
Clear Web Browser Cache
Safari is the default web browser in IOS and it saves a lot of data including the cookies, web pages, images, etc. Here are the steps to clear Web Browser Cache.
Go to the settings and find Safari.
In the Safari Settings, simply tap Clear History and Website Data
A pop-up menu will appear, tap Clear History and Data and proceed.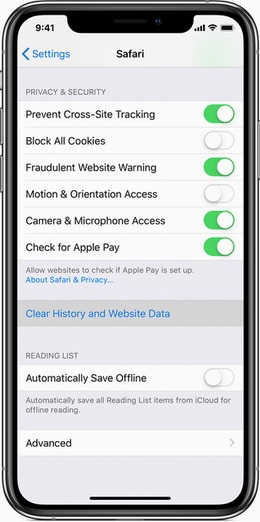 You have cleared the web browser cache, now proceed to clear the cache on App Store.
Clear App Store Cache
Follow these steps to clear App Store Cache.
Open the App Store
At the bottom of the screen, you will see the multiple buttons.
Tap any button 10 times and App store will restart and the cache will be removed.
Clear Third-Party App Cache
Third-party apps come with their own settings, some of them clear the cache on the restart but most of them keep the cache and you will have to manually clear them. Following are the steps to clear third-party App Cache.
Go to the settings > general > iPhone Storage.
Here you will find the list of apps, arranged according to their size.
Open the Documents & Data to check how much space the app is using.
Now simply delete the app, it will clear the cache but it will also remove the data stored on it.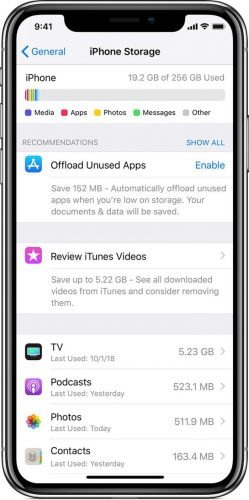 If you don't want to delete your app then you will have to use the third-party cleaning app to do it. if you have any questions, please let us know in the comment section below. Also, if you want to learn how to delete apps on your iPhone, then visit our website.
Image credits: Apple