Samsung has recently launched their new Flagship smartphone Galaxy S10 which come with the bleeding tech and Samsung New One UI which Samsung claims that it is more refined and user-friendly. There are many great features in the new One UI but there are also some limitations but luckily you can solve these limitations. Out of the Box, Samsung Galaxy S10 only display up to 3 most recent notification in the status bar to give it a cleaner look. However, you can miss some important notifications which aren't a good thing. In this guide, we will tell you how to show more notifications on the Galaxy S10. Let's get started.
How to show more notifications on the Galaxy S10
The One UI has very simple Interface and you can follow these steps to show more notifications on the Galaxy S10.
Pull down the status bar and tap the Gear Icon on the top right corner of the screen.
You are in the settings section, find the Notification tab and open it.
Find the Status Bar tab, in the notification setting. It is the 3rd Tab from the top. Open it.
Now you are seeing the two options: 3 recent notifications & All notification.
Opt the All notification option and now your status bar will show more notification on your Galaxy S10.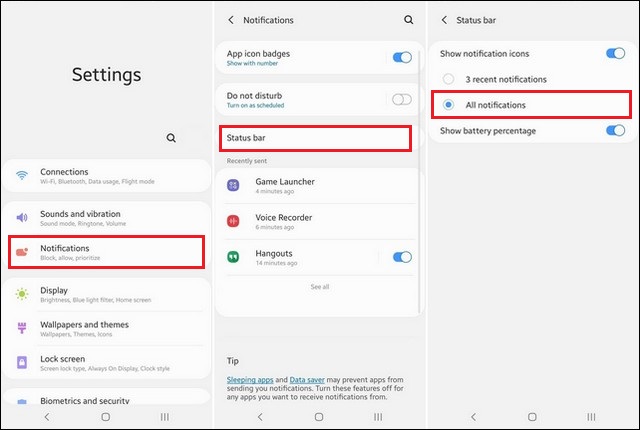 Now you will be able to see more notifications in the status bar and you will take the full advantage of the tall screen. Samsung has perfected their smartphone design language and now they are working to perfect their software. We think One UI is really good software but Samsung needs to give a more subtle look to their icons. Let us know your thoughts on Samsung's latest One UI. Also, visit our website for more useful guides and reviews.