In this guide, you will learn how to change themes on Samsung Galaxy Note 5. The best thing about the Android smartphones is that you get tons of customization options to completely personalized the look and feel of your smartphone and Samsung Galaxy Note 5 is no exception. If you are not satisfied with the software look of your Note 5 then don't worry as we got you covered. You can install themes of your choicd to give the unique look to your smartphone and in this guide, we will tell you how to do it. Let's get into it.
How to Change Themes on Samsung Galaxy Note 5
Samsung Galaxy Note 5 is a great phone and it comes with a beautiful screen and great specifications. Many people also like its software but some don't. if you are one of them then you can use themes to give the completely different look to your Note 5 by following these steps.
Swipe down from the top of the screen and tap the gear-shaped icon on the top right corner to access the settings.
In the settings, find the theme section and tap it.
Here you will see the total of three themes, one default, and two other pre-installed themes. You can pick the theme of your choice.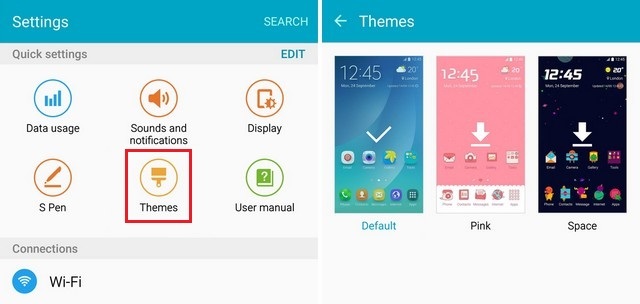 If you are not satisfied with the pre-installed themes, you can always install additional themes from the Theme Store.
Simply tap the theme you want to download and tap the Download button.
Once it is download, tap the Apply button and your Note 5 will get the whole new look.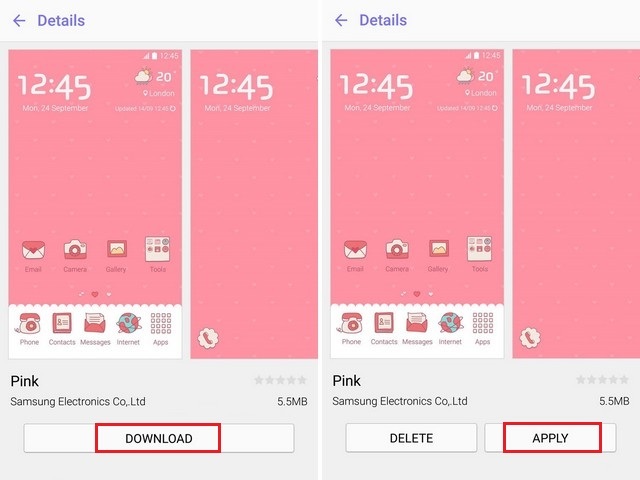 You can download unlimited themes without any restriction and you can keep installing and exploring themes until you find the perfect one. Themes also come with their own wallpapers which match the look & feel of the theme. However, you can always change the wallpaper and set your favorite wallpaper on the Home Screen. If you have any questions, please let us know in the comment section below. Also, visit our website for more useful guides.