In this guide, you will learn how to factory reset your Samsung Galaxy S8. Samsung S8 is a really good smartphone but it has been around for more than 2 years and if you are using it for a long time you will notice some drop in the performance. Factory Reset can help you in this regard as it brings back the phone to its initial state when you found it and you can start fresh. We will tell you a couple of ways to factory reset your Galaxy S8. Let's get started.
How to Factory Reset your Samsung Galaxy S8 – The easy way
Swipe down from the top of the screen and tap the gear-shaped icon on the top right corner to access the settings.
In the settings, find the General Management and tap it.
Tap the Reset section
In this section, Tap Factory Data Reset
Here, scroll down and tap the blue Reset button.
Enter the Password/PIN or Draw Pattern to proceed.
In this way, you can easily factory reset your Samsung Galaxy S8. You will get rid of all data and you can take a fresh start with your smartphone.
How to Factory Reset your Samsung Galaxy via Recovery Mode
This method is a little difficult than the previous one, so for some reasons you don't want to use the first one, here's the alternate method.
Turn off your Samsung Galaxy S8
Press and hold the Volume up, Bixby and Power buttons at the same time until Samsung logo appears on the screen.
Now wait for a few seconds and a text will appear on the screen.
Use the Volume down button to navigate to "Wipe Data/Factory Reset" and select it via the Power button.
Here, use the volume button to scroll to "Yes" and use the power button to confirm.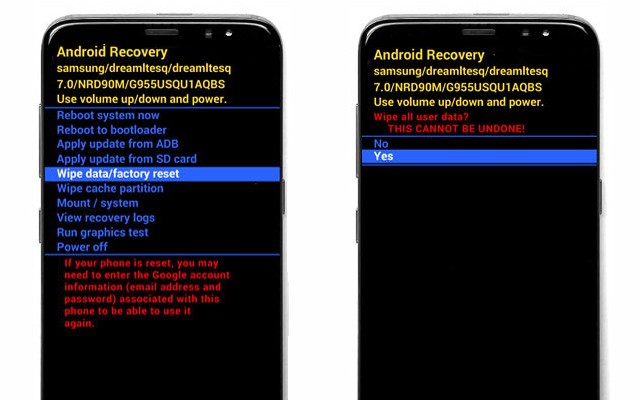 Conclusion
You can use any of the above-mentioned methods to factory reset your Samsung Galaxy S8. However, we would recommend you to backup your data before resetting the phone as it will lose all the data.  If you have any questions, please let us know in the comment section below. Also, visit our website for more useful guides.