Samsung has finally embraced the Notch revolution with their infinity-O display notch and in our opinion, it is the best and most stylish implementation of the notch in any smartphone. It has a much smaller footprint thana traditional notch and it is also less irritating. However, there are still people who don't like notches and prefer the more traditional look. In this guide, we will tell you how to hide the Galaxy S10 Camera cutout notch. Let's get started.
How to hide the Galaxy S10 camera cutout notch
You canfollow these steps to hide the Galaxy S10 Camera cutout notch.
The first step is to swipe down from the top of the screen and tap the Gear icon to access the Settings.
Now find the Display tab in the settings and open it.
In the display settings, open the Full-screen apps.
In the full-screen apps setting, toggle the Hide Front camera and it will put the black bar on top of the screen which will hide the notch.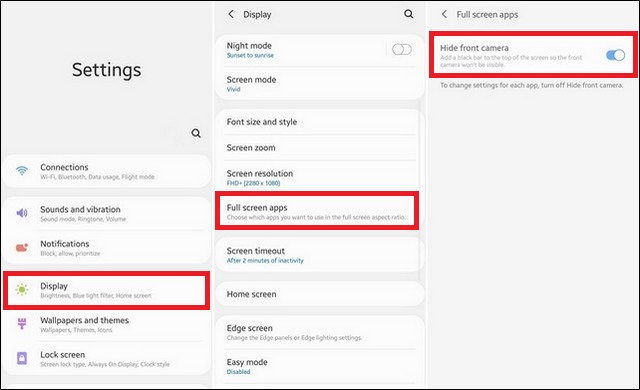 With these simple steps, you can hide the camera cutout notch and you can have the conventional display. However, the question is should you really do this? The Samsung infinity-O display is the best implementation of the notch and if you spend some extra time with it you can get used to the notch and as a result, you get a lot of benefits. Especially if you consume the multimedia on your smartphone, you can take advantage of that extra screen which will make the whole experience more enjoyable.
At the end the final choice is yours. We hope that you will find our guide useful and if you have any questions, please feel free to ask us in the comment section below. Also, let us know what are your thoughts on the new infinity-O displays.