Samsung Galaxy is the new flagship smartphone by Samsung and just like other flagships, it comes with some latest & greatest features. One of those features is PowerShare which allow you to charge another phone wirelessly. This feature is extremely useful for charging small gadgets like Galaxy Buds and Galaxy Watch. However, you can also use it to charge other smartphones with wireless charging capabilities. In this quick guide, we will tell you how to use Wireless Powershare on the Galaxy S10. Let's get started.
How to use Wireless PowerShare on the Galaxy S10
The whole process of using wireless PowerShare is very easy. You can enable it by following steps.
Pull down the notification panel from the top of the screen and swipe it down.
Now, swipe it down again to get access to other quick toggles on your screen.
Now find the Wireless PowerShare icon on the screen. It will be the battery icon with the arrow.
Once you tap it, you will see the small window on the screen.
Follow the instructions to start the charging process via Wireless PowerShare.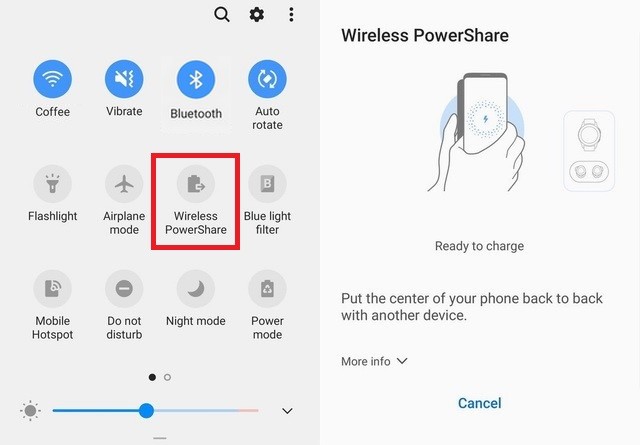 PowerShare is very a useful feature and if you are using it to charge the other smartphone make sure that both phones are places on the back of each other. If you are charging your Galaxy Buds or Galaxy Watch, then simply place them on the back of the Galaxy S10 and you are all set to charge your gadgets.
Moreover, before charging the other smartphone via PowerShare, make sure that your Galaxy S10 have sufficient charging. The PowerShare feature won't work once your battery level falls below the limit of 30%. You can also use the PowerShare while charging your smartphone and charge the other smartphones. In this way, your phone becomes the wireless charging mat which is a cool feature. Overall, Samsung has done a great job with Samsung Galaxy S10. If you don't know how to take the screenshot in Galaxy S10 or want to explore the other ways to take screenshots then head to our website. You can read the complete guide on our website. If you have any questions, let us know in the comment section below. Also, visit our website for more useful guides.