Smartphones these days are coming with big screens which allow us to consume the multimedia on our smartphones and Samsung S10 is no exception. The problem with these large screens is that most of the apps are not optimized for them so you get the default view of Applications on your smartphone. In this quick guide, we will tell you how to enable Full Screen Apps on Galaxy S10 and take the benefit of the big screen. Let's get into it.
How to Enable Full Screen Apps on Galaxy S10
When it comes to YouTube, you can easily pinch to fit the video according to your screen size and enjoy the content on your 6.4-inch screen of your Galaxy S10+. However, this feature doesn't work on other application and you will have to manually enable it from the settings. You can follow these steps to enable it.
Pull down the notification bar from the top of the screen.
Tap on the gear icon on the top right corner.
In the settings, look for Display Settings and Tap it.
Now in the display settings, look for Full Screen Apps and Tap it.
Here you will find the list of the application where you can enable the Full Screen.
Most of the applications have the Auto settings by default but you can switch to Full Screen.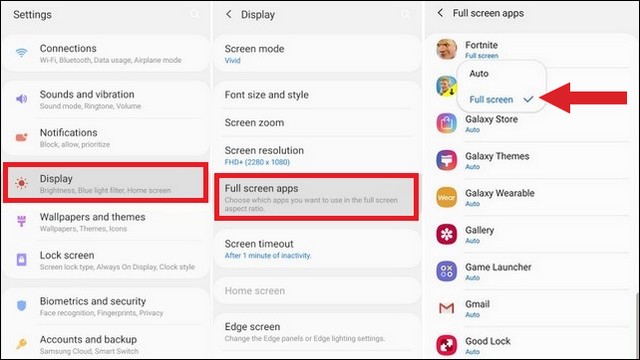 Should You Do This?
As the trend of large screens is very popular, most of the apps developers have updated their apps for smartphones with notches. However, there are still a lot of apps out there who are not fully compatible with the large screens and they will either crash or won't work with Full Screen settings.
Now if you are using the outdated app, you can either reach out to developers and ask them to update their app or you can use it in default mode. The popular apps like Facebook, Twiter, WhatsApp etc, work seamlessly with Full Screen settings.  We hope that you will find our guide useful and if you have any questions please feel free to ask us in the comment section below. Also If you are interested in knowing how to enable the PowerShare on Samsung Galaxy S10 then head to our website where we have shared the whole guide on how to do it.