In this guide, you will learn how to turn on Night mode for the Samsung Galaxy S10. The dark mode is the latest trend these days and many companies are jumping on this bandwagon to provide the customers what they want and Samsung has also introduced the Dark mode in the ONE UI. As the Samsung Galaxy S10 comes with the AMOLED screen which is undoubtedly the best OLED panel out there, the Dark mode looks majestic on Samsung Galaxy S10.
Enabling the Night Mode, not only make the whole UI look more attractive but it also consumes less power which means you will get longer battery life. In our opinion, ONE UI looks the best with the Night mode and if you want to enable the Night mode on your Samsung Galaxy S10 then you are at the right place. Let's get started.
How to turn on Night mode for the Samsung Galaxy S10
ONE UI is the new UI by Samsung and the company has ensured that their new UI should be easy and simple. You can turn on dark mode with only 3 simple steps. Follow these steps to enable the dark mode.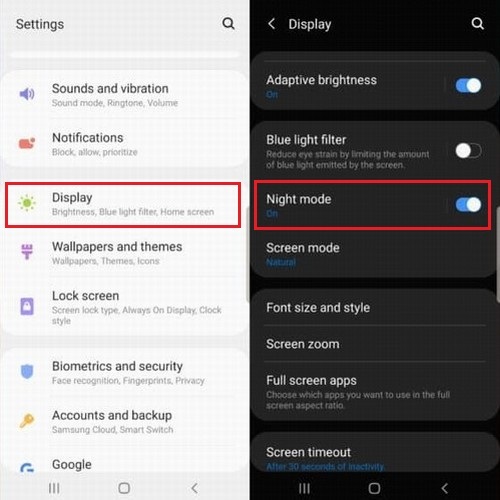 Swipe down from the top of the screen and tap the gear-shaped icon on the top right corner to access the settings. Alternatively, you can open the menu and find the setting icon and open it.
Now find the Display section in the settings menu and open it.
In the Display settings, you will find the Night Mode option, open it.
Toggle it on to enable the night mode.
Now you are all set to use the Night Mode on your Samsung Galaxy S10. Samsung is also working on an option where the system will automatically detect the day and night, it will enable the dark mode in the night. However, for now, you can set up the Dark Mode the way we explained in this guide. If you have any questions, please feel free to ask us in the comment section below. Also, visit our website for more useful guides and reviews.